A mind-controlled robotic arm is bringing new independence to an Austrian man who lost his arms, even allowing him to drive a car, the arm's maker announced earlier this week.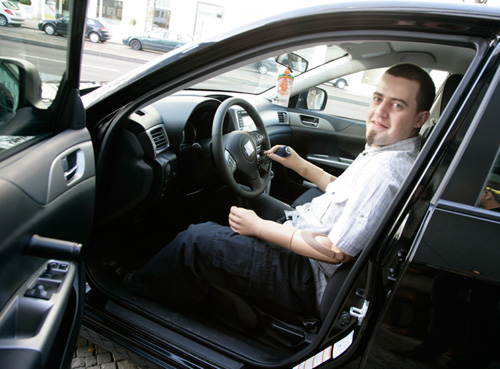 Christian Kandlbauer passed his driving test "with flying colors" using a mind-controlled arm prosthesis.
Created by the German firm Otto Bock HealthCare, the arm has allowed 23-year-old Christian Kandlbauer to pass a driving test with flying colors, giving him the freedom to drive the seven kilometers to and from work each day without assistance.
The device is the first mind-controlled arm prosthesis in Europe. to the patient's brain.
Electric nerve impulses coming from this region can actually be sampled and processed by surface electrodes, according to Otto Bock.
Now, powerful micro-controllers in the prosthesis calculate the motor commands underlying the impulses in real time and generate the equivalent control commands for the arm.
For Kandlbauer, who works in a garage, it's been a dream come true. He obtained his driver's license in October and has been traveling back and forth to work in his own vehicle ever since.
'An Important Extension'
"What's remarkable about the Otto Bock prosthetic technology is the way they have re-engineered the nervous system to make the prosthesis more useful," James Cavuoto, editor of Neurotech Reports, told TechNewsWorld.
"Innovative strategies like this will likely grow the market for motor prostheses in the years ahead," Cavuoto added.
Indeed, following 10 years of pioneering work in TMR, "it is exciting to see this promising new source of command signals being applied to commercial, clinical prostheses," agreed Gerald Loeb, professor of biomedical engineering at the University of Southern California.
It's not clear whether it's truly a case of "mind-control," however, "particularly because other researchers have been working — with much less success — on reading out command signals directly from the brain, where the term seems more appropriate," Loeb told TechNewsWorld.
Nevertheless, TMR is "an important extension of the original concept of myoelectric control because it enables users to operate multiple degrees of freedom in a way that is much more natural and intuitive than has been possible before," he explained.
"That sort of command capability is essential to take advantage of the much more sophisticated mechatronic hands and arms that are being developed by several research and commercial groups, including Otto Bock," Loeb added.
A High-Tech Index Finger
Otto Bock is also working on a "high-tech index finger" for Kandlbauer that can sense temperature, identify rough and smooth surfaces and feel the strength of a handshake.
"Micro-sensors that record the temperature, gripping strength and surface characteristics of the object being gripped are integrated into the tip of the index finger on the prosthetic hand," explained Hubert Egger, head of the mind-controlled arm project.
Currently, however, the prosthesis with sensory perception is only a prototype. It will likely take another four years of development before Kandlbauer can use it on a day-to-day basis, Otto Bock said.