Skiing technologies have undergone a revolution in recent years, with skis, gear and gadgets changing how a new generation experiences the sport. These new technologies are making skiing safer, greener and more connected.
Rocker design is one trend that has been finding its way into the skiing world over the last several years — with lift and curvature on both tips and tails allowing for better maneuverability over powder and in a variety of backcountry conditions. Though this kind of design seems to be a recent development, it actually has a long history.
"For skis, the evolution of shape into something wider with reverse camber, especially in the tip, is a huge change," said pro skier Alison Gannett.
"If folks look closely, this is actually a move way back in history. In the Altai Mountains of China, skiers have been using shorter, fatter skis with tips more turned up like our modern-day rocker for thousands of years," she told TechNewsWorld. "They use them primarily for hunting, but they certainly ski them and turn like champs on the downhill."
Another trend in ski gear that reflects past practices is an emphasis on local production, sustainability and green manufacturing.
"We need to have skis made with environmentally friendly materials and materials that will last longer," Gannett said. "There is a huge trend to make skis locally as well, like the local brewery trend. Ultimately this is also more sustainable. We should try to recycle skis — they are currently mostly throwaway — but really, recycling is not the answer. Old-school skis could always be repaired and fixed. Most new ones cannot."
Greener ski manufacturing goes hand-in-hand with the trend toward combining and re-envisioning old and new technologies, Gannett maintained.
"There is an evolution toward history with shape, and also [the use of] nontoxic traditional materials, [including] going back to different types of wood for different performance characteristics and even repurposing old woods," she said. "This is also combined with futuristic design and technology to lighten skis and make them more easy to ski and turn while still being stable."
Safety Beacons
For skiers exploring the backcountry, avalanche beacons have become standard safety equipment. Using a combination of analog and digital technologies, these beacons help rescuers locate people who have been buried in an avalanche. When combined with a shovel, probe and avalanche airbag, they've become a vital part of backcountry skiing survival plans.
"It is absolutely necessary for backcountry skiers to carry the full safety equipment: avalanche beacon, probe and shovel," Harald Shreiber, a representative of Mammut Sports Group, manufacturer of the Pulse Barryvox avalanche beacon, told TechNewsWorld.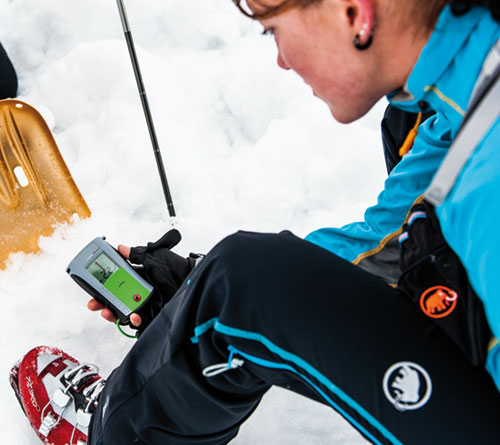 "If only one of these items is missing, rescuing your buried skiing buddy becomes nearly impossible," he said. "Other types of communication devices, like mobile phones, often don't work in the mountains or extreme cold and are of no help to localize buried victims."
Avalanche beacons transmit and receive signals so that people buried in the snow can be found and rescued. A party of multiple skiers set their beacons to transmit mode, and in the case of an avalanche emergency, everyone but the buried victims switches to receive mode, allowing the signals of the buried victims to be detected. Some beacons, like the Pulse Barryvox, are designed specifically to search for multiple victims.
"For this case of multiple buried victims, the Pulse Barryvox offers the possibility to mark found skiers," explained Schreiber. "In this case, the beacon will ignore the found signal and continue looking for the next. Every beacon has its own signal signature, which makes it possible to distinguish between them."
Because avalanches are common in the backcountry, skiers who venture there must be prepared, cautioned Schreiber.
"Everybody who spends a lot of time in the backcountry is confronted with the possibility of avalanches," he said. "Many skiers have been caught in one or witnessed somebody being caught."
Heads Up Goggling
Heads-up display technology is another trending technology in the world of skiing, changing how skiers communicate with each other, monitor their progress, and access information.
Snow2, for instance — Recon Instruments' heads-up display technology — integrates a tiny microcomputer, battery and display into skiing or snowboarding goggles, such as Oakley's Airwave.
Equipped with monitoring and measuring capabilities, Snow2 uses Bluetooth to connect with smartphones and other mobile devices, and saves information like ski trail maps, all of which can be displayed on the goggle just below the right eye.
"It works much the same way as when you glance down at the dashboard of your car while you're driving," Tom Fowler, CMO of Recon Instruments, told TechNewsWorld. "You glance down to get your information and then return your gaze ahead. It's unobtrusive, nondistracting, but super easy to access with a quick glance down below the right eye."
Having access to heads-up technology like Snow2 has changed the experience of being out on the mountain, allowing for instant access to information, trail maps, texts, emails and calls.
"It solves a problem that skiers and snowboarders have had for years," said Fowler. "They're completely cut off from their mobile phones and any useful information that will help them manage their day on the hill. With the heads-up display, they're able to understand and appreciate their ski experience in a way that hasn't been possible until now. It's liberating and powerful to know where you've skied, how fast you've skied, and where your friends are."