Google on Wednesday launched a new Google Maps app for Android mobile devices, just one month after announcing its purchase of social mapping location data startup Waze.
The new Google Maps app has many features offered by Waze, such as information on current traffic conditions, reports of problems on a route, and alerts if better routes become available.
Google reportedly has denied incorporating Waze's technology into the new version of Maps, stating that it gets that type of information from other data providers, such as GPS maker TomTom. That could be because the U.S. Federal Trade Commission is conducting an antitrust review of the Waze purchase.
"This is a quality app and lets you interact dynamically with the area around you," Jeff Orr, a senior practice director at ABI Research, told LinuxInsider.
Google Maps for Android "reminds me of the work they've done on the browser version of Maps," Orr continued. "It's got a cleaner look, has lots of visuals integrated into it, newer maps, and … it's bringing in a lot more of the elements that Google has into a single experience — and that's great."
What's New
The new app builds on the design Google released for Google Maps on the iPhone in December and improves on it, Google said. It's also the first dedicated app for Android tablets and smartphones.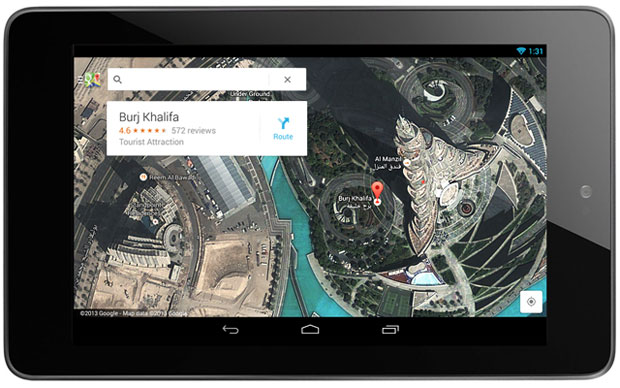 In the meantime, Google has retired Latitude, its location-aware mobile app, and is removing Latitude from the iTunes App Store. It has also added several new features to Maps.
Navigation has been enhanced. Users will get current traffic conditions and alerts about problems on their route, which they can tap for further details. Google Maps will alert users if a better route becomes available while they're on the road, and offer to reroute them. This feature is available on Android and will be available on iOS later.
Another new feature, "Explore," eliminates typing in a search for nearby places to eat, drink, sleep and shop. It brings up cards showing options when a user taps the search box.
The new Google Maps incorporates a five-star rating system for businesses such as restaurants and bars. Zagat's badge and curated lists are integrated into search results for places to eat and drink.
Google Maps for Mobile now includes offers from national brands labeled on maps as well.
The Old Order Changeth
The new Google Maps app will run on Ice Cream Sandwich and Jelly Bean.
In addition to retiring Latitude and check-ins from the new Google Maps app Google plans to kill off these features in older versions of Android, moving location sharing and check-ins to Google+.
Maps users will no longer be able to share their location using Latitude, and their lists of friends on Latitude will be deleted. Third-party applications that use the Latitude API will no longer be able to access users' location data, which means some apps might not work too well.
Google's also getting rid of offline maps for Android and has removed the "My Maps" feature from Android for now.
Implications of the Changes
"I'm assuming [moving location-sharing and check-in] is Google's attempt to coalesce some of the non-mapping functionality into a more appropriate service," Brian Blau, a research director at Gartner, told LinuxInsider. "A check-in action is more social in nature than a map, and this functionality living in Google+ may better match what users experience on other services such as Facebook or Foursquare."
On the other hand, removing key functionalities from older versions of Android "is sure to upset users who rely on these features, and taking away maps that are already stored in your Google account isn't the best policy when trying to retain users," Blau pointed out.
Google may ultimately benefit from the revamping because "it seems that Google have incorporated some of the functions of Waze into Maps, which is why there are no more offline maps," ABI's Orr commented. "They want dynamic interaction. Popup ads will appear based on your location, and you'll be able to navigate to the businesses offering those ads, which is what Waze offered. That will be an opportunity for Google."