During its annual developers conference held last week, Google I/O, the company revealed its latest effort to drive development of Cardboard VR apps and spur the growth of VR content across YouTube.
Google has released blueprints for VR headsets made of cardboard and encouraged third parties to bring their best designs to market. Several are available for purchase with a "Works with Google Cardboard" badge, meaning they're compatible with Cardboard apps.
Users with some arts-and-crafts chops can create their own. The idea is simple, according to Clay Bavor, vice president of product management at Google. After constructing the simple cardboard headset, users simply slot their smartphones into the contraptions — and voila: They get a VR experience for about US$20.
"Cardboard is about making it possible for anyone to check out virtual reality experiences with their smartphone," Bavor told TechNewsWorld. "Combined with the Cardboard SDKs, we want to make it possible for anyone to develop new VR apps or add to their existing apps."
Going Pro
A number of dedicated VR headsets have been priced around $400.
Oculus VR would like to offer its virtual reality headset and a gaming PC bundled for an "all-in" price of about US$1,500, which is meant to be a bargain.
Along with making a case to justify the equipment price tags, developers of VR hardware have been faced with the challenge of ensuring there's enough content to attract early adopters.
During I/O 2015, Google revealed how it intends to generate a trove of VR content for Cardboard and make money doing so.
Google has partnered with action camera manufacturer GoPro to develop Jump, a 16-camera rig that could put VR production well within reach of indie filmmakers.
"We thought it'd be good if someone who really knows how to build a great camera could help us out building our Jump 16-camera rigs," Bavor said. "So we called our friends at GoPro."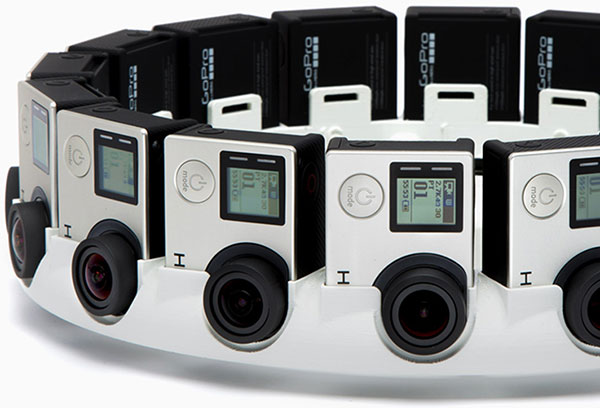 The 16 cameras function as one unit, allowing content creators to capture stereoscopic VR that delivers 360-degree videos with depth of field. The Jump rig's video resolution puts out about as many pixels as five 4K TVs, according to Google.
Google already owns a platform that may be perfect for the task of storing and streaming all of that video content — YouTube. With its support for Jump videos, said to be coming soon, Google could see a bump in ad revenue.
Virtually Here
Virtual reality is coming, whatever the price. There will be 5-10 million VR headsets in the wild by next year, predicted Beck Besecker, CEO of Marxent.
While Google is offering the masses a taste of VR, a large number of consumers will want the very best of the tech, he told TechNewsWorld. Cardboard may offer an interesting use case for realtor showcases and other virtual tourism, but it may serve primarily to pique the desire for a better experience.
"I think [Cardboard] will help with the general popularity of VR," Besecker said, "but I think the folks that are really going to gravitate to VR are going to want a high-quality experience — and gamers, specifically, won't mind paying for it."
It's long been held that gamers will drive the nascent market forward, but VR visionaries are looking to the second, third and fourth waves of virtual experience to capitalize on the technology's expansion.
That said, it might take another 24 months, Besecker suggested, before Cardboard has a meaningful impact on VR e-commerce.