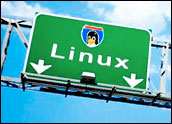 It seems a fair statement to say that we here in the FOSS community are well-accustomed to ridicule. That, after all, is a cross one must often bear when walking a righteous path outside the mainstream — as has been aptly demonstrated, we might add, in countless examples throughout the annals of time.
But for one of us to get assaulted simply because he is a Linux advocate? That is far beyond the bounds of what we can be expected to endure.
Sure enough, though, that's just what happened not long ago to none other than the Helios Project's own Ken Starks. Yes, Starks was apparently minding his own business at a gas station recently when a disgruntled Windows field technician for a local computer vendor verbally and physically accosted him for "costing us our jobs," Starks recounts.
Turns out an exchange of the usual pleasantries had revealed that Starks was a FOSS advocate, leading the Windows tech to take matters into his own hands. No one was seriously injured, thank goodness, but it's a warning for us all! Supporting free and open source software is not for the faint of heart, particularly during these tough economic times.
'You'd Have to Be a Complete Moron'
Bloggers on Digg and LXer picked right up on the news, you can be sure, as did countless others throughout the blogosphere.
"I have been saying it for 20 years: Windows is not an OS. It's an employment program," wrote TexMexRex among the more than 350 comments on Digg.
"And if somebody finds a cure for cancer, they'll be putting millions of cancer researchers out of a job," quipped Renton.
On the other hand: "You'd have to be a complete moron to believe this," 0x0000ff asserted.
Tips Geeks Should Know
Yes well, living well is the best revenge, as they say; what better way to show where your loyalties lie than by digging even deeper into geekdom?
Several posts have been offered in recent weeks to help readers do just that, beginning with "Linux tips every geek should know" on TuxRadar.
The list of 57 tips — beginning with "check processes not run by you" and ending with "Mac filtering Host AP" — drew more than 2,000 Diggs and countless comments across the blogs. So enthusiastic was the response, in fact, that TuxRadar later added "More Linux tips every geek should know," with another 50 little gems.
That's exactly 107 priceless tips for penguin supporters to feast upon and enjoy!
How to Become an 'Apt Guru'
Then, of course, there was also the recent post on MakeTechEasier entitled, "Things you need to know to become an apt guru" — also filled with much sage advice.
When it rains, it pours!
Inspired by these sudden riches, we couldn't resist taking a small poll of bloggers' reactions.
"I don't really have much to add here — there's some great tips," Kevin Dean, a blogger on Monochrome Mentality, told LinuxInsider.
One of them was particularly timely for Dean, in fact. "Having just moved, my wife and I are both coping with not having a home Internet connection," he explained. "We're trying to extend our range to mooch off of the neighbor's AP. As I skimmed this article I pulled out my laptop and tried forcing my wlan's connection speed, and it appears it's not yet supported. 2.6.28 seems to hold some promise in that area."
Building Packages From Source
Also worth highlighting — this time from the "apt guru" article, Dean added — "is how amazingly simple it is to build packages from source with Debian's tools.
"Say I'm interested in pulling in the latest copy of screen that has just been introduced into Debian Experimental, and I'm running Ubuntu," he explained. "I'd add the Debian source directory (deb-src http://ftp.us.debian.org/debian/ experimental main), run my update (apt-get update) and then begin," he went on.
"'apt-get source screen' would pull the source code; 'sudo apt-get build-dep screen' would install the needed build dependencies automatically; cd scree[tab] would change me into the source directory of screen (if your shell has tab completion); 'fakeroot dpkg-buildpackage' would configure, compile, build and package screen," he said. "In the directory above, I'd have a fresh .deb file ready for installation on my system."
'There's Beauty in This Example'
It may not be a paradigm of simplicity, "but there's beauty in this example," Dean asserted. "Notice I was actually mixing repositories, not from different releases, but different distributions! Building .debs from source makes this fairly simple and not so failure-prone. If there are dramatic inconsistencies, this process fails rather than breaking your system."
Others had different favorites to extol.
"My favorite tip is SSH," educator and blogger Robert Pogson told LinuxInsider.
"I have a couple of geeky students who are learning the ins and outs of the PC with GNU/Linux and hardware tricks," he began. "They had a defective CD drive and could not do the usual installation.
"I called them over to my desk and typed a few commands after netbooting the box using a floppy," he said. "I installed a netboot loader on the master boot record of the hard drive and rebooted the box to boot from the hard drive without leaving my chair — the ultimate triumph of a geek."
The result? "The boys' mouths dropped open and they doubled over in exultation — great fun!" he said.
'How Cool Is That?'
Another trick Pogson likes is forwarding X over the SSH connection. "With this I can run an application on a GNU/Linux machine where I have set up passwordless sessions," he explained. "'ssh -Y beast iceweasel –no-remote' starts my favorite browser on another machine so I can use its resources and browse the Web all at the same time remotely."
"How cool is that? We can all own a supercomputer cluster incorporating our new machines with the old ones in a harmonious system using links on our menus and desktops," he added.
Some Linux fans — such as Montreal consultant and Slashdot blogger Gerhard Mack — thought the lists of 107 tips were "a tad dated.
"The newer IDE code will optimize a lot of things for you," Mack told LinuxInsider. "You can tell if you're using the new drivers by the drive showing up as /dev/sda instead of /dev/hda."
'The Joys Are Great'
Others held up the tips as an illustration of why Linux has not yet won mainstream acceptance.
"If you have anything go wrong in Linux, your advice will ALWAYS be 'Launch Bash and type' — which of course just killed any chance at all of having the average PC user keep your system," Slashdot blogger hairyfeet told LinuxInsider.
"In the 15 years I have been building, repairing, and servicing Windows, both home and business, I can count the number of times I HAD to use CLI on one hand and have fingers left over," he said. "There should not be a single task that you can do in Linux that requires a CLI. None."
Still, there's no doubt that there's much to love about Linux — at least in the right hands.
"Whoohoo!" concluded Pogson. "The joys of being a computer geek are great with GNU/Linux."