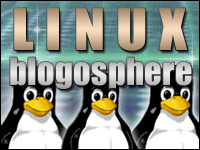 Well, it's been a tempestuous few weeks here in the Linux blogosphere, and our favorite operating system has been buffeted about by the fickle winds even more than usual.
Among the highlights, of course, was HP's debut last week of multiple devices running webOS and — even more importantly — its announcement that it would be shipping the Linux-based operating system in printers and PCs as well. That's Linux 1, Windows 0 — not that we're keeping track or anything.
Lest anyone begin cheering HP, however, word came out just a few days later that HP recently told a customer that installing Linux on his HP Mini 110-3110NR netbook had voided the device's warranty.
Sound familiar? That's because it is. As alert readers may recall, Best Buy's Geek Squad pulled the same maneuver almost exactly a year ago. So, more of a blow to Linux on that one.
More good news came to Linux users, however, with Canonical's release to the public of its database of 1,300 or so certified Linux-friendly components. It won't be long before we can kiss compatibility issues goodbye once and for all!
'Oil-Soaked Waters'
Speaking of goodbye kisses, though, last week also saw the news that reportedly caused "thousands" of Nokia employees to walk out of their employer's offices: the phone giant's newly announced partnership with Microsoft and Windows Phone 7.
Nokia could have gone with Linux-based Android and joined it on its meteoric rise, but instead it jumped "from burning platform into oil-soaked waters," as Androinica's Andrew Kameka so nicely put it.
You just gotta wonder: What *were* they thinking?
'Falling in Love With Debian'
Anyhoo, Linux bloggers have had plenty of other happy thoughts to think, fortunately, particularly now that it's Valentine's Day. In fact, even weeks ahead of time, many had already turned their thoughts toward matters of Linuxy love.
On the release of Debian 6.0, for instance, at least one blogger admitted to "falling in love with Debian, again."
Elsewhere on the blogs, geeks were also proclaiming their passion.
"God, I love Linux" was recently heard on Neowin, for example. Similarly, "I love Linux" was the title of a recent post over on TechRepublic.
It's been nothing short of a Linuxy love-fest, in other words, so Linux Girl was inspired to seek out even more amorous proclamations down at the blogosphere's Punchy Penguin watering hole.
'My Love Has Only Increased'
"As an OS designed from the ground up to work for the user and not some irrelevant other interests (DRM, phoning home, WGdisA, malware, etc.), GNU/Linux is lovable," blogger Robert Pogson began.
"It is so flexible it will run on almost anything and do a great job," Pogson enthused. "Because it has only features that deliver performance, GNU/Linux is also more reliable than that other OS."
In fact, "in a dozen years of use, my love for GNU/Linux has only increased," Pogson added. "At first I was happy that GNU/Linux just worked. Now my love deepens with every discovery of long-existing features and new ones."
GNU/Linux is also "not high-maintenance — unlike some ladies I have known," Pogson went so far as to point out. "I put in a minimum of effort to install and configure, and I get years of loyal performance.
"I trust GNU/Linux with my desktops, portable devices and servers," he concluded. "Sure, it's not perfect, but no other OS delivers so much for so little."
No 'Walk of Shame' Here
Consultant and Slashdot blogger Gerhard Mack was equally appreciative.
"I love having an OS that I got to learn on for free, became a hobby and then managed to turn into a full time job," Mack offered.
"I love linux because it was my route to being exposed to the whole open source ecosystem," began Barbara Hudson, a blogger on Slashdot who goes by "Tom" on the site.
"Throw in the GPL (only its 'give-back' provisions, but having been upheld in court), and you've got a formula for encouraging the sort of win-win situations that we'd all like to be in for Valentine's Day," Hudson said.
"Okay, that's a bit of an exaggeration," she added. "For Valentine's I prefer chocolate and and dinner with a few drinks, but my COMPUTER sure loves linux, and not just on Valentine's Day. And unlike humans, it will never have to do the 'walk of shame' the next morning."
'It Helps the Overall Market'
Slashdot blogger hairyfeet may be a Windows fan, but he still saw plenty of virtues in Linux.
First, for example, "it allows machines that simply wouldn't run modern versions of Windows to be saved from the trash heap and repurposed into a multitude of roles," he explained.
Linux is also valuable for the competition it affords, hairyfeet added.
"Even a Windows guy can appreciate the fact that as long as Linux is perceived by MSFT to be a competitor, it helps the overall market," hairyfeet said. "Just look at the price of Windows: An OEM of Windows hasn't changed since XP was released a decade ago, and it is in fact cheaper than Windows 1.0, which was (US)$99 at release!"
'Linux Is Just Better Supported'
Linux "is flexible, supports a wide range of hardware, and is stable in a way no other operating system to date is," opined Chris Travers, a Slashdot blogger who works on the LedgerSMB project.
On Linux, for example, "I can have a web application call standard print commands and it will just work," Travers explained. "On Windows, that has historically been a nightmare and required registry hacks. While this doesn't seem like a big deal, it does mean that small-scale web apps cannot be deployed reasonably to a standalone workstation without a great deal of grief."
On the LedgerSMB project, "we've had no trouble with LedgerSMB running on Linux, but on Mac OSX there have been some issues" while "on Windows, we have had large numbers of problems."
In short, Travers concluded, "from this developer's perspective, Linux is just better supported in most ways that matter."