HP on Monday announced the availability of a new platform of microservers in its Project Moonshot program as it tries to carve out a new energy efficient, lower-cost niche in the server market. The company says the new servers are designed to help companies and organizations deal with the challenges of current computing trends such as cloud computing, Big Data, and mobile and social usage.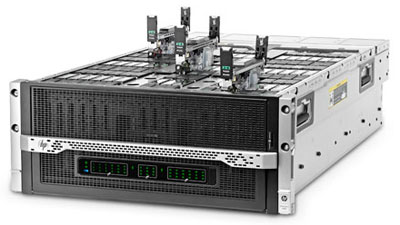 HP Moonshot Server
Last June, the vendor said it would use the "Centerton" Atom processor from Intel in the platform, and would begin shipping in early production to customers by the end of 2012. It has done so, said John Gromala, a director of product marketing at HP.
A Moonshot 1500 chassis can take up to 45 hot-swappable servers running Centertons. The price for a fully loaded machine with one network switch will start at nearly US$62,000.
HP will use processors from Intel, AMD and other vendors in the Moonshot servers. In a company press release, the company said Project Moonshot servers will use chips that normally show up in smartphones and tablets, which will allow the servers to be more energy efficient and take up less space in data centers.
"No one really knows what the game will look like in the future, so HP is trying to make the widest bet possible," said Jim McGregor, founder and principal analyst at Tirias Research. "They are trying to create the most flexible platform for whatever direction the industry and the technology go. At the same time, they are addressing three of the major issues — power, cost and size/form factor."
About Gemini and Project Moonshot
The first HP ProLiant Moonshot Server, released on Monday, uses the Intel Atom S1260, part of the Centerton series of processors.
The Moonshot 1500 Chassis shares management, networking, storage, power cords, cooling components, direct attached disk drives, and two network switches. The 45 extreme low-energy servers it supports can each be tuned to a specific workload. One Moonshot 1500 rack replaces eight racks of x86 servers, Gromala told TechNewsWorld.
Storage cartridges with two drives each can be populated in the system and each drive can be shared by up to eight servers, he said. While the discs can be shared, this "is not your traditional shared storage solution."HP will work with multiple partners and different processors to create servers in the Project Moonshot line. "Working with more partners and multiple software-defined server cartridges, we can target specific applications and release products at three times faster," Gromala said. "For example, instead of a one time per year pace, we would get a three times per year pace."
Moonshot's Impact on the Server Market
HP's plan to use processors from ARM and other companies in the Moonshot line of servers "mounts a challenge to Intel," Joe Clabby, president of Clabby Analytics, told TechNewsWorld. "But you've got to put it in context — it's yet another processor that performs a special purpose."
"Servers have always used a wide variety of architectures because no two servers or server workloads are alike," McGregor told TechNewsWorld.
Chip manufacturers are close to maxing out on the number of integrated circuits they can put on a chip, and ARM "represents a way to get a lot of performance by using tons of processors — a different approach than focusing on chip speed," Clabby said.
"With the upcoming 64-bit ARM processors, the influence of the ARM ecosystem and the dominance of ARM in mobile devices and its emergence in other consumer devices, I would say having an ARM solution for the future is critical," McGregor said.
HP's plan of using processors from different suppliers for different custom-made servers isn't revolutionary, "but it at least shows that the company is making every effort to remain competitive in the face of industry changes and growing competition," he added.
"We are still in a mode of putting as much as we possibly can into a piece of silicon and a system because transistors are essentially free and communications bandwidth is not horribly strained yet," McGregor said. "Eventually companies will have to look at the client devices, the communications mediums and the cloud servers as a single system, and will have to optimize them to overcome limitations in silicon and communications technology as well as manage power, cost and size. The company or companies that do that will be the leaders in the next decade."