One would think that the cost of doing business on the Web is so small that it would be almost negligible, but that's not the case with many e-tailers, which is why many of them fail. It's also why Prashant Nedungadi decided to found IMshopping, an online company that's trying to emulate offline customer service. With Nedungadi at the helm as CEO, IMshopping recently launched its site in beta.
Nedungadi used his experience as cofounder of Andale (now part of Vendio), at one time one of the largest third-party e-commerce service providers for small businesses on the Web, to hatch IMshopping and tap SK Telecom for US$4.7 million in venture capital for first round funding. That's no mean feat in these trying economic times.
When Conversion Rates Decline
Nedungadi recalls talking to small merchants several years ago and finding many of them deserting eBay.
"What they were finding," he told the E-Commerce Times, "is that it was becoming increasingly cost-prohibitive to sell online because conversion rates had dropped dramatically."
From 2003 to 2006, for example, conversion rates dropped from 3.6 percent to 2.1 percent. That kind of drop can be devastating to many online businesses that operate on razor-thin margins, Nedungadi maintained.
That conversion rate drop, he continued, corresponded to another interesting development on the consumer side of things. During the same time frame, the time a consumer spent online before making a purchase jumped from 19 hours to 34 hours. "That had a direct correlation to conversion rates because people were visiting more online stores but not buying," he said.
That's when Nedungadi began to ask himself, "How can we maximize the likelihood that a consumer will make a purchase?"
It turns out that the answer was people. "Human assistance turns out to be a huge catalyst for people to make a decision," he asserted.
The Human Element
One reason human assistance is important is that consumers now have a greater desire than ever to get answers to specific technical and qualitative questions — answers that can't be readily obtained with a search engine or even from reading user reviews, according to the company.
Moreover, a major provider of such answers — sales assistants roaming the floors of brick-and-mortar stores — are becoming a vanishing species as more and more retailers disappear from the scene.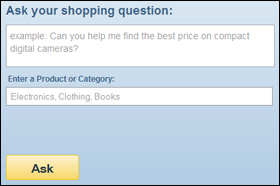 However, human assistance is only part of IMshopping's strategy. Ubiquity is a key component, too. Consumers looking for answers need not go to the IMshopping site to garner their knowledge. They can use social networking tools like Facebook and Twitter, or an instant messaging client. There's an iPhone app in the wings, too, according to Nedungadi.
Short and Long Terms
In the short term, IMshopping will be concentrating on growing its user base and providing value to the shopper, the CEO said.
The medium-term objective of the company is to "think of IMshopping to go," he continued. "Shoppers should not have to go to IMshopping to get the benefit of it."
"You should be able to be doing your work," he said, "and we will bring IMshopping to you."
In the long term, he added, IMshopping will be brought to merchants. They'll be able to tap into IMshopping resources to boost the value of their Web sites.
Rather than paying a person by the hour to answer a few questions, Nedungadi said, a merchant can pay IMshopping by the question.
"They can route their questions into our cloud, and our assistants are going to give [their] customers the answers they need, but from their Web site," he explained.
While there are social shopping sites like Kaboodle, ThisNext and StyleHive, IMshopping's addition of a human element, coupled with its goal to reach shoppers wherever they are through an array of technologies, makes it a unique offering.
Is it one that will fly?
"Not everyone shops the same way or makes decisions the same way or finds the same type of process valuable," Forrester Research Vice President and Research Director Patty Freeman Evans told the E-Commerce Times.
"If this can provide a way for someone to discover products in a form that's easier for them, then it's great," she added. "It could be a nice thing. It's not going to be for everybody."