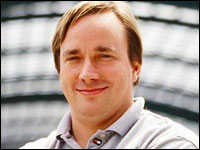 It doesn't happen often here in the Linux blogosphere that FOSS fans agree unanimously on — well, on pretty much anything.
Truth be told, there's generally good reason for the dissension. Take Microsoft's latest maneuvers, for example — are they good news? Bad news? It's not always easy to tell.
Last week, however, one of those rare announcements was made that brought universal joy to Linux aficionados around the globe. It was, of course, the news that none other than our own Linus Torvalds — a hero to us all — has been named a laureate for the 2012 Millennium Technology Prize.
'A Great Impact'
"The free availability of Linux on the Web swiftly caused a chain-reaction leading to further development and fine-tuning worth the equivalent of 73,000 man-years," wrote Technology Academy Finland, which determines the award, in an explanation of its choice.
"Today millions use computers, smartphones and digital video recorders like Tivo run on Linux," the academy added.
"Linus Torvalds' achievements have had a great impact on shared software development, networking, and the openness of the Web, making it accessible for millions, if not billions," it concluded.
'A Wonderful Recognition'
There's been dancing in the streets of the Linux blogosphere ever since word arrived, and so far the party has shown no sign of slowing down.
Linux Girl — who prides herself on having interviewed the man himself not so very long ago — was right there in the middle of it all, Quick Quotes Quill at the ready.
"I think this is a wonderful recognition of Linus, the operating system he created, and the open source model in general," Google+ blogger Linux Rants told Linux Girl.
'It's Great for Linux'
"The fact that Linus has received this award, while other more globally recognized figures such as Bill Gates and Steve Jobs have not, is a testament to just how valuable the committee believes his contributions to the world are," Linux Rants added.
"It seems all too appropriate to see Linus join fellow Millennium Technology Prize winner Tim Berners-Lee in this honor," he concluded. "One man created the World Wide Web, and the other created the software that makes it work."
Indeed, "it's an honor for Linus, and it's great for Linux" to be put on a pedestal at the same level as Sir Tim Berners-Lee, agreed Google+ blogger Pedro Gomes.
Gomes' only regret, however, is that "the great majority of people in the world do not know what is Linux and who Mr. Tim Lee is," he added.
'It Has Kept the Dragons at Bay'
"I think Linus Torvalds is deserving of being named a laureate for the award," agreed Roberto Lim, a lawyer and blogger on Mobile Raptor.
"Just imagine what the world would be like today without Linux?" Lim added. "It has kept, and continues to keep, the dragons at bay."
And again: "It is hard to underestimate the impact of Linux," concurred Chris Travers, a Slashdot blogger who works on the LedgerSMB project. "I wonder how many of us got into open source software because of Linux."
'One of the Greatest Accomplishments'
Torvalds made "what has turned out to be a great initiative in IT and made a career of it," blogger Robert Pogson observed. "Lesser people would have messed it up somehow.
"He makes good decisions and gives good leadership," Pogson added. "Well done. What started out as a small project by an individual has become one of the greatest accomplishments of modern technology."
Along the way, of course, "he has accepted and encouraged help from many, including GNU and thousands of developers and dozens of corporations cooperatively making software for the world," Pogson pointed out.
'It's Ironic'
Slashdot blogger hairyfeet saw irony in the occasion.
Torvalds' honor "isn't really about what he has done but what others such as Google actually did with his idea," hairyfeet opined.
"As so many like to point out in the forums, 'Linux is just a kernel,' and it's even more hilarious that one of the reasons he is being honored is because 'even TiVo runs on Linux,' which of course shows just how little the whole 'FOSS thing' matters to those giving the award," hairyfeet went on.
"I'm not saying that Linus doesn't deserve the recognition he gets, any more than RMS shouldn't be credited with the GPL," he added. "I'm just saying it's ironic that he is winning this award for the work that corps have done by taking his work and making devices which can be locked down on a whim without a second thought."
'It Is Ubiquitous'
Then again, "Linux has penetrated every aspect of computing, from supercomputers to phones to embedded systems," Google+ blogger Kevin O'Brien pointed out.
"Billions of people use Linux every day without even knowing it," O'Brien added. "It is ubiquitous. That is what makes this prize appropriate."
The recognition "certainly makes more sense than whats-his-name from Facebook getting Time's 'Person of the Year' award," opined Barbara Hudson, a blogger on Slashdot who goes by "Tom" on the site.
"And after spending a day trying out Windows 8 Preview (which will be replaced with the Fedora 17 Beta A.S.A.P.), I think more than a few people are going to find a new appreciation of Linux when Windows XP finally goes EOL and they are confronted with Microsoft's 'social-centric' Metro Interface," Hudson predicted.
"Maybe Linus can spend some of the prize money buying Tux a new T-shirt sporting the prize logo?" she suggested.
'Poor Linus'
Last but not least, consultant and Slashdot blogger Gerhard Mack couldn't help but speculate about Torvalds' personal perspective on it all.
"Poor Linus," Mack began. "He does deserve it, but it seems the more he tries to hide in the background, the more people push him into the spotlight.
"I hope the money makes up for the hassle," he mused.