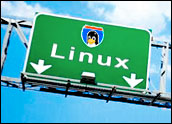 Most would agree there's strength in diversity, but sometimes strength also lies in unity. Not the new Ubuntu interface, mind you — though that may well be strengthening too — but rather a consistency in the way things are done.
That, indeed, is apparently the premise behind a new effort that emerged in recent weeks to unify the way applications are found and installed on Linux, regardless of the particular distribution being used.
"More and more people in the Linux world realize that a nice application installer (Application Store) is needed to make the Linux platform more attractive for normal users and third-party developers," wrote KDE contributor and openDesktop.org maintainer Frank Karlitschek in a blog post last week.
"The current package managers expose way too much complexity to the end users," Karlitschek added. "The normal users doesn't care about dependencies, libraries and other internals. But the user cares about things like screenshots, description texts, ratings, tags, comments, recommendation from friends and other features which current package managers don't provide."
So, the plan is to "build a better tool for finding and installing applications which sits on top of the current package management," he wrote.
'Absolutely Necessary'
Did Linux bloggers take that news lying down? You bet your favorite package manager they didn't.
"Not only it is a great idea, it is an absolutely necessary one and the first step towards standardizing," wrote Jon in the comments on OStatic, for example. "Until all the various communities come together and work together on a common distribution, Linux will never take over."
Then again: "It's a great idea, forgetting about the little details," wrote snkiz. "Who holds the packages? What if one distro doesn't want to carry a package? etc."
Alternatively: "It would be nice if a person could click on an application like Firefox and have it launch the installer application and find this application they want," suggested John. "Most people are so used to going to a site and just clicking on what they want and installing it this way. I know this is not the Linux way of doing things, but it would help a lot of people that come from Windows or even OS X to get around."
Similar thoughts could be heard on OSnews, Muktware, PCWorld and beyond, so Linux Girl knew it was time to dig deeper.
'I Doubt We'll See Anything Really New'
"I thought we had this already, and it was called 'AutoPackage,'" Hyperlogos blogger Martin Espinoza told LinuxInsider. "Oh, my bad, it is now called 'Listaller.' I suppose we must count it a failure.
"It sounds like they plan to add complexity to installation of packages; I hope it does not go badly awry," Espinoza added.
Similarly, "Linux has had the basic functionality for decades — it's called a 'package manager,'" Slashdot blogger David Masover suggested.
From a technological standpoint, "I doubt we'll see anything really new," Masover predicted. "In fact, from what I've seen of the existing app stores, I wouldn't be surprised to see a big step backward — everyone seems to be converging on the Apple concept of bundling everything you need for a program into one monolithic 'app.'"
In short, "keep my package managers working, and I'm happy," Masover concluded. "I'm not terribly interested in an 'app store' unless it offers something better."
'The Idea Is a Good One'
On the other hand: "The idea is a good one since right now application developers can package their software in a distro-independent way but still need to trust the user to install the correct dependencies," Montreal consultant and Slashdot blogger Gerhard Mack pointed out. "As Linux gains popularity, that will become more of a problem, as we will gain more users who don't know how to or don't want to bother with dependency issues."
In fact, package management is "one of many great features of GNU/Linux," blogger Robert Pogson opined. "As the number of applications, libraries and datasets grows ever faster, it will strengthen the GNU/Linux community greatly if there is a unification.
"Every major distro has good ways of doing everything — bringing the best practices together would be wonderful," added Pogson, who favors Debian GNU/Linux and the APT system. "Let's hope everyone can put aside sacred cows and develop an open standard for packaging."
'An Idea Past Due'
What Pogson doesn't want to see, however, "is every package being statically built and applications all shipping with a complete set of libraries to guarantee portability," he cautioned.
"There should be two classes of libraries: the big ones that are promised to be on every 'full' distro and smaller ones that developers can include with the package," he explained.
In the long run, "diversity will be less of a problem and more of a strength if the packaging is standardized so that smaller/niche distros can borrow from not one ('based on') big distro but any distro or package large or small," Pogson concluded. "This is an idea past due. We are doubling the number of packages available every few years — we cannot afford to lose the good stuff because it does not fit."
'Very Good In the Long Run'
The idea "is good and bad in the short run, but probably very good in the long run," asserted Chris Travers, a Slashdot blogger who works on the LedgerSMB project.
"On the positive side, this gives users a single, unified way to find programs to fill their needs," Travers explained. "That is wonderful and will probably greatly speed Linux adoption in some markets."
On the negative side, "this seems to me to raise more QA issues than currently exist," Travers added. "Any time you move control from the distro level to a third party level, you add a level of complexity that can cause substantial problems."
In the long run, though, "this will almost certainly force a new level of cooperation between Linux distros in QA, standard libraries, and the like," Travers concluded.
'It Simply Won't Work'
Slashdot blogger hairyfeet wasn't so sure.
"It simply won't work, as there are too many cases of reinventing the wheel in Linux," he told LinuxInsider. "Time and time again there have been attempts to set up a unified standard for things like package management, and it just never flies.
"When you have the freedom to DIY, with it comes the freedom to change things so they don't work with anyone else," hairyfeet concluded.
Open-Source Windows Apps
Finding and installing software on Linux isn't the problem, in the view of Barbara Hudson, a blogger on Slashdot who goes by "Tom" on the site. "Most people settle on one distribution, learn how to update it and install new software, and unless the distro does something EVIL(TM), they just stick with it," she explained.
Rather, "it seems to me that the REAL need is a similar 'software central' for open source apps for that closed source operating system, Windows," Hudson suggested.
"There are many open source projects that are cross-platform, so adding support for Windows could be the 'nose of the camel,'" she explained. "After all, what better way to induce people to discover other open source Windows applications than to provide them with one-stop shopping for Firefox, the GIMP, Perl, Python, Apache, MySQL, LibreOffice/OpenOffice, Filezilla, Postgresql, wxWdigets, Qt, pidgin etc., all from one installer?"
Not only that, but "when users see that all those applications also run on Linux, they would have one more reason not to fear making the switch the next time they have to reformat and reinstall," Hudson predicted.