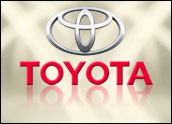 It's hard to keep up with all the companies joining The Linux Foundation these days, but recently one jumped on board whose name threw a collective hush over the Linux blogosphere.
Toyota, that is — none other than the planet's largest automobile manufacturer in terms of both sales and production.
Is there really anything else to say? Linux, you're on top of the world.
'The Flexibility We Require'
"Linux gives us the flexibility and technology maturity we require to evolve our In-Vehicle-Infotainment and communications systems to address the expectations of our customers," said Kenichi Murata, a project general manager with Toyota. "The Linux Foundation provides us with a neutral forum in which we can collaborate with the world's leading technology companies on open innovation that accelerates that evolution."
Toyota joined the foundation as a full-fledged gold member, in fact, making it clear that it's betting big on the open source operating system.
Did Linux bloggers take note? You bet your favorite dashboard computing device they did.
'The Next Big Opportunity'
"Cars: The Next Big Platform Opportunity for Linux?" reads OStatic's headline, for instance.
"Linux and open source is continuing to grow in importance as the framework for intelligent devices from digital video recorders (DVRs) to smartphone to, yes, the car your driveway," wrote ZDNet's Steven J. Vaughan-Nichols.
Similar sentiments could be heard on countless other highways and byways of the blogosphere, so Linux Girl knew it was time to learn more.
'They Will Save a Fortune'
"Linux makes a fantastic embedded platform," consultant and Slashdot blogger Gerhard Mack opined. "I bet even with the gold membership they will still save a fortune compared to going with closed source competitors."
Indeed, "it's completely expected," agreed Chris Travers, a Slashdot blogger who works on the LedgerSMB project. "Embedded space is going more and more towards Linux."
On an airplane recently, Travers saw "one of those personal entertainment systems that allows you to watch movies, etc., and listen to music through headphones," he told Linux Girl. "I watched with great amusement as it displayed a Linux kernel panic message and promptly rebooted."
'It Means There's No Stopping Linux'
Embedded entertainment systems have actually been "a strong area for Linux for quite some time," Travers pointed out. "This is hardly a new frontier, but rather a logical expansion of where Linux has been going for quite a while."
At the same time, of course, "this is a win for Linux," he added. "It demonstrates continued strong performance in this market and continued viability for Linux here."
Hyperlogos blogger Martin Espinoza took a similar view.
"This one is almost too easy, but I'll go there anyway," Espinoza said. "Obviously it means there's no stopping Linux."
'A Great Tool for Embedded Systems'
Blogger Robert Pogson's first car was a Toyota, he told Linux Girl.
"It used analogue computers and I could pry a module apart, make some measurement and replace parts with a soldering iron," he recounted. "Times have changed and Toyota has long ago seen the benefit of digital computers and control systems."
Linux is "a great tool for embedded systems, communication, documentation, navigation, control, logging, monitoring and entertainment," Pogson explained. "Toyota is wise to rely on such well-tested and open standard software to improve the bottom line, increase performance and to make their vehicles more attractive to consumers."
Good News for MeeGo?
Thoughts on Technology blogger and Bodhi Linux lead developer Jeff Hoogland said he hopes the news means that Toyota will "be contributing to FOSS some. At the very least I think it is a sign that Meego will be appearing at some point as an in-car operating system.
"Here is to hoping Meego can eventually give the pseudo-Linux Android a run for its money," Hoogland added.
Slashdot blogger hairyfeet, however, wasn't so sure about the contribution part.
'Free for NON-Commercial Use'
"Linux makes sense to a large industrial manufacturer, as they get anything they want for free and can afford to pay a team of developers to keep their own fork," hairyfeet explained.
"The problem is, very few of these companies really give anything back," he added. "It is like how GE took that big bailout and said, 'Thank you America!' and then promptly sent their best jobs to India."
That, in turn, "is why Linux really does need a 'free for NON-commercial use' clause, so that those with big pockets actually have to throw a few pennies in the jar," hairyfeet concluded.
No 'ToyotaBackOrifice2012.EXE'
Barbara Hudson, a blogger on Slashdot who goes by "Tom" on the site, took a lighter view with a list of the top 10 reasons Toyota chose Linux over Windows:
10. "Your Toyota will run; ToyotaBackOrifice2012.EXE won't."
9. "No revalidating your software license because you upgraded your radio, added an aftermarket DVD player, or replaced your spark plugs."
8. "If your battery goes dead and you get your car boosted, you don't have to wait five minutes for the system to finish booting, and another half hour while it runs a disk and virus scan."
7. "If your computer goes dead, you can always get a used one from a scrap yard without voiding the OS license."
6. "Open source means that the next time your Toyota refuses to stop when you step on the brake pedal, you don't have to take their word for it that it's not a software problem."
5. "'You got root on your car? You go girl!' as opposed to Windows, where Sony Music roots YOU!"
4. "No 'A hardware device (turn signal) has requested a left turn. Accept? Cancel.'"
3. "You can drive your Toyota on Tuesdays, instead of sitting there while '27 important system updates are downloading. Please wait while the updates are installed and the system reboots.'"
2. "No 'Update failed. System unbootable. Your current hardware configuration is no longer supported. Please upgrade to a newer Toyota. Press any key to exit.'"
1. "To change the temperature of your air conditioning using Windows Automotive 8, select Control Panel, then Hardware Devices, then Air Conditioner. Next select either the Driver tab, Front Passenger tab, or Rear Passengers tab. Now choose Cooling options, and from the dialog select Change Temperature. Adjust the slider to the desired temperature, select the cooling mode or accept the default, then select either 'Save settings permanently' or 'This time only' from the dropdown, then select either Apply or Cancel. Select 'Yes' when asked to confirm the changes, and then 'Yes' at the 'Allow system changes' prompt. WARNING: Do not select 'Remove hardware device' unless the vehicle is parked and the engine is off — serious injury or death can result from air conditioners being forcibly ejected at highway speeds.'"