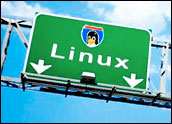 There are many reasons to love Linux, as geeks around the world already know, but recent news adds yet another to the already long list of glorious virtues: It has now been named the No. 2 hottest IT job skill.
Yes, Linux has claimed the second spot on research firm Foote Partners' list of hottest noncertified IT skills, behind only Java EE/SE/ME. Rounding out the top five are virtualization, Microsoft .Net and NetWeaver.
The Hot List rankings are based on the growth in value of the various skills over time, along with premium pay levels and IT spending trends, among other factors. For Linux, the lofty ranking stems at least in part from a 50 percent increase in the value of Linux skills over the past year — in the past six months alone, that value increased by almost 30 percent, according to Foote.
The job market, in general, may be under a dark cloud these days, but how's that for a silver lining?!
'I Can't Buy a Linux Job'
The good news, proudly proclaimed in a Datamation article, was picked up on Linux Today — where it had garnered some 3,300 reads within a week of its posting — as well as on TuxWire and Free Software Daily, among others.
Not everyone, however, felt it rang true.
"I often wonder where these statistics come from," wrote cww in the comments on Datamation, for example. "In my part of the world, I can't buy a Linux job. I've been a Linux 'Consultant in waiting' for a decade.
"I have begun to suspect this is like the ever popular 'Shortage of Qualified people' myth that is perpetuated by so many companies, where qualified actually means willing to work 60 hrs a week for $14k/yr," cww added.
Ever alert to even the faintest hints of controversy, Linux Girl's debate-o-meter began to go off as soon as she read that comment. Next stop: the streets of the blogosphere for some down-to-earth insight.
'Always Has Been'
"Linux has always been a 'hot' skill anywhere other than a Microsoft shop," Slashdot bloggerdrinkypoo told LinuxInsider.
"When I went to work for Silicon Engineering (now a division of Creative), I built Linux-based systems to serve as X terminals replacing *SPARCstation 1s and 2s* — no joke," drinkypoo said. "The hilarious part is that even then — 12 years ago — it was cheaper to build a fairly fast system along those lines with a 19-inch monitor than to buy a used SS1+ pizza box with guts, and maybe no disk."
Linux is continuing to gain acceptance largely because of the low cost, drinkypoo pointed out. "If you're building a cluster, Linux can save you literally tens of thousands or more on licensing costs, as compared to a commercial Unix or to Windows," he explained. "In this age of recession and cost-cutting, Linux has the opportunity to make major inroads in corporate markets, as it does every time the belts are tightened."
Bottom line: "As Linux gains momentum, there are only more reasons to require Linux experience on the resume," he said.
Focus on Embedded
"Yes, I can believe it," Montreal consultant and Slashdot blogger Gerhard Mack agreed. "Good Linux admins are hard to find, and I have people who email me from places I used to live, wondering if I'm coming back so they can hire me again."
Linux will be "hot," but not in the way some might think, Slashdot blogger hairyfeet told LinuxInsider.
Specifically, embedded Linux is where the real growth will be, he asserted: "Those guys that can squeeze more functions into less space with less cycles and less power will the big boys of the next gen."
No 'Big Players'
This is an area where "the big players" — Apple and Microsoft — "simply aren't even in the game," hairyfeet noted.
"Apple? Has a kick-butt product in mobile OSX but refuses to put it on anything but Apple hardware, so they aren't a threat," he explained. "MSFT? Anyone who has used Windows Mobile knows why it got the nickname 'Wince,' because it is just awful. They simply haven't figured out how to give a good experience on those tiny screens, and I'm betting will be too busy pumping up Win7 and X360 to worry about WinMobile for a while."
Of course, Linux could get derailed in the mobile space "if RMS gets nasty and comes out with an even more anti-business GPL V4," hairyfeet opined. "His GPL V3 has already caused a rift where Linus won't actually put the kernel under V3 because he thinks that RMS has gone too far; who knows if RMS will cook up some more anti-business like his anti-TiVo parts of V3?"
'Pick Up Gumstix or Beagleboard'
After all, the only thing "more locked down than a TiVo is your average cellphone," he noted. "If RMS demands that those phones be hackable to satisfy his four freedoms, I could see corporations dropping Linux like the plague for Wince, even if it is a worse experience."
Nevertheless, for someone getting into Linux now, "I would suggest they pick up something like a Gumstix or Beagleboard and learn how to work embedded," hairyfeet said.
"While there will always be a job for Linux gurus, thanks to the Web, those jobs don't necessarily have to be here" in the United States, he pointed out. "But when designing a new product, they aren't going to want to risk corporate espionage by allowing the crucial design phase to be handled out of country. That means embedded Linux developers to code all these little gizmos."
'The World Is Waking Up'
This year "has been a perfect storm of combined storms that have built over several years: cost and complexity of IT, 'green' IT, the inability of M$ to innovate (Vista), malware, prosecution for anti-competitive practices, the netbook, etc.," blogger Robert Pogson told LinuxInsider.
Said storm has been "strong enough to knock M$'s client income back 29 percent year over year in Q4," he noted. "The world is waking up to the reality/necessity of reduced dependence on M$."
As the marketplace shifts, "one point of friction has been the availability of GNU/Linux geeks," he asserted. "Universities and colleges have been cranking some out; many are self-taught because the system is open."
'Growing Demand for the Uber-Geek'
Yet "many IT departments have in-house knowledge sufficient to know what is possible, but perhaps not with the experience of having 'been there and done that,'" he added. "This creates a growing demand for the uber-geek who can organize and implement a project of some complexity and importance."
Indeed, many operations are multiplatform and require expertise with many systems, Pogson pointed out; "that is becoming a more important retarding force than simply lack of expertise with GNU/Linux. Large organizations can afford to have experts on each system, but smaller organizations cannot."
Of course, "with the cloud, perhaps businesses will not need in-house expertise in everything," he suggested.
'It Will Become Even Hotter'
Linux is often the cornerstone for projects more ambitious than the IT department could otherwise take on, Chris Travers, a Slashdot blogger who works on the LedgerSMB project, told LinuxInsider. As a result, "I think it will become even hotter in coming years than it is now," he said.
Total cost of ownership (TCO) studies that were part of Microsoft's "Get the Facts" campaign presented data that support this conclusion, Travers added.
"Although TCO was higher in most categories of Linux use than it was with Windows, a lot of the overruns were due to hiring consultants to provide implementation support," he explained. "Given the scope of the consulting fees in the papers, I doubt that this was limited to planning and installation, but must have included a fair bit of customization as well."
'Even More Demand'
In short, "businesses were choosing to spend more on Linux solutions than on Windows solutions," he noted.
"This does match my experience," Travers said. "However, the basic reason why companies do this is that they can get solutions which are more manageable to them, which match their needs better, etc., than they can with commercial, off-the-shelf software."
Such costs "will continue to increase rather than come down because the software will be better, hence more money can be spent optimizing it to the business in order to extract an even higher return on investment," Travers predicted. "I think it is safe to say that Linux skills will be in even more demand in five years than they are today."