When computer accessories maker Logitech on Wednesday unveiled two new mice that can be used on any surface, it triggered squeaks of protest from competitor Microsoft.
Logitech's newly announced Mouse MX products use dark field laser tracking to let them navigate on smooth surfaces such as glass.
Few people use mice on glass, and Microsoft designed its BlueTrack mice to work on more commonly used surfaces such as granite, carpets, bedspreads or users' jeans, Redmond chattered.
Logitech's Darkfield Mice
There are two products in Logitech's Mouse MX, or Darkfield, family.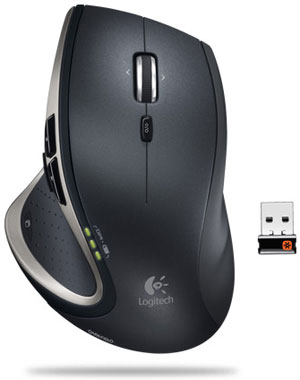 Logitech Performance Mouse MX
The Performance Mouse MX is full-sized, and the Anywhere Mouse MX is a compact device.
Both offer hyper-fast scrolling, and have a click-to-click mode that gives users more precise control when they navigate lists, photographs and slideshows.
The Performance Mouse MX is shaped to the user's right hand while the Anywhere Mouse MX fits into either hand. Both have four customizable thumb buttons and software-enabled force-sensitive side-to-side scrolling. The Anywhere Mouse MX comes with a travel pouch.
Both use dark field microscopy technology to enable them to work on smooth surfaces.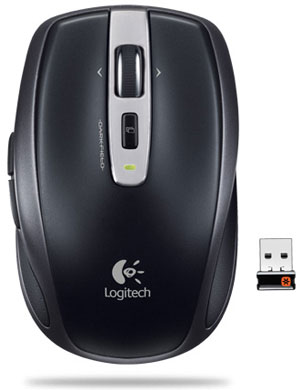 Logitech Anywhere Mouse MX
Regular laser-tracking technology doesn't work on smooth high-gloss surfaces such as glass, because they are almost flat and don't have enough irregularities the lasers can use as reference points to measure motion. That is why a mouse runs more smoothly on a rough piece of paper than a glossy one.
The Logitech Darkfield mice use dark-field microscopy to detect the dust particles on a piece of glass and use them as reference points to measure motion. Dark field microscopes illuminate only the sides of objects being studied and not the entire area, thus improving image contrast.
Both mice feature the recently announced Logitech Unifying receiver. This is a small wireless receiver that plugs into a computer's USB socket and stays there so users won't have to extract it when they pack up and move. Extraction is easy, because the receiver sticks out about 0.3 inches from the USB port, Logitech spokesperson Sarah Youngbauer said.
The Unifying receiver supports up to six compatible Logitech keyboards and mice simultaneously. These include the Logitech Keyboard K350, Logitech Keyboard K340, Logitech Marathon Mouse M705 and the Logitech Wireless Mouse M505.
Both mice will be available in the U.S. and Europe this month. Suggested retail prices are US$99.99 for the Mouse MX and $79.99 for the Anywhere Mouse.
The Mice That Warred
Those prices seem steep when compared to Microsoft's BlueTrack mice, which are available on NextTag.com at between $29 and $59, depending on their size.
Not so, sniffed Logitech's Youngbauer.
"When Microsoft originally announced their BlueTrack mice, they were at a similar price point to what we're announcing now," she told TechNewsWorld. "These are flagship, top-of-the-line mice and have a lot of features you won't find in the competition."
She's correct, based on a report in the Electronista blog on September 9, 2008, which pegs the price of the desktop version of BlueTrack at $100 and that of the notebook version at $80.
Microsoft reportedly wrote to Cnet's Rich Brown pointing out that its BlueTrack mice were designed to work where people use their PCs most, and that 93 percent of people said glass is not a surface they encounter when using their computer.
"I've never seen anybody do something like this," Logitech's Youngbauer said.
That was to be expected — Microsoft and Logitech have been locked in a battle for the mouse market for some time. "We're the leader in the mouse market, and Microsoft's No. 2," Youngbauer said.
There's big money in mice.
"Other than the notebook bag, the mouse is the most-bought notebook peripheral," Youngbauer said. "Trackpads aren't a very productive way to work.
Now to see if anyone wants to use mice on glass.