Eternal Storms: A Little Flotsam and Jetsam With the Cool Stuff
MacNewsWorld
ScreenFloat by Matthias Gansrigler is available at the Mac App Store for US$6.99.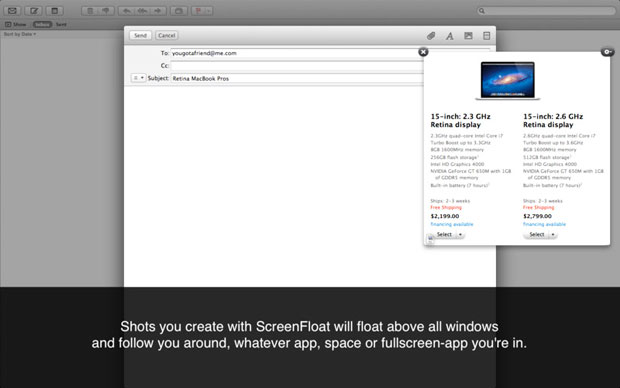 Independent software makers are the backbone of any platform's ecosystem. They've made Apple's app stores exciting places where solutions abound.
"There's an app for that," as Will Sonnett used to say, isn't brag -- just fact.
One independent code warrior who recently caught our eye is Matthias Gansrigler, the principal of Eternal Storms Software.
Gansrigler's apps for the Mac are narrowly focused, but they offer inventive ways to simplify some common tasks facing users.
For example, when working with multiple windows open, do you find yourself hopping from one you're writing in to others you're using for source information? Have you ever taken a snapshot of a window and wish you had a convenient way to archive it?
Those tasks can be accomplished with ScreenFloat.
It allows you to capture any area on your screen with a customizable keyboard shortcut -- the default is shift-comand-2 -- and automatically store it in a clipping library for quick access.
When you open screen grab from the library, it will appear on top of all your other windows so you can always see it no matter what app you're in.
As you create collections of screenshots, recalling what you've saved can start to be a chore. Gansrigler makes it easier to find your captures by allowing you to name, tag and categorize them.
Because the screenshots are simple image files, you can drag them into any application that supports those types of files, making it easy to share them among apps.
ScreenFloat is a simple idea, but its usefulness can grow on you.
Drag-and-Drop Palette
Yoink by Matthias Gansrigler is available at the Mac App Store for $3.99.

Another useful offering from Eternal Storms is Yoink. It essentially creates a palette that can placed on an edge of your Mac display to which you can drag items that you want to drop between applications.
Dragging and dropping objects isn't such a big deal when you have a 27-inch iMac, but on smaller displays -- a 13-inch MacBook Air, for instance -- it can become challenging, and in full-screen mode, it's impossible.
With Yoink, you drag your object to the edge of your Mac display where the app's palette will appear. You drop the object on the palette. Then you can click on the window or slide in full-screen mode to the application where you want to drop the object and drag it from the palette to its new home.
What's especially handy about Yoink is it allows you to drag multiple objects to its palette. That can streamline a series of drags and drops.
Better yet, you can drag multiple objects to the palette simultaneously to form a stack. That way, you can drag the stack to a target and relocate them there all at once, saving you the trouble of individual drag and drops.
Despite its ungainly name, Yoink is a sweet improvement to OS X.
Brainwashing Montage
Briefly by Matthias Gansrigler is available at the Mac App Store for $7.99.

Gansrigler recently took a break from writing utilities and created a significantly different type of program -- Briefly.
"It's my first content-creation-app (as in, you produce something with this app)," he writes in his company's blog. "All my other apps are utilities or apps that help you get things done in a quicker or easier fashion, but this one actually lets you create something cool."
Briefly, which is also available in a free, 15-day trial version from the Eternal Storms website, lets you create a still motion video from your photos. Still motion videos show photos in rapid succession. Think stop motion without the animation effects.
The technique has been used in movies and television shows in scenes when a character is being brainwashed with subliminal messages.
Fans of the NBC show Chuck will remember what happened to the hero in the series when the Intersect kicked in. That was still motion video. It was also used in Lost in the episode when Karl was brainwashed.
Forget the Music
Briefly's interface is very simple. You can drag individual photos or folders into it and will display your images as thumbnails.
The program does a good job of finding images even in nested folders. It also lets you rearrange your pictures by dragging thumbnails around the screen.
You can add a music soundtrack, too, but that can be problematic. The app choked when I tried to use a song that I purchased from the iTunes store. It worked fine, though, with a track purchased at Amazon's Music Store.
Because Briefly's still motion videos tend to be so short, however, music soundtracks can be superfluous. Before a song can get started, the video has finished.
After dragging or importing your photos into the app, you click on Create, and Briefly will create a video for you. It also lets you share your work with sites like Facebook.
Although Gansrigler's apps have a few warts, they're still useful in improving productivity on a Mac -- or in the case of Briefly, creating offbeat videos.
Want to Suggest a Mac App for Review?
Is there a Mac app you'd like to suggest for review? Something you think other Mac users would love to know about? Something you find intriguing but are hesitant to buy?
Please send your ideas to me, and I'll consider them for a future Mac app review.
And use the Talkback feature below to add your comments!

---