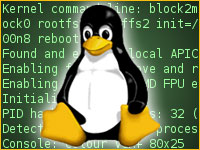 This story was originally published on June 26, 2009, and is brought to you today as part of our Best of ECT News series.
When I was asked to write a guest column for LinuxInsider, I sat down and thought long and hard about what I wanted to convey.
I believe with the right approach, Linux can take a great chunk of the market; you just have to give the market what it needs and wants, while allaying its fears.
So here is what I believe would help a small town PC guy like me to help sell Linux to Joe SMB and Sally Home User.
Something for the Small Biz
What's needed is a true Linux SMB Edition, targeting specifically the needs and fears of those businesses that are using Windows — especially those that are still using Windows 2000, which is going to lose support in 2010.
It should run using low resources, thus giving a better performance than Windows on the same hardware, perhaps by using JWM or Enlightenment for the DE. It should have built-in VB6 support and a built-in trial of CrossOver so businesses can have time to convert their users to OpenOffice without fear of downtime.
An SMB Server Edition designed to provide much of the same functionality as AD +Exchange and to work seamlessly with the new SMB Edition would be the icing on the cake. In this economy, showing Windows-2000-using SMBs that Linux can give them a safe and secure OS without the need for upgraded hardware will do a lot to help sway them.
Guru Safety Net
For home users, Linux MUST defeat the Winprinter in the long run. The Winmodem and Winwireless were defeated — the Winprinter can be defeated as well! The CLI must be de-emphasized, so that there isn't a single job or problem that can't be fixed without a GUI, because CLI is frankly too strange and complex to the users Linux must attract in order to gain market share.
While Wine would be an option, I would have a trial copy of CrossOver Games or Cedega installed, along with a link to a list of all games ready to run and links to download/buy them.
Most importantly, both the SMB and Home Editions should have a "Help Me" link that would allow a Linux "guru" to receive a message from someone having trouble and respond to them — perhaps even remote in for problems that would require major CLI to fix.
Remember, we have to make the customers feel safe and comfortable with their new purchase as much as possible.
One-Stop Linux Shop
Finally, I'd like to see a "Linux store" — and by that I don't mean an Apple style "app store," because having Click N' Run installed on many distros has that covered.
No, what I mean is a central link, both on the desktop and start menu, that will take you to an online store filled with hardware that is certified to work with your distro. It should offer all-in-one printers, WiFi USB and PCI cards, USB TV Tuners — all of the gadgets folks want. As it is, it simply takes too much research to buy Linux peripherals, and most folks simply don't have the time.
I've found when you go into stores, the odds of finding items that work with Linux without doing research are almost nonexistent, so an easy-to-use central store where users could buy those items without having to spend hours on forums is a must.
Also, a warning about Lexmark and other brands to avoid would be nice and might bring pressure to bear upon them to make Linux drivers.
So, there you have it, these are some of the things that would help a guy like me to put new Linux machines side by side with the Windows ones.
Some of these ideas may be practical — some not. Hopefully, some will give developers ideas and start the ball rolling. I believe Linux security could really help many out there, if the objections they have to Linux can be overcome.