Does "green data center" refer to having more greenery around your data center site? No, definitely not. It means reducing your carbon footprint by making effective usage of the core center of your organization — your "information assets." Being green requires an end-to-end, integrated view of the data center, according to Gartner, including the building, energy efficiency, waste management, asset management, capacity management, technology architecture, support services, energy sources and operations.
Master Data Management (MDM), by definition, allows consolidation of data into a central hub, which creates a unique representation of enterprise entities such as customer, product, supplier, asset, etc. This effectively means rationalization of the core data into a central hub effectively forms the data center.
"Master Data Management" is defined by Wikipedia as a "set of processes and tools that consistently defines and manages the non-transactional data entities of an organization (which may include reference data). MDM has the objective of providing processes for collecting, aggregating, matching, consolidating, and quality-assuring, persisting and distributing such data throughout an organization to ensure consistency and control in the ongoing maintenance and application use of this information."
Additionally, MDM projects typically facilitate service orientation — i.e., awakening of concepts around infrastructure rationalization (sunset of legacy application and consolidation into a central core infrastructure), virtualization (usage of virtualized servers that can take up peak load) and business process harmonization (exposing only core business process into a process hub for consumption across organization).
Typically, an MDM project helps to provide secondary derived benefits that are offshoots of an MDM enablement program (e.g., business transformation, M&A, business process harmonization, service orientation etc.).
MDM's Green Side
An MDM solution necessitates centralization of master data (customer, product, supplier, asset, location, etc.) from diverse systems into a central core, so that a true and trusted 360-degree view of the customer can be achieved. So what does an MDM solution offer? It prevents duplication of master data in a multitude of systems, thereby reducing a multitude of interconnected integration points.
By wrapping the CRUD (Create, Read, Update and Delete) operations for master data as services, every transactional system can make calls to the MDM solutions so that the required data set can be consumed as part of the initiating transaction. MDM offers the following salient features leading to energy reduction:
Identifies non-core applications and sunset them with best-of- breed, service-oriented applications (reduces energy consumption points).
Reduces duplication of data sets, thereby reducing the need for point-to-point integration (reduces energy in terms of data integration and server processing required to move data and sync data between applications).
Helps in utilizing package-based applications that leverage a common data model or data management services — e.g. Enterprise Business Objects — such that it may be possible to virtualize servers during off peak-load (only a portion of the processing power is consumed, reducing energy consumption.
Consolidates the data across LOBs and across multi-geographic implementations, so that optimal data management is possible (reduces energy consumption).
Besides using a centralized data center facilitated through an MDM solution, how else we can improve the green coefficient in a data center? Can we now apply thermodynamics in data centers?
Water-Cooled or Air-Cooled Data Centers?
Typically, it is essential to provide a case study of where data centers are cooled thermally using water or air cooled. As part of a consulting assignment done for banking major, I created infrastructure consolidation documentation that looked at infrastructure usage with an MDM program implemented across multiple geographies.
As part of the infrastructure rationalization exercise, I evaluated a strategy involving air-cooled data centers with master data servers placed in a central room where the fresh cooled air flowed in from the ceiling and was never contaminated by the hot air from the server racks.
The design of air flow was thermally monitored to evaluate the effectiveness of the air flow (cold air), and there was a strategy for circulating the incoming air through blowers and ducts, and through server rack spaces.
The diagram below shows a quick representation of how the cold air flows into the data center space from the ceiling (green arrows), and these then flow into spaces through the server racks. The hot air is disseminated through ducts in the bottom floor (pit). Cold air (being dense) has a tendency to sink to the bottom of the server room, while hot air (being light) tends to rise. The placement of the blowers and louvers tends to optimize the heat dissemination rate and prevents the bleeding of hot and cold air streams.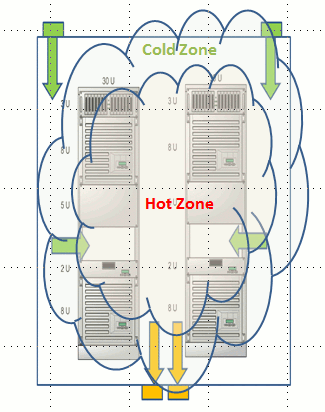 Figure: air-cooled server with separate partition chambers and no bleeding of hot and cold air
Water-cooled servers are now available that dissemminate heat faster through the use of fins, a thermal absorbent medium and a larger exposed surface area. The hybrid use of water and air cooling in data centers effectively means allowing servers to run at lower temperatures, thereby reducing the heat exposure on a silicon- based module. This leads to lesser incidence of memory leakage and component breakdowns, etc.
More MDM Benefits
The centralization of data into a master data management solution offers the following qualitative benefits:
Reduction in computing power requirements;
Reduction in point to point integration; and
Reduction in utility consumption by leveraging highly efficient air-cooled data centers.
In terms of quantitative measures, the MDM data-driven consolidation initiative could lead to a reduction of energy costs by 13.4 percent and save approximately 7,470 tons of CO2 per year.
Summing Up
One of the key challenges faced by the CIO in most organizations is to reduce power consumption and utility bills. The means for doing this is to introduce green computing in data centers.
Combining applied thermodynamics with Master Data Management solutions can help CIOs achieve green computing in IT, with sufficient reduction of energy consumption in data centers to optimize the way they operate.