Viber's a Worthy Alternative to Outgoing GrooveIP
By Patrick Nelson
Jan 30, 2014 4:34 PM PT

Viber is available in the Google Play store for free.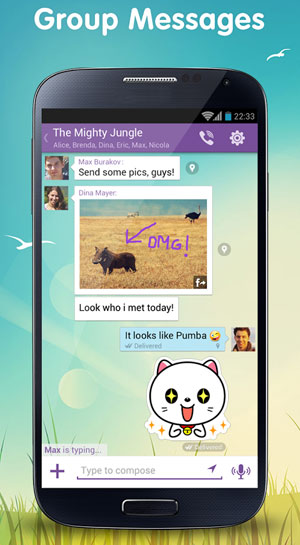 Google has been clamping down on third-party apps that ride piggyback on its Google Voice telephony service.
A merger between Google Voice and Hangouts this year will result in the shuttering of an open protocol exploited by apps that used the Google Voice service for free SMS texting and VoIP calling. The days of free Internet-based in-U.S. smartphone calls over Google's network are numbered.
GrooveIP is one service that will be a victim, and it will be missed. I've written about Snrb labs' GrooveIP before, and its remarkable free in-U.S. calling over Google's XMPP interface.
New Kid on the Block
What to do? Well, a slew of mobile virtual network operators are pitching all-in, unlimited U.S.-wide calling, along with a chunk of LTE data in monthly prepaid deals at the $40 to $50 range -- like Walmart's StraightTalk, which uses AT&T and T-Mobile, for example -- so that's an alternative for U.S. calling, if a little dull and expensive.
VoIP granddaddy Skype is still out there, of course, and it is a viable Android app alternative with a pay-as-you-go voice calling rate of 2.3 cents a minute to U.S. numbers and an unlimited U.S. rate of $2.99 per month. It's not free, like GrooveIP, but it's worth a look.
Then there's newish kid Viber, a Skype-like voice and text messaging service. It recently launched Viber Out, a VoIP calling service to non-Viber mobile and landlines -- also for a fee.
Scrambling for a GrooveIP replacement, I've been taking a look at Viber's Viber Out:
Viber-to-Viber, like Skype-to-Skype VoIP calls, are free. These are calls that you make with your handset in-app to other Viber users.
Viber's over-the-Internet calling service, Viber Out, lets you call non-Viber landlines and mobiles. As with Skype, Viber's external calling service has a per-minute rate for calling those landlines and mobiles. Viber Out's rate for a 1-minute call within the contiguous U.S. -- in other words, a U.S. originating number calling a U.S. destination number -- is 1.9 cents. That's' a savings of a little under half-a cent over Skype's same scenario calling at 2.3 cents.
So, Viber is clearly cheaper than Skype's out calling. Whether half-a cent is something you'll notice is another question.
Penny - and Pound - Wise
Indeed, I've found my purchased credit has gotten eaten up over the years using Google Voice and other VoIP products when calling overseas cellphones, not U.S. numbers.
Skype until very recently charged more than 17 cents a minute to call a UK mobile -- it's now 8 cents; Google Voice charges a significant 21 cents to call certain UK mobiles -- the common ones are 10 cents a minute.
These numbers add up. A 10-minute call to a UK mobile with GrooveIP over Google Voice comes in at a buck. Do that daily for a week and you're out $7.
Viber, on the other hand, along with a 1.9 cent rate for calling UK landlines, comes in at a modest 5.9 cents per minute rate to call UK mobiles.
Using our 10-minute example, a week of Viber UK mobile calling would come in at $4.13, a savings of $2.87 -- or $150 if you made the same call daily for a year.
In testing, I found Viber's call quality to be comparable to Skype and GrooveIP over both LTE mobile wireless Internet and home-based WiFi, so there's no downside there.
Add to the mix 200 million Viber users, group calls, free video and picture messages, push-to-talk, and automatic syncing with your Android contact list.
One thing to watch out for: To prevent unexpected telco billing, you need to make sure your call is getting routed over Viber when you make it, rather than over your usual phone network. It's easy to mess up when Internet signal strength is low. Look for the Viber-purple numerals on the dial pad.

---