Avaya has rolled out an upgraded Customer Experience Management platform with two new major components: the proactive outreach manager and intelligent customer routing. The whole platform is being supported by the Avaya Aura Experience Portal 7.0, which also is equipped with a range of new capabilities.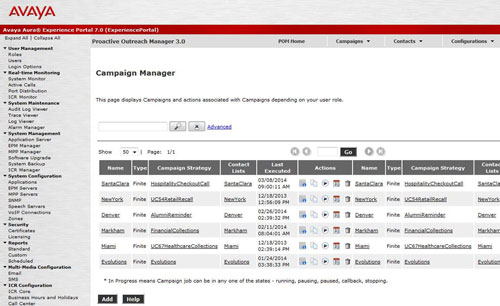 (click to enlarge)
The common theme in this product's enhancement is the unification of inbound and outbound customer engagement with self service across any media, explained Avaya's Cory Glover, senior manager in the customer experience solutions marketing team.
"Very commonly in the past when users wanted to manage a customer experience or journey across different touchpoints or interactions, multiple platforms and applications were required behind the scenes," he told CRM Buyer. "There were even outsourced elements with the result being a very fragmented approach in the ability to share information and interact across channels in real time."
Smart Routing
One element of the platform — Intelligent Customer Routing — was designed to counter that trend, Glover said. In general, the routing system optimizes all of the interactions based on caller intent, cross channel interaction history and other business insights. The latest release provides even more filters based on target service levels, enterprise resources and customer segmentation.
"Think of it like a common brain, where you can architect and blend different outbound campaigns to make it simpler to maintain a constant, persistent dialogue with the customer," Glover said.
Take someone who calls a mobile service provider to ask about a data plan, for example. "The system recognizes that rep with whom the customer must speak will not be ready for 20 seconds," Glover explained, "so the intelligent routing system realizes it has 20 seconds of time with that customer and automatically looks him up and sees he is eligible for a phone upgrade. The system then dynamically offers the customer that opportunity."
From there, the options multiply even more, Glover said. The system might decide to text the customer the options or offer to send a detailed spec sheet via email.
By then, the agent is ready to speak with the customer, so the system hands off the call to the agent with all of the contextual interaction data so the agent can close the deal, Glover explained.
"It is very different from an IVR touch tone interaction," he said.
The SMS Channel
The Proactive Outreach Manager takes a similar approach, but with what it deems to be the most effective channel to communicate with a customer. In most cases, that is usually SMS.
"There is a very high open rate for SMS messages," Glover said, "around 98 percent on SMS compared to 20 percent on email or social."
Companies can take advantage of that channel for certain messages, although they need to be careful to not overuse it, Glover continued.
For example, a bank could use SMS to alert a customer to contact the branch regarding an overdraft to check for possible fraudulent activity.
Customers also can transact with the company via this outreach by sending messages back on SMS, or even paying a bill or answering a question — all of which is automated in the customer record on the back end, Glover said.
Experience Portal
All of this functionality is delivered through the experience portal, which also got an upgrade with this release. The platform supports omnichannel inbound and outbound self-service and contact routing applications.
Changes in this version include support for two-way SMS and email. There are also new zoning capabilities that make it easier to localize delivery of customer care calls and reduce network charges.