The Gray Lady may once again ask for some green if you want to view something that's black and white and read all over.
Reports surfaced over the weekend that The New York Times is about to announce another attempt at a paid-access business model for its Web site, with management apparently deciding that a metered approach stands the greatest chance of success without alienating consumers.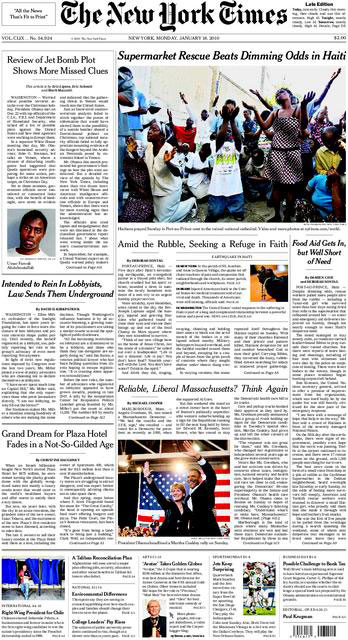 The New York Times is reportedly readying a new online subscription business model.
However, New York Magazine, quoting sources familiar with the newspaper's plans, say various ideas for bringing in more content-based revenue — bounced around within the newspaper for nearly a year — have caused internal rifts at various levels of the Times' editorial ranks.
Unlike the paper's previous go-round with paid content, TimesSelect, or The Wall Street Journal's method of charging for most articles and allowing free access to some, the metered approach follows one now used by the Financial Times. Readers would be allowed to view a set number of free articles before a subscription invitation would pop up on their computer screens. New York Magazine quoted internal sources saying management believes that approach would not hurt traffic — and the online ad dollars that come with it — as much as a WSJ-style paywall.The newspaper also has reportedly said "thanks but no thanks" to Journalism Online, the Steven Brill-led effort to create a micropayment-based model for most print media companies.
Setting the Example, Take Two?
The 2005-2007 paid-content experiment called "TimesSelect" didn't just fail because of the lack of registrations. Star columnists such as Maureen Dowd and Thomas Friedman griped about being denied links to their writings and the resulting drop in traffic. "And what they (the Times) lost in online ad revenue was most likely not superseded by the cost of the annual TimesSelect subscription," said Hanson Hosein, former broadcast journalist and director of the Masters in Communication Digital Media program at the University of Washington.
"I still pay for newspaper delivery," he said. "But I primarily see my money as going towards the distribution platform — paper, delivery boy — than to the already ad-subsidized content," Hosein told the E-Commerce Times. "When it comes to electronic format content, we've become so accustomed to free and a multiplicity of sources, I'd be concerned that most folks, when faced with a pay wall from the Times, will go elsewhere — to the ultimate detriment of their stature.
"I would pay for The Wall Street Journal online; I make personal financial decisions based on their reporting, which has a direct impact on my life. More esoteric, just-for-my-enlightenment, albeit strong reporting from The New York Times for this non-New York boy? Less likely," Hosein said.
The metered system is a better option for the Times than its former TimesSelect model, according to Mark Glaser, executive editor of PBS's MediaShift blog. However, it may only appeal to select content, like business news, that can be written off as an expense. "The problem for the Times is that as long as there remains other free sources for similar news, people will go there rather than pay for it," Glaser told the E-Commerce Times. "Yes, the Times produces high-quality content, but I'm not sure that people perceive it as more valuable than, say, the Washington Post, LA Times or even CNN or MSNBC. The only way they change that dynamic is by having all the top news sources go behind a pay wall, but I doubt that will happen.
"Plus, the other important point is that people will figure out ways to game the system, post NYT content on their blogs, and figure out workarounds to see the content for free. And of course the less readers NYT has, the less it can charge for advertising. So while I think their pay system might pay some dividends up front, it might not be the best long-term strategy for running an online digital newsroom," Glaser said.
The Apple of Journalism's Eye?
The New York Magazine story raises the possibility that the Times' official announcement of a pay model will coincide with what technology observers expect to be a new Apple tablet computer, which may be launched during a company event in San Francisco Jan. 27. A content deal with Apple might mitigate some of the negative impact the paid-access model may have with readers.
The idea of an iTunes for newspapers, coupled with significant consumer acceptance of tablet and e-readers, could throw a lifeline to the newspaper industry, Hosein said. "It's possible that a convenient, useful delivery system can change our online consumption habits, much like iTunes taught us to pay for music again. That would require most other news organizations to fall in line and start charging, pretty much creating a news cartel. I just don't see it. Newspapers maybe, but what about all the broadcasters and bloggers?"
There also exists some trepidation about giving Apple control over the delivery system, as iTunes was able to do until other providers forced a second look at digital rights management-free music.