Before speaking with a reporter recently about the latest upgrade to his company's CRM platform, Nimble CMO Eric Quanstrom ate his own cooking, so to speak: that is, he used Nimble to learn as much about her as possible.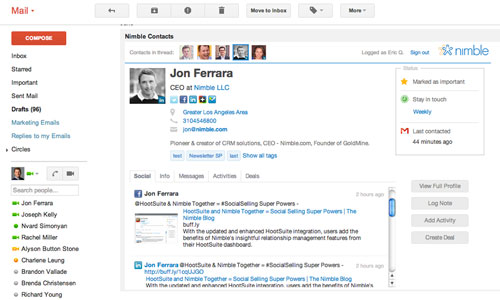 (click to enlarge)
A few keystrokes later, he knew where she went to school, her hometown, other business affiliations, that she was an avid tweeter and that a year ago she had exchanged emails with the company's former PR rep. It was not a bad haul for a few clicks. In exchange, Quanstrom had some nice fodder for chit-chat before getting down to business. George Washington University? A great school! You grew up in New Orleans? I love that city! And so on.
It was, in short, Nimble CRM in action, exactly as intended.
"One of our ultimate goals is to become a verb in the marketer's vocabulary," Quanstrom told CRM Buyer — "as in, 'I Nimbled him.'"
More Data, Better Insights
Back in 2011, Nimble entered the CRM trenches with a simple idea: It would create one application that brings together a contact's social media profile, comments he or she has made online, company information and other relevant data — all to make the sales and marketing process as easy as possible.
The company has upgraded its social relationship platform a few times since its debut, and just last week it unveiled its most recent iteration, including contact widgets for popular Web tools, features that provide social connection status for individuals and teams, an intelligent contact analyzer to identify important contacts, reminder systems to stay in touch with crucial contacts, and enhanced profiling features.
All of those additions serve the company's ultimate end goal, Quanstrom said: "providing even more data points, richer information and actionable insights about contacts."
For context, a new Nimble contact record consolidates in a single view all socially relevant information about a person — like a reporter or sales lead.
The company also has enhanced the software's recommendation functionality, highlighting people based on such factors as shared topics, matched keywords and recency or frequency of contact.
From there, Nimble shows the user how he or she is connected to that contact.
Users who work on teams can also see how they or other team members are connected to a given contact.
New contact management features let users mark important leads with stars, receive reminders to stay in touch periodically with a contact or around a certain date, assign activities or notes to a contact and attach deal information to the customer record.
Social Engagement, Widget-Style
Nimble's new functionality resembles in some ways LinkedIn Intro — the recently introduced mobile app for iPhone Mail that gives users a preview of the credentials of people who send them email from popular email accounts — and Nimble has also created widgets for three of the most popular work tools: Gmail, Outlook and HootSuite.
With Nimble, the user simply drops the widget into that workflow. So, if you are using Gmail to communicate with someone, the widget for that application lets you access Nimble directly from it.
Nimble aims to offer a powerful, productive window into all your contacts by providing every detail of the contact record at your fingertips within a leading application like Gmail.
"That means that that for any person I am emailing with, I can look for them on Nimble without missing a beat," Quanstrom explained. "If I don't have the information on them personally, the Nimble widget will start automatically building out that profile."
Other features from the platform have made their way into the widgets as well, such as the stay-in-touch reminders and a status box that lets the user see when the last time communication with a contact took place.
Users can also tag any contact from the widget — a hot prospect, say — or add notes to the contact. The widgets and the platform are interoperable, Quanstrom noted, so users can bounce back and forth between the two.