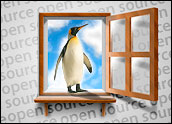 Those of us in the Linux community have long appreciated the many virtues of open source technology, but a rash of new interest suggests that governments are starting to wake up to the idea as well.
For example: Earlier this month, as faithful readers will remember, we noted the new mandate in Vietnam that all government computers move to Linux.
Then, late last week, news emerged that the Russian government may be planning to build a Linux-based national operating system of its own as a way of reducing its dependence on licensed foreign software. The original report comes from CNews — in Russian — but Elektroschock kindly provided an English translation in submitting the news to Slashdot. There, the story drew considerable interest, eliciting more than 200 comments within a few hours of its posting.
'It's Called Lenix'
"Isn't their National Operating System called Communism?" quipped 140Mandak262Jamuna.
"No, it's called Lenix," retorted CrimsonScythe.
"Lenix was a beta version, superseded by Stalix, Kruschix, etc. These are no longer maintained but have a few die hard fanbois," suggested couchslug. "Current dominance of Putix reflects a determination to 'embrace and extend' similar to that of the Stalix developers, but with much more polished marketing. Competing distros such as Tsarix and Democratix serve niche markets."
Yes, well… Ha!
'Obamuntu'
Anyhoo … perhaps the biggest news on the Linux blogs in recent days was the report that Sun's Scott McNealy has been asked by President Obama to put together a paper on open source technologies in government. The story was originally reported by the BBC and soon got picked up by CNet's Matt Asay, the 451 Group's Matthew Aslett and OStatic, to name just a few.
Obama has, of course, been referred to as an "open source" kind of leader for some time now. But the news that in his very first week in office he's already begun to consider open source technologies in a serious way? That set Linux bloggers on fire.
Bloggers including members of the intelligence community pondered the news on Slashdot, amounting to more than 300 comments by Friday, while on Digg, the story received more than 4,500 Diggs and 600 comments within a day of being posted.
"Questioning current systems, looking at alternative solutions and asking questions = good," wrote patburke1980. "Obama you're my boy!"
"Obamuntu," added Homerr.
And of course, the inevitable: "Microsoft must be s***ing bricks," IHaveIssues suggested.
'We Shall See'
Indeed, the potential implications are sizable, to say the least, so LinuxInsider couldn't resist hitting the streets for some more opinions.
"Open source would have many benefits for departments that need better security and cut costs," Montreal consultant and Slashdot blogger Gerhard Mack told LinuxInsider. "An executive order that would require managers at least consider open source would go a long way toward breaking management habits of going to Microsoft first."
Similarly: "It is good that one of the leaders of a country has FLOSS on the radar," blogger Robert Pogson agreed. "The US military already uses GNU/Linux. The security infrastructure already recognizes the value of FLOSS. Now, perhaps, general purpose computing may connect."
Of course, "one man cannot control the whole government in detail," Pogson told LinuxInsider. "But he can put a whole bunch of executives on the same page and change can happen. We have seen repeatedly that M$ can squelch some grassroots initiatives by cozying up to the top guys. We shall see."
'This Makes Me Smile'
Not all the enthusiasm came from Obama supporters, either.
"I'm not a fan of most of Obama's politics, but this is one aspect that makes me smile, and I hope it bears fruit other than tepid committee reports and mealy-mouthed statements of intention," Slashdot editor Timothy Lord told LinuxInsider. "Tax-paid software should be seen as a uniquely extensible part of the commonwealth, because whenever the government supports open source software, even through mere use, it adds value to the same software for everyone else."
Of particular importance, Lord added, "I hope that the proposed report reflects that the *data* that the government holds, which has been gathered and crystallized at the taxpayers' expense, should to the extent possible be accessible by means of free software.
'File Formats Rule the World'
"File formats rule the world — all documents belonging to the public should be, barring good reason, available in universally readable formats for which are available free readers, under free operating systems," he asserted.
For Monochrome Mentality blogger Kevin Dean, the possibility of a mandate was problematic on a philosophical level.
"I'm always happy to see people ask questions and learn, especially about open source!" Dean began. Nevertheless, "I'm a bit upset that it's being prompted in government. You can't force people to be free, and government itself is force."
On an even deeper level, "open source being used by government people is almost ironic because they are both foundationally dependent on opposing principles," Dean asserted.
Itchy Business
Specifically, "open source is great because everybody who works on it does so for self-benefit," he explained. "Every developer 'scratches his own itch,' and because of this, that itch is scratched in the best possible way. The cumulative effect is that the itches people have in common get solved quickly, effectively and cheaply."
Government people, on the other hand, "are all about force," he added. "It's about smashing down dissent and forging down a single path, despite the interests of the various human beings affected by that. If that path doesn't scratch your itch, too bad! The end result of this is ineffectiveness, sloth and immense cost."
For the citizens of the country, the benefits of open source unfortunately "won't rub off," Dean predicted.
'Why Not?'
Still, most observers were encouraged by the possibilities.
"Finally, a call to sensible views on technology," Slashdot blogger yagu told LinuxInsider.
"I don't propose or even think appropriate that all proprietary technology be tossed aside at the expense of a functioning government, but I think many benefits are available with Open Source," he concluded. "Why not?"