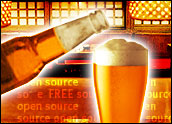 Well, Memorial Day has come and gone in the U.S., and that means summer is upon us once again, if just unofficially.
What is summer for, besides sunburns, mosquitoes and sweating? That's right, it's time for tinkering in the great, air-conditioned indoors!
It wasn't too surprising, then, to see Linux bloggers' thoughts in recent weeks turning to all the projects large and small they hope to spend time on in the coming months.
'A Linux Computer for Less Than $200'
Over at PC World, blogger Phil Shapiro kicked things off with his article, "How to Configure an Ubuntu Linux Computer for Less Than $200," which soon got picked up on the Washington Post as well.
With an accompanying video tutorial, Shapiro maintains that "for less than the price of some operating systems, you can configure a useful, virus-free computer with a 23-inch LCD monitor ($150 refurbished) and a WiFi wireless adapter ($15).
"This project is easy to do and should take about an hour," he added.
'For $0 I Had a Working Computer'
Over on LXer, bloggers were inspired to reminisce about past fixer-upper projects of their own.
"I picked up two monitors at a local Goodwill, 1280×1024@60Hz, one IBM, one Dell, for $5 each," wrote gus3, for example.
"Lots of places sell refurbished off-lease computers for $100 or less (the place I've dealt with is [Intechra Outlet] )," chimed in jdixon. "You can buy a refurbished off-lease monitor for about the same amount. So you really can build a complete Linux system for just over $200 with shipping."
Similarly: "I recently took out a rather old Compaq, with a 250 MHz Cyrix processor," added bigg. "I put Tiny Core on it, hooked up an old monitor, and for $0 I had a working computer."
Linux Girl couldn't resist taking the topic down to the Peppermint Pad, her new favorite hangout in the Linux blogosphere's old downtown.
'Even Newegg Has Prices Like These'
"This is some kind of triviality, isn't it?" was Hyperlogos blogger Martin Espinoza's response. "I seldom meet antiquated hardware that any old distribution of Linux won't run on, and knowing how to use Google, I am able to locate surplus computers."
In fact, "it seems like every week there's a Pentium 4 with at least a gigabyte of RAM for under $100 available as surplus from someone," Espinoza added. "There's $99 20" LCD deals (probably a better price: performance ratio for the average user) continually as well. Even Newegg has prices like these now."
Yet Shapiro's article is "lame, because it assumes you have a spare PC lying around unused, and while geeks do, most ordinary folks don't," Slashdot blogger hairyfeet opined. "An easier and more useful bet would be to give them a link for the whole shebang, and since I am a nice guy, here is a 3.06Ghz Celeron P4 with 17in flat panel, DVD ROM/CDRW, and even comes with XP Pro so you can dual boot, all for less than $200."
'They Work Quite Well'
For those who already have a keyboard, monitor and mouse, meanwhile, "you can have this," he noted — "2.8GHz Pentium 4 with similar specs and XP Pro again in case you want to dual boot, all for $99.
"I've actually turned a few of these and the Netvista model at Surpluscomputers into HTPCs for customers, and they work quite well," hairyfeet said. "Just add mediaportal, a USB or PCI TV Tuner, and an AGP or PCI graphics card, and they make a good little HTPC."
Blogger and educator Robert Pogson is intimately familiar with fixer-uppers.
"Yes, I do this sort of thing several times a year," he told Linux Girl. "I work in schools that are full of old computers; we have 60 now."
'A New Installation in About 10 Minutes'
To tweak them, "I install XFCE4 display manager so it opens the GUI much faster than GNOME," Pogson explained. "I like Google's Chrome Browser for speed. I also install a local server so that some basic services like dictionary, encyclopedia, image database and Web cache are available faster than the Web."
Pogson's choice is Debian, "but Ubuntu is good too," he said. "When I have the configuration I want, I use Clonezilla to copy the used drive blocks to other PCs. Then I just have to change the name of the PC and I have a new installation in about 10 minutes."
When it comes to those not already familiar with Linux, however, old hardware may not be the way to go, asserted Barbara Hudson, a blogger on Slashdot who goes by "Tom" on the site.
'$10 for the Booze'
"Setting someone up with Linux on a junked computer will just set them up to hate Linux," Hudson explained. "This guy should get a subsidy from Microsoft and Apple, like any other good quisling."
There are reasons older machinery ends up in the garage, Hudson added: "THEY SUCK! They waste electricity, space, and your time.
"It doesn't help that, using the writer's definition, I can build a dual-monitor Linux computer for $10.00 (to cover the cost of the booze to make me lose the ability for rational thought) while I drag the old computer, the spare WAP and two 19″ monitors from the garage," she said.
Alternatively, "put a nice-looking distro on a nice machine, and people will say 'I want that,'" she suggested. "Either shrink an existing partition or spend an extra $100 on a second hd to dual-boot."
'I Get the Extra Speed I Paid For'
Still, "it is always nice to have an OS around that respects non-top-of-the-line hardware," Montreal consultant and Slashdot blogger Gerhard Mack noted. "He could easily still have visual effects that rival Windows 7 with that machine.
"That's one thing I have never understood about the computer industry," Mack added.
"I have a fairly close to top-of-the-line machine here, and I didn't buy it just to have the OS take the whole thing for itself," he said. "I bought the machine so the things I need to do can be done faster, and having an OS that respects older machines means I get the extra speed I paid for to run apps."
'Linux's Opportunity to Prove Itself'
Indeed, "I predicted long ago that computers would become so hardware-cheap that eventually Microsoft's OS would be the most expensive 'component,'" Slashdot blogger yagu noted. "That time is now."
In fact, "it would be an excellent project for someone's son or daughter," yagu suggested: "Give them the budget, and let them build and configure the 'extra' computer for the house.
"Doing this on an extra (new!) computer lets households still have their Microsoft (or even Mac) for warm fuzzies while giving them exposure to Linux," he noted. "It's Linux's opportunity to grow on people, to prove itself as a real OS."
'Reliable and Affordable AD/DA Gear'
What of geeks' own summer tinkering plans?
"Trying to find an affordable way to do 4-track recording on a PC straight from the mixing board is my No. 1 priority," hairyfeet said. "The recorder we have only does 2 tracks at a time. I'd really prefer being able to record each instrument — drums, bass, guitar and vocals — separately for post processing, but want everyone recorded 'live' for the initial take."
Top of hairyfeet's list, then, is "reliable and affordable AD/DA gear that will let me use an AMD dual as a recorder," he added.
'Now I'm Thinking Bigger'
"I was planning to use an Acer Aspire Revo as my next XBMC platform, but now I'm thinking bigger," Espinoza told Linux Girl.
"There are Mini-ITX Socket AM3 motherboards available, and AMD has thoughtfully brought out a six-core processor which drops into the same socket, so my Phenom II X3 720 is going to end up playing videos while my primary system gets to double its number of cores," he explained.
"It's a nice change from having intel bring out a new socket with every CPU," Espinoza opined.
'My Mind Is Boggling'
As for Pogson, "this year my school received a donation of 12 modern PCs with 64bitness, 3gB RAM, 500 gB SATA and dual core," he began. "My mind is boggling at the possibilities.
"We have decided to provide one to each teacher with an added 500gB drive in RAID1; mine will be equipped with VirtualBox to permit demonstrations of installations," he explained. "Others may want that other OS to run legacy apps."
Overall, "I think we will do better using the old machines as thin clients of the new machines," Pogson concluded. "The possibilities are endless."
Indeed, dear readers, endless possibilities are what Linux is all about, we can all surely agree. Start your engines, and let the tinkering begin! 😉