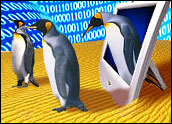 Thanksgiving may still be around the corner, but already Linux users have something to be thankful for.
Yes, Adobe apparently saw the writing on the wall at last, and last week released a 64-bit version of Flash for Linux.
The righteous have been rewarded!
The news made no small splash on the Linux blogs, as one might expect, with geeks far and wide praising the new technology.
'Bonus Brownie Points for Adobe'
CNet's story in anticipation of the release garnered almost 800 Diggs and over 100 Digg comments; then Steven Vaughan-Nichols posted a positive review of the software on a Computerworld blog, and nearly 900 enthusiastic Diggs followed.
"Been using the new 64-bit Flash alpha on Ubuntu 8.10 Intrepid Ibex for a couple days now," wrote triplec110h in the Digg comments. "It's been rock solid for me, whereas my previous Flash forced me to have to restart Firefox all the frickin time. This is extra special bonus brownie points for Adobe from me."
Along similar lines: "I love it, finally all my Flash issues SOLVED it rocks!!" added lopla.
Indeed, once the geeks started expressing their enthusiasm, there appeared to be no end to the gushing of love.
'I (Heart) Adobe!'
"Dear Adobe," began tushyd. "Everyone loves you now! That was a good idea to release a 64-bit Flash for Linux first, it'll keep the company's image much higher in users' minds."
Even more succinctly, "I (heart) Adobe!" proclaimed pHr34kY.
The same sentiments proved to be prevalent outside the blogosphere as well.
"Finally, 64-bit Flash — I guess this means I have to stop trash-talking Flash now," Montreal consultant and Slashdot blogger Gerhard Mack told LinuxInsider. "64-bit Flash is much faster, and even as 'alpha' is more stable than 32-bit Flash with nspluginwrapper. For the first time my dual core notebook can play full-screen Flash movies. Thanks, Adobe."
Adobe probably released the software for Linux first "because Linux users are the most likely to be 64-bit in the first place," Mack added. "Linux users traditionally want to get every last drop of performance from their systems."
'Near to My Heart'
Indeed, "64-bit Flash for GNU/Linux is near to my heart," blogger Robert Pogson told LinuxInsider. "My favorite use of GNU/Linux as a desktop OS is as a terminal server."
Thirty-two-bit servers "are wimps," Pogson added. "A 64-bit server can run more sessions and move more data by a large margin."
A GNU/Linux terminal server is "the best use for these newer quad/multi-socket 64-bit monsters with huge RAM and fancy RAID," he said. "Until this year, doing that with 32-bit OpenOffice.org and 32-bit Opera and 32-bit Flash was painful. Now we can do almost everything in the 64-bit way, even Flash."
Forgotten No More
Pogson doesn't "really love Flash," he added. "But it has made its mark on the Web and I can use 64-bit Flash on terminal servers. Fortunately, most Flash presentations are just part-screen and not too fast because full-screen video is not the best on thin clients, but it will do."
Even the least enthusiastic responses were pretty upbeat, even if not exactly gushing.
"Perhaps one day I'll have a 64-bit computer and therefore care," Slashdot editor Timothy Lord told LinuxInsider. "All I can say, and tepidly, is that I'm glad that Linux hasn't been left too long in the cold on that front."
'Stop Pirating Adobe'
Generating even more discussion on Digg last week, on the other hand — and not all of it entirely supportive — was a post from back in October by Julian Saraceni on his Ainotenshi blog, titled "Stop Pirating Adobe Software, Use Free Software Instead."
Saraceni advocates GIMP, in particular — a suggestion that drew more than 50 comments on his site along with 500 Digg comments and more than 1,100 Diggs.
"GIMP sucks for one simple reason: It's not Photoshop!" countered diemunkiesdie. "Also, I can guarantee that 98 percent of those people who pirate Photoshop have no idea what GIMP is. They have never heard of GIMP, but Photoshop is synonymous with photo editing so even people who only use computers to check their e-mail know what Photoshop is (even if they don't go and pirate it)."
'Photoshop Costs Money?'
Then there was the comment from Hobbes24, who quipped, "wait wait wait….Photoshop costs money?"
Funny, indeed.
"Hmm, can Gimp do the things that the new Photoshop, Lightroom & Aperture can do?? Sorry, Gimp is OK. But compared to the alternatives, it sucks," asserted peestandingup. "And frankly I'm tired of hearing about how awesome it is from Linux code dorks that dont know ***** about photography &smp; havent even used the other stuff. Save it."
Now, them's fighting words for those of us in the Linux community, so we here at LinuxInsider felt compelled to sample some other opinions.
So Much Underage Whining?
"If someone prefers using PhotoShop to The GIMP, and feels no compunction about using an illegal copied instance of the software, there's probably not much I could ever say to talk them out of it," Lord said.
Of course, "How many 'professional' users are there really, among all these online complainers?" he noted. "How many who desperately need four-color separations? I tend to think it's like 13-year-olds arguing the merits of cars they can't yet drive, never mind afford."
For Lord's purposes, "I prefer The GIMP, though I haven't touched PhotoShop in several years," he explained. "Partly, it's the always-available right-click menus; partly it's that GIMP's been included with most Linux distributions for a while now. I've enjoyed playing with it over the years as it's evolved, while PhotoShop never sat as nicely with me."
For PDF software, however, "it's no contest," Lord added. "Adobe's Reader is a memory-hogging pain in the rear, compared to any of the several PDF viewer apps I've used under Linux. xpdf and kpdf in particular are faster and cleaner. Why anyone would prefer the bloated Adobe Reader as a matter of course, I don't know."
'Absolutely Right'
Along similar lines: "Of course it is illegal and unethical to violate copyright on software," Pogson said. "With free software like GIMP being widely available there is no reason to copy PS. About the only thing that cannot be done nicely with GIMP that PS does is print standard color. Most of us work on screens these days and GIMP is lovely for that."
Saraceni and those who agreed with his point "are absolutely right," Mack concluded. "I hear a lot of people tell me they like Adobe Photoshop but then don't want to actually pay for it. What they are really saying is that Adobe isn't worth what they are charging for the software."
If that's the case, then "they shouldn't be using Photoshop at all," he said. "Piracy only serves to keep resources and mind share away from competitors."
And on that note, dear readers, we here at LinuxInsider would like to wish you an open and free happy Thanksgiving. Have a good one!