Bean: An Open Source Mac App That Grows On You
MacNewsWorld
Word processing isn't what it used to be. With the rise of the Web, the need for feature-gorged programs like Microsoft Word have diminished. On the other hand, for many scribblers, barebones text editors are just too limp to satisfy their needs. That gap between bloated and feeble applications has opened a very comfortable niche for an offering like Bean.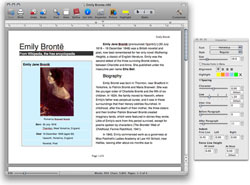 With its just-rich-enough feature set, Bean is much more than a text editor.
(click image to enlarge)
Bean is a free, open source word processor. It has a pared-down feature set. It doesn't do footnotes, for example, or style sheets, and it's only partially compatible with MS Word files. Many writers, though, will be surprised by the software's ability to make their efforts less of a chore.
A new version of Bean, version 2.4.3, was released by its authors recently. Most of the changes in that release were bug fixes.
A modification in the latest release that scribes will find useful is a new keyboard shortcut for pasting and matching text to its surroundings. For example, if you copy text from a document in Lucida type and paste it into a document in Palatino, using Paste & Match Style (shift-command-V) will automatically convert Lucida to Palatino when the paste is made.
Some other handy additions are retaining the search text in the Find/Replace panel after that task is completed and automatic export to HTML 4.0. Prior versions exported to XHTML.
Unencumbered Interface
The interface of the new version of Bean remains largely unchanged from previous ones.
There's the traditional menu bar with items for File, Edit, View and such.
A variety of preferences can be found under the Bean menu item. They give you a lot of ways to bend the program to your tastes. "Smart Quotes" can be automatically inserted into documents, for instance, or straight quotes or even French-style ones. Several text cursors are available and their color can be customized.
Documents can be created in a number of formats. They include Rich Text with Graphics (RTFD), Word 97 and 2007, Word 2003 XML, OpenDocument and plain old text.
A writer's best friend, autosave, can be set as low as one minute. Header and footer contents can be chosen from an array of options.
Direct Access to Dictionary, Thesaurus
What's displayed by default when you create a new document can be tailored to your whims. That lets you show or hide items such as margin guides, word counters, rules and toolbars.
Among the features in the edit menu are spell checking and speech. Spelling can be checked as you type or after you've finished your document. Grammar can be reviewed by the program, too. The speech function will read your document back to you in a synthetic voice.
In addition to the typical search and replace choices you'd expect to find under the Find menu, there's a pair of handy lexicographic tools. Complete Word lets you type the beginning of a word you may not know how to spell and be presented with a list of possible alternatives for it. You can also select a word and have Define Word display a definition for it. The pop-up window containing the definition also contains access to a Thesaurus for finding synonyms for the word.
A nice feature that's accessible from the View menu is a full screen mode. When it's activated, all that remains on the screen is your text on a background color. The idea is to strip the writing experience down to its essentials by removing all visual distractions such as menus, toolbars and rulers. What makes this implementation of the naked word processor more pleasing than some others is that a dynamic word and character count can be displayed while you're in it.
Beguiling Discovery
Although there isn't an elaborate mark-up system for documents created with Bean, there's a notes mode accessible from the Font menu. It allows comments to be added to a document in a red handscript font called "Marker Felt."
Below the menu bar is a customizable tool bar. Tools can be ferried to and from the bar by clicking the Customize icon. The default tools on the bar let you save and print documents, undo and redo actions, find words and toggle views of your work. They also permit you to find a word's definition, insert pictures into a document, get statistics on it and display "the Inspector."
The Inspector is a quick way to view and modify the formatting of a document, formatting like font, font size, text alignment and character, line and paragraph spacing.
Bean has been called a rich text editor. It's more than that. Granted, it will work best for scribblers without heavy-duty document demands like dissertation writers. Authors with a graphical bent may find the software unfulfilling, too. For them, though, there's Apple's Pages. Wordsmiths looking for a word cruncher that won't distract them from the primary task of writing with fluffy features and visual welter will find this free program a beguiling discovery.