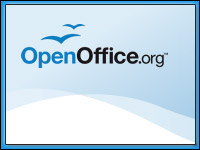 It's hard to believe that it was only about six months ago that LibreOffice was born.
The free and open source productivity software suite was created, of course, in response to Oracle's unclear intentions regarding OpenOffice.org, which had long been the community's suite of choice. At the time, Oracle chose to keep OpenOffice to itself, but now — fast forward to just a little more than a week ago — it appears to be giving it up after all.
"Given the breadth of interest in free personal productivity applications and the rapid evolution of personal computing technologies, we believe the OpenOffice.org project would be best managed by an organization focused on serving that broad constituency on a non-commercial basis," said Edward Screven, Oracle's chief corporate architect. "We intend to begin working immediately with community members to further the continued success of OpenOffice."
Bigger news in the world of FOSS would be difficult to imagine.
Return of the Prodigal Software
Of course, what form the newly freed project will take next remains to be determined. So, too, does its very future, now that LibreOffice has been so warmly embraced by distros and users around the globe.
What will happen to OpenOffice now? Does it still have a place in the world? Such were among the questions being asked over the past week or so in all the haunts and watering holes of the Linux blogosphere.
Linux Girl's Quick Quotes Quill hasn't had a rest since the news broke.
'The Face of Total Defeat'
"This is Oracle realizing it's lost the battle and trying to maintain some advantage in the face of a total defeat," consultant and Slashdot blogger Gerhard Mack told Linux Girl over a round of Free-As-In beers down at the local Punchy Penguin.
"All of the developers have already moved to LibreOffice, leaving Oracle with just a brand name that it now has no way to monetize," Mack explained. "I hope the entire industry learns the lesson that you can't just buy a company that manages a FOSS product and expect to simply gain full control over the project."
Indeed, "Oracle has already done nearly all the damage they can possibly do by inducing a fork," Hyperlogos blogger Martin Espinoza agreed.
"Trust in Oracle is at an all-time low, and LibreOffice is superior to OpenOffice," Espinoza added. "If they were smart, they would cut their losses now and hand the whole thing over to LibreOffice in exchange for goodwill, because if they get anything else out of it, it will be a miracle."
'The Naughty Child Crushed the Bird'
This is a case where "the naughty child crushed the bird instead of letting it go," blogger Robert Pogson opined. "Like the child, Oracle will end up with some kind of mess and little to show for it."
Meanwhile, LibreOffice and the Document Foundation are both doing very well without Oracle, Pogson pointed out.
"LibreOffice is solid, developing rapidly and — best of all, for me — has finally implemented SVG support after Sun/Oracle delayed that capability for years needlessly," he added.
"I expect, unless Oracle is willing to give up the trademark, OpenOffice.org will continue to fade," Pogson predicted. "I would not be surprised to see Oracle find some ploy to sue over code eventually."
'Doomed to Die Off'
Thoughts on Technology blogger and Bodhi Linux lead developer Jeff Hoogland took a similar view.
"Frankly, I'm surprised it took Oracle this long to put down OpenOffice after the announcement of LibreOffice," Hoogland told Linux Girl.
"The sad thing is that they aren't even going to discontinue the project; instead, they are going to try and push it as something 'community based,'" Hoogland added. "Anyone in the community that would have helped with OpenOffice is already (or will be) involved with LibreOffice. OO.org is doomed to die off at this point."
'It Needs Paid Coders'
Slashdot blogger and self-admitted Windows fan hairyfeet saw signs of bigger trouble for free software in general.
"Something like 80 percent of the code in Open Office was placed there by PAID developers under Sun/Oracle, and they just got their pink slips," hairyfeet asserted. "Do you think they are gonna code for Open Office from their new homes under a bridge? Of course not, they are gonna get jobs that will take them AWAY from Open Office, thus leading to brain drain."
In order for OpenOffice to compete, "it needs thousands of PAID coders," hairyfeet concluded. "Ignore this at your own peril."
'Money Can't Buy You Love'
Linux Girl isn't so sure about that.
Slashdot blogger Barbara Hudson, meanwhile, saw quite a different take-away.
"Hopefully Ellison and Oracle have just learned that money can't buy you love — not even 7 Bazillion dollars," explained Hudson, who goes by "Tom" on Slashdot. At the same time, "LibreOffice seems to have been energized by the change, now that there's no navigating the ways of the Sun or Oracle contribution process."
The bottom line, she concluded, is that "Oracle was left with two choices: continue to spend money competing with a forked project that is already ahead technically, or eat a bit of humble pie."
'Humble Pie' and a Tax Writeoff
The first option is "a money pit," added Hudson. "Humble pie lets Oracle take a tax write-down on the OOo assets, and the optics are better."
The only real debate now, in fact, "is whether Oracle will donate the OpenOffice name to LibreOffice," Hudson pointed out, adding that she hopes it doesn't.
"Microsoft managed to generate some confusion by naming a file format Office Open XML," she noted. "And while 'LibreOffice' takes some getting used to, 'OpenOffice.org' was a cumbersome brand name anyway. Now if someone could only rename the GIMP …"