Outlook.com is available in the Google Play store for free.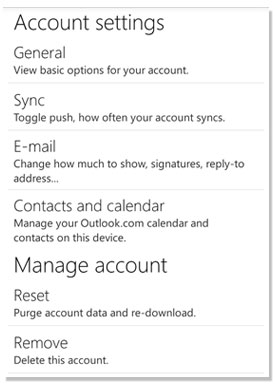 I've been looking forward to trying out Microsoft's official email product for the Android platform. Device OS mismatches have, until now, prevented me from doing so. However, a totaled and smashed tablet and an arbitrarily rebooting smartphone have prompted me to get some new kit.
I'm a power desktop Outlook user, and for about 10 years I have relied on the desktop version — a subset of the Office suite — to catalog and file emails on a project-by-project basis. I move incoming custom domain-driven email to project folders with their own Action and Archive subfolders and keep a clean in-box — visiting projects as required during the course of the workday.
This system works great, although it means I'm tied to a PC for file management purposes. I find mobile devices, along with mobile email apps like Gmail, are good for checking and responding during the day, but thus far in their life, limited in archiving and basic project management tracking, as I have it set up.
I'm sure many of you manage projects the same way.
So, an Outlook app for Android sounds good, right? It would seem to have a lot going for it: a hundred thousand or so Microsoft employees — plenty of talent; a developer (Microsoft) with US$18.5 billion in revenue last year — plenty of funding; slumping Windows sales — plenty of impetus; a major OS called "Android" that's sweeping the mobile world like a wildfire — plenty of fear.
You'd think it could be the email app to end all email apps. You also might be getting where I'm going by now. It isn't. It has nowhere near the power of a creaking 10-year-old Outlook 2012 desktop application, and it doesn't come close to Gmail's mobile effort.
Testing Outlook
You'll get an idea something is amiss before you've even downloaded the app to your device. A visit to the Google Play download store and the Outlook.com Play Web page user review section indicates a whopping 54,600 reviewers gave the app only one star out of a possible five.
Uh-oh, that's more than 50,000 individuals who've taken the trouble to voice their displeasure. It's a notable number. It's true that 63,230 gave it five stars — but still, half the users who bothered to review it hated it.
Here's where things go wrong: Outlook.com is about the most simplified email client I've ever used. That's not in itself a bad thing, if the developer gets the elements right.
However, there are some fundamentals missing — including, unbelievably, a way to simply connect this Outlook.com Android app with your hard drive-residing, professional, expensive Outlook software. You can't just switch on a sync.
Even more unbelievably, there doesn't appear to be any sync to Office 365. Office 365 is Microsoft's wham-bam rental business model, the online virtual version of Office. Importing email, contacts and account info can be accomplished if you use Google, Outlook Express, Windows Mail or Windows Live Mail — but not Office Professional and its expensive brethren.If you're one of the suckers who have spent hundreds on disc-delivered Office software over the years, you're out of luck.
Configuration Issues
You need to use a desktop Web browser — you can't configure much in the app. POP — a form of message handling used by Office on the desktop — can be enabled, but you're adding Outlook.com to Outlook on the desktop, not the other way round.
It's not all misery, however: The app is available for free, which does help alleviate disappointments. Also, it looks great — the simplified email client structure lends itself to Microsoft's new clean lines, and that makes it a remarkably enjoyable client to look at within Android's sometimes clunky UI.
It's much more visually appealing than Gmail's good client. This enjoyable Outlook.com look actually adds to the disappointment factor, though, because I'd like to switch to Outlook.com based on its UI.
Overall, though, based on my experience and reported mobile hardware compatibility sync issues highlighted in the aforementioned one-star reviews, Outlook.com strikes me as a lame effort.