The Kaden Group has launched a new social CRM application, PartnerOption.com. The startup is hoping to carve out a niche by targeting small businesses with a product that combines free CRM functionality — for now — with an organized, easily portable business social network focusing on sales leads, distribution and reseller opportunities.
"Most small businesses are starting out from scratch with social networking, at least in terms of networking for leads or opportunities," Bill Keller, cofounder and COO, told CRM Buyer.
That is largely true for CRM as well, he added.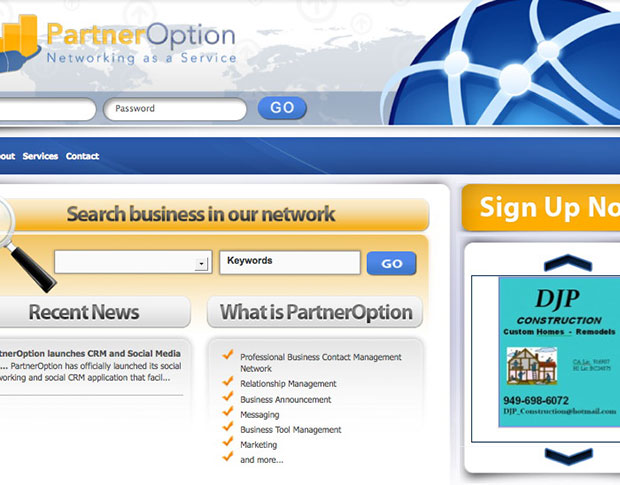 PartnerOption was developed with this group in mind, but it also addresses another pain point: the fact that social data cannot always be ported easily into a CRM app.
"This was something that we heard over and over," he said. "You never really own the partner or customer data in a social network. It resides in that platform, and there it stays unless you want to do a lot of cutting and pasting."
Married to PartnerOption
One of the advantages of PartnerOption is that it gives users a lot of tools to manage the data, said Keller, including the ability to move data easily from the open network into the CRM database and vice-versa.
The catch is that these businesses have to use the back-end CRM system for that workflow. If a company has, say, Salesforce.com as the CRM engine, several more steps are involved.
Still, it is an easier process for IT resource-strapped SMBs than an integration would be, Keller argued.
Other tools let users automatically populate their CRM app with social contacts or selectively add them later. There are also user-defined permission levels for sharing contacts.
"For example, let's say I find some prospective resellers of my product and I want to share information with my network," Keller explained. "I can selectively share this information and even let a contact in my network make changes or update these contacts."
Partners can also selectively gauge opportunities in each other's CRM databases and view forecasts, as well as share accounts.
Organic Growth
The social network is the driver of this package, although Keller is banking on companies opting to use the CRM app as well; there is no requirement that they do so.
The CRM functionality currently is free, but later this year the company intends to add to the standard features a premium feature set that will be subscription-based.
No other social network like PartnerOption.com exists online, Keller maintained — at least not in an organized format with back-end CRM functionality.
It is a good tool for B2B sales in particular, he said, pointing to the weariness a lot of companies have for extended in-person sales pitches. The preference now is for much of this process to be done online.
"What we hope," said Keller, "is that the members will be able to expand their sales distribution and business associates, both in quantity and quality, through the social network."