As the 2013 International CES approached a year ago, it was clear that a showdown between OLED and 4K — or UltraHD — was brewing in the TV display market. A year later, that showdown is fully under way, but with a notable twist.
Specifically, Panasonic's announcement in late October that it would exit the plasma displaypanel market in the coming months took many by surprise.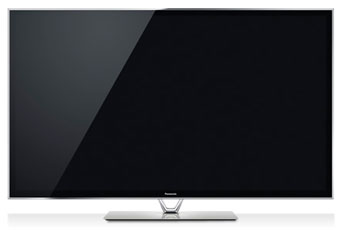 Panasonic's ZT60 plasma TV
Plasma's market share had been steadily falling in recent years, and in October NPD Group reported that worldwide plasma TV shipments fell by 19 percent in the second quarter of the year. LCDs — including those that use LED backlight technology — now account for 91 percent of the market, according to NPD.
"Everyone in the display industry had known that Panasonic would withdraw from the PDP business in a couple of years," Jusy Hong, principal analyst for TV systems at IHS iSuppli, told TechNewsWorld.
Still, Panasonic threw in the proverbial towel on the technology sooner than most had anticipated. The question now is what effect that will have on consumers' choices in the coming year.
'The Supply Chain Will Collapse'
"The official announcement made a negative impact on Korean TV brands LG and Samsung," Hong noted. "There has been no official announcement from those brands, but it is known that these companies will follow suit."
LG has already seen its market share erode for flat-panel plasma TVs. The company will ship around 2.5 million units by the end of 2013, according to IHS iSuppli, compared with 5.2 million units in 2012. In 2014, that number will fall to 1.2 million units, Hong added, while Samsung's shipments will fall to 3.8 million.
"Both companies are likely to stop PDP business by early 2015," he asserted, leaving just Changhong as the last remaining provider. "However, when the top three companies exit the business, Changhong may not be able to continue, as the entire PDP supply chain will collapse."
'Really Bad for the TV Viewer'
Indeed, "the fact that Panasonic is exiting the market signals the end of the line for the format," agreed Linn Huang, senior research analyst for clients and displays at IDC.
Looking ahead, "LCD won the mainstream low-end TV market, so the question becomes what will be the next premium TV," Huang told TechNewsWorld. "OLED seems to be the logical choice."
Both OLED and 4K remain expensive, however. As a result, the biggest losers in this shifting industry landscape could be videophiles accustomed to plasma's high quality and attractive price.
"If all we have next year is LED and some really expensive OLED sets, this is really bad for the TV viewer," Kevin Miller, industry consultant and cofounder of TweakTV, told TechNewsWorld. "The prices of OLED will have to fall to become as attractive for videophiles."
Prices on the sets did drop considerably last year, Miller added: "These were slated to come out at around $15,000 from Samsung and LG for the 55-inch models," he noted. "Then Samsung blinked and dropped the price to $9,000.
"That tells me that there is more to come, which we may see at CES," Miller said.
Fewer Than 2,000 Units
How quickly those prices fall could depend on how each company gets over the manufacturing issues, Miller noted.
"The companies still have problems producing OLED panels," he said. "While the yield has doubled from 10 to 20 percent, that still isn't good enough. If you're throwing eight of every 10 away, that isn'tgood for the bottom line."
Total OLED TV shipment in 2013 will amount to fewer than 2,000 units, said IHS iSuppli's Hong, while the overall TV market is expected to reach 227 million units.
"Due to the technical and production issues, we believe that OLED TV market will only make a meaningful volume from 2016 by exceeding one million units," he added. "This is an aggressiveoutlook based on the assumption that current issues will be solved in two years."
Chinese Potential
As for 4K technology, it also remains pricey but will likely continue to gain steam at CES in 2014and beyond.
"The price has crashed on 4K LCD, but it is still expensive," said IDC's Huang. "While the sets that came out in early 2013 were upwards to $20,000 we've seen the price fall to $4,000 and in some cases down to $2,000."
The technology will still represent only a small portion of the U.S. market next year, but it could be a different story in China, where 4K production has ramped up, Huang pointed out.
"China could actually get more adoption with 4K," he said. While worldwide the technology might still account for less than 5 percent of the market by 2017, "it would reach 15 percent of the market within the next five years in China."
In the meantime, content is another factor that could affect adoption, Huang pointed out.
"We'll have to see if by 2016 the Summer Olympics will be broadcast in 4K," he concluded, "as it took until London for broadcasters to reach 1080p."