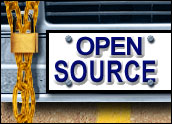 Well, the tablet craze continues apace, putting Linux — in the form of Android — into the hands of countless new users every day. Go tablets!
Of course, much as we here in the Linux community are fiercely proud of Android and the success it has achieved, there's no denying that the software isn't as open as many of us would like it to be. That, in turn, is probably why the prospect of ZaReason's completely open source offering has been so exciting.
Yes, for those of you who missed the original story, it looks like ZaReason — maker of a variety of hardware with Linux preinstalled — has been working on a 10-inch tablet for some time now with the goal of delivering a fully open source contender. All that remains, apparently, is for the right Linux distribution to get a tablet-friendly version to the point where it "just works," according to the report.
With a dual-core ARM processor, an Nvidia Tegra chip and 512 MB of RAM, news of the tantalizing device came as music to many Linux bloggers' ears.
'Can't Wait for It'
"Of course it would tempt me… cant wait for it," enthused demdagudchild on PCWorld, for example.
"If they'd ship it with 1gb RAM i am all ears else.. i am not sure," asserted almehdinsain. "2gb Ram would of course be the done deal."
Alternatively, "I have a e-book reader/ wanna be tablet so I would be interested in seeing the stack that they settle on," chimed in SeanCampbell.
'I'm Skeptical'
Others were less enthusiastic.
"The real news here is that ZaReason wants to compete in the already crowded Linux-based tablet market, by adapting a mature desktop-based Linux rather than starting from Android, MeeGo, etc.," began Tal on The VAR Guy.
"Is this a good idea? Having played with Ubuntu and Windows tablets in the past, I'm skeptical," Tal opined. "It will allow tablet user access to far more professional software: LibreOffice, GIMP, etc. However, that software is woefully unsuitable for touch-only devices.
"There's a good reason that Google (and Apple!) started from scratch for their mobile OSes," Tal concluded. "They are new paradigms that require not only new shells, but also an entirely new set of software."
Similarly, "I suspect that they will be lucky to sell 50k of these things," wrote nonseq on PCWorld.
'They Should Do Well'
So which will it be — a sure-fire hit or a flop waiting to happen? Linux Girl took to her favorite bar stool at the blogosphere's Punchy Penguin Saloon to find out.
"Interesting," began consultant and Slashdot blogger Gerhard Mack. "If they can keep it at a good price/performance point compared to the competition, they should do well."
Similarly, "one thing is sure in tablets: There are lots of choices," offered blogger Robert Pogson. "If ZaReason releases a tablet, they will have some play on their own site and retail shelves.
"ZaReason has demonstrated that they can meet market demands in other formats," Pogson added. "There's no reason they cannot ship tablets, too. Once they have the recipe they want, they can contract direct to China to get the volume and price they need to compete."
'Too Small a Fish to Pull It Off'
Slashdot blogger hairyfeet took a different view.
"I'm sure it will be a nice niche seller, as niche sales have always been the reason for ZaReason to exist in the first place," hairyfeet told Linux Girl. "They cater to a very small niche that will pay more for a device that is strictly Linux, and you know what? Good for them. I support having choices and the free market."
ZaReason's challenge, however, will be the bill of materials, or BOM, hairyfeet warned.
"Tim Cook, the new head of Apple, was VERY smart and bought massive multiyear contracts for the materials that make up the iPad at competitive prices, so his supply chain is covered," hairyfeet explained. "The problem ZaReason is gonna run into, which any of us small shop owners will tell you, is you just can't compete with the Dells of the world thanks to economies of scale.
"To get a tablet with decent specs and a truly competitive price, they are gonna have to buy massive amounts to lower their BOM price, and they are simply too small a fish to pull it off," hairyfeet predicted.
'It Will Be Simple Economics'
"In the end it won't be Linux that makes it a niche, it will be simple economics," he added. "Nobody will pay even close to iPad pricing on anything but an iPad, and ZaReason will have to charge close to iPad money to get decent hardware in the thing."
So, ZaReason will likely "sell enough to stay in business and make a little profit, but it won't set the world on fire or appear on any radars except for those that know who RMS is and what the four freedoms are," hairyfeet concluded.
Barbara Hudson, a blogger on Slashdot who goes by "Tom" on the site, wasn't sure it would get even that far.
'Take Two Tablets and See a Doctor'
"The Samsung Galaxy Tab or Motorola Xoom certainly fill the 'sleek dual core' bill and have more memory — and they're not vaporware," Hudson pointed out. "And there's the 'Pocket Tablet' Apple iPhone 4s, if you don't want Linux.
"So what if the underlying hardware isn't open-source? 'Will it run my apps' is what counts," Hudson asserted. "The market for an already-obsolete four-year-old vaporware open-hardware tablet design at a vastly inflated price (I think I got most of the 'features') is vanishingly small. At the rate ZaReason is going, they'll be competing with the iPhone X, and who knows how many Linux-powered devices."
In other words, "it's simply never going to happen," Hudson predicted. "The people who believe otherwise should take two tablets and see a doctor if the symptoms persist for more than 48 hours."