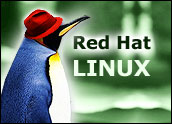 It's been clear for some time now that Red Hat is well on its way to being the first all-open source vendor to achieve billion-dollar revenues, but that doesn't mean the FOSS community can't cheer every time it gets a step closer.
Take last week, for instance. Red Hat reported its second quarter results on Wednesday, and the prospect was nothing if not cheerful: Total revenue for the quarter was up 28 percent from a year ago, to US$281.3 million, and subscription revenue was $238.3 million, also up 28 percent year-over-year.
"We continued to win and strengthen relationships with enterprise customers who partner with Red Hat to reduce costs while modernizing their IT infrastructure to enable applications to run on bare metal, virtualization and in the cloud," noted Jim Whitehurst, Red Hat's president and CEO. "Based on the strong first half results, we believe Red Hat remains well positioned to finish fiscal 2012 as the first billion dollar open source software vendor."
'Take a Bit of That Money and Sue'
The news may not have been surprising, but jubilation was evident throughout the Linux blogosphere nonetheless.
"Impossible!" quipped erroneus on Slashdot, for example. "There's no money in open source software!! It's it's not protected, encrypted, DRM'd, closed source, there can be no profit in it and everyone will pirate and never pay!!"
Slashdot blogger ThatsNotPudding offered some pragmatic advice.
"Mr. Whitehurst, take a bit of that money and sue the fsck out of Microsoft for character assassination and brinksmanship against third party vendors," ThatsNotPudding urged. "Force them to show these 'infringements' by Linux or be punished for lying about them for fud and profit."
Timely as that recommendation may have been in the wake of Samsung's brand-new licensing deal, Linux Girl took to the blogosphere's popular Broken Windows Lounge for further insight.
'The Whole World Benefits'
"With the huge growth of GNU/Linux on servers and desktops, it is no wonder Red Hat has grown its business," blogger Robert Pogson told Linux Girl.
"The whole world benefits from GNU/Linux and Android/Linux, and many $billions are being made by businesses that embrace it," Pogson added. "Only those 'partners' of M$ who produce hardware are being squeezed of their lifeblood with tiny margins; those who use FLOSS have a buffer of $100+ over competitors using M$'s stuff."
Indeed, "although I go out of my way to avoid using RPM based distros, Red Hat's success is good for the community at large since they provide an antidote to the 'You can't make money on Linux' FUD," agreed consultant and Slashdot blogger Gerhard Mack. "Red Hat is also a large contributor to the Linux kernel and other important projects."
'A Lesson for Other Linux Vendors'
Of course, "IBM sells Open-Source software, too," noted Hyperlogos blogger Martin Espinoza.
Similarly, Red Hat "won't be the first company to make a billion dollars a year off of open source (Google and IBM spring to mind), but as a 'pure play linux distro vendor,' this is great news," opined Barbara Hudson, a blogger on Slashdot who goes by "Tom" on the site. "There's certainly a halo effect for all linux-based endeavors."
Red Hat has been criticized "for focusing on the business and server market and ignoring the desktop, but the move has paid off in continued growth," Hudson pointed out. "There's a lesson for other Linux vendors who often seem to lack focus, announcing a 'me-too' offering for whatever buzzword is popular this month."
'So Many Good Free Software Options'
It should be noted, however, that "Red Hat does not make any significant amount from desktop Linux operating system sales," Roberto Lim, a lawyer and blogger on Mobile Raptor, told Linux Girl. "We got used to desktop Linux being free. No one is going to pay for a Linux OS now."
A similar phenomenon has occurred in the worlds of office suites, professional grade photo editing software and more, Lim noted. "The only software I pay for on any PC I use these days is the operating system, and that is really only the case because it comes bundled with the hardware. There are just so many good free software options these days."
Desktop Linux developers, then, "will have to find other ways to make money," Lim concluded. "I do not think you can sell Linux software to the average Linux desktop user anymore. They will probably have to make money with support and cloud services."
'Thus CentOS Was Born'
Indeed, "close to half the Linux web servers out there are running Red Hat's OS without paying RH a dime," Slashdot blogger hairyfeet told Linux Girl. "That is because a bunch of leeches that USED to pay RH decided they'd just keep the code, strip out any copyrights, and not give RH a dime, and thus CentOS was born."
Red Hat, in fact, is a classic illustration of the tragedy of the commons, hairyfeet opined.
"Red Hat is the company that by far gives more code and does more work for the community than anyone else, yet does that engender the community to be pushing those that use the ripoff to use the real thing, and thus help support the community?" he asked.
"Nope. That would be like all the forums dedicated to a game franchise saying, 'Forget paying for it, bit torrent FTW baby!'" hairyfeet added. "Do you honestly think that game company would continue if the pirates numbered more than the buyers by a huge margin? Nope, not a chance."
Now, "if the economy keeps going down, I just don't see how well they are gonna be able to compete if folks can just take their stuff for free," hairyfeet concluded. "That is why 'free as in beer' needs to die and 'free as in freedom' needs to be the rallying cry. Heck, even RMS says charging is fine for FOSS as long as the code is open."