A strong candidate for mCRM solutions is the retail industry — an enormous business worldwide that includes apparel, restaurants, department stores, pharmacies, grocery, home and hardware, discount and speciality stores, hotels, malls, airports, convenience, and even telecoms. Telecom companies are among the biggest owners of retail space on High Street. One American guide claims a database of 698,000 retail chains in the U.S. and Canada. There are more than 4,000 in France, and similar numbers in all of the major European countries.
There are three main drivers for an enterprise to invest in mobile: Generation Y; the search for revenue growth; and cross-channel marketing.
Generation Y
It is not a new Generation Y; rather, it is the same generation with an increased percentage of people who are used to using their mobile devices in ever-wider circumstances. Older age groups have significant percentages adopting mobile as a medium for research and purchase.
Currently, more than 36 percent of this age group are using smartphones for in-store shopping and real-time cross channel offers and are heavily influenced by social networks and peer marketing recommendations of friends.
Drive for Retail Revenue Growth
Fifty-seven percent of retailers are seeking new sales and services channels, and the consumer's mobile phone has emerged as a "channel growth" opportunity that offers customer engagement potential and incremental revenue options for retailers, according to the Aberdeen Group.
Of the 129 retailers participating in a 2010 Aberdeen survey, more than 38 percent were at some stage of employing mobile retail technology or mobile channel adoption, compared with 18 percent at the end of 2008. Fifteen percent of all retailers were looking to adopt mobile solutions within the next year. More than 22 percent of retailers were increasing their mobile marketing initiatives as part of their overall marketing mix.
Cross-Channel Marketing
One of the big talking points in the industry is mobile and the opportunity to manage cross-marketing initiatives beyond physical bricks and mortar. Mobile removes the physical barriers to retail sale and promotion of goods. Cross-channel, in this instance, is strongly connected to the "Reserve and Collect" or "Research and Collect" activity in which consumers are encouraged to come to the physical store to collect their goods — where additional up-sell and cross-sell opportunities exist.
This is in fact not a difficult thing to achieve, as many shoppers prefer to collect goods than have them delivered. Typically, this is the case for families in which both parents work and are not at home to accept deliveries, or for single working young adults who are not often at home.
"With consumers continuing to be more careful with their dollar as their cross-channel shopping expectations rise, retailers will find that a seamless cross-channel experience will be critical in capturing wallet-share," said Jim Bengier, global retail industry executive for Sterling Commerce. "Retailers who have their order management and inventory visibility processes in order will be best positioned to incorporate the mobile channel into the consumer shopping experience to take advantage of the growing consumer interest."
Eighty-four percent of respondents want to have the ability to buy an item online and return to a physical store, while 67 percent want the ability to order online and pick up in a store.
Fifty-six percent of in-store shoppers have gone online to do research or look at an item before purchasing it in a store. For consumers with household incomes above US$75,000, the number rose to 73 percent, and college graduates were at 76 percent.
Women were more likely to exhibit cross-channel shopping behavior, with 59 percent of female respondents saying they had researched an item online before purchasing. Forty-five percent had an item delivered to their home, and nearly one in 10 women surveyed reported they had returned an item purchased online to the store.
The capabilities these retailers are looking for include the ability to measure the success of the mobile channel, with 68 percent advocating the need for performance metrics. This, of course, plays straight to our simple proposition of being able to "Connect Promotion to Purchase."
This key message rings volumes with all the retailers I have spoken to, because it allows them to measure their success and to be accountable for their marketing investment. With this in place, all of the other benefits of mobile — in your hand, always with you, interactive, cost effective, personal, etc. — now have a positive impact.
Top Current and Planned (Next 12 to 24 Months) Mobile Retail Capabilities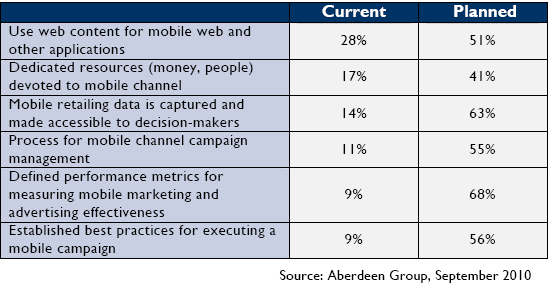 The major elements that retailers are focused on are shown below. The second-highest preference for 43 percent of retailers is mobile voucher targeting and delivery that can be tied to a customer loyalty program.
Caption:
Main Elements of Mobile Retail Platform (Respondents Selected All Answer Choices That Applied)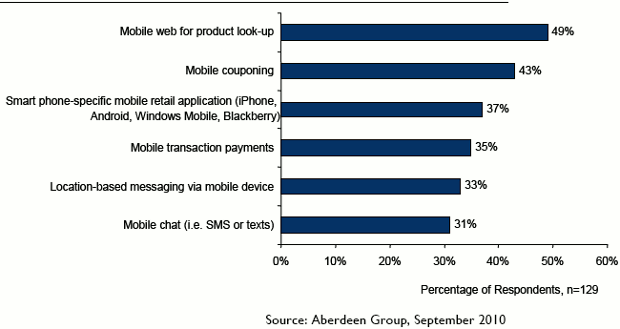 Retailers are looking hard at the ROI and their expectations are around the following (from Aberdeen Group)
Better Customer Targeting — i.e., ensuring offers are relevant (60 percent)
Decreased Marketing cost (36 percent)
Response tracking — i.e., connect promotion to purchase (68 percent)
Increased Customer Profitability (81 percent)
Improved Customer Retention (78 percent)
Improved Brand Image (88 percent)
Retail is not the only place where the mobile evolution is making its next big step. The telecom operators are beginning to understand the potential for these services. In fact, two-thirds of mobile operators believe that coupons and vouchers will become the dominant form of mobile marketing by 2015, with 58 percent predicting that SMS and MMS-based messaging will be the second most widely accepted form of mobile marketing in the next five years, followed by search with 45 percent.
However, these same operators expect the consumer to gain control of their profile over this period, doing away with the historical segmented insight CRM engine approach. They also expect the need for secure platforms to support this, as these services must focus more effectively on opt-out than opt-in. That is not to say that the current regulations on opt-in will be reduced; rather, there will be more transparency about data destruction when a consumer opts out.
This, of course, links to mobile marketing — building trust between the marketer and the consumer.
Listen to Your Customers
Based on the NCR 2010 Consumer Research survey and ATG consumer research,
45 percent of consumers want retailers to understand their preferences, including language and payment method
54 percent want to manage their loyalty programs online
83 percent want to shop where the retailer lets them take control of how and when they shop
Only 5 percent of all consumers would reject relevant and directed offers from a retail store
Mobile is a driver for consumer satisfaction and enterprise revenue growth, but the consumer is expecting to be treated with a bit more respect: "If you let me make take control, offer me choice, and make relevant offers, then I will buy from you. Otherwise, I will opt out."
As the consumer has far more control in the mobile environment, 2011 looks like a big year for retail.