Crazy Taxi Is a Wild Pedestrian-Terrorizing Jaunt
MacNewsWorld
Crazy Taxi, a game for iPhone, iPad and iPod touch from Sega, is available for $US4.99 from the iOS App Store.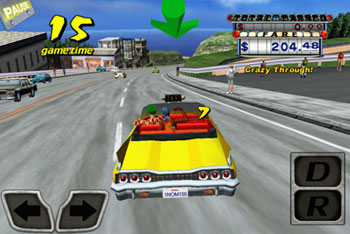 Crazy Taxi on the iPhone 4
Back around the turn of the millennium, Sega had itself a bona fide hit in Crazy Taxi, a driving game that has players picking up fares around a city that looks a lot like San Francisco and getting to their destinations in as little time as possible.
What began as an arcade game was ported to the Sega Dreamcast and then to various other platforms, most recently iOS. Sega is reportedly working on an Android version as well. Also, while the game is playable on iPhone 5, it does not yet take up the full, larger screen, but Sega promises an update soon.
Tilt or Touch
The game is a faithful recreation of the original, and allows players to choose between tilt and touchscreen steering. Each has its advantages -- tilt steering just feels a little more natural but the touchscreen version offers quicker responsiveness. Plus, when you're in tilt, you also have to tilt your head along with the device or risk disorientation.
The game is played either in arcade mode or original mode, and the difference is the layout of the city. Players choose from among four different cabbies, pick up fares and try not to crash. Background music comes courtesy of The Offspring and Bad Religion, just like in the original.
For a relative novice, the game was easy to pick up and enjoy. There's lots of potential for higher-level learning, but it's just fun barrelling around, learning new tricks and driving recklessly without actually hurting anyone or damaging property.
Go to School
Beginners might be well advised to take advantage of the Crazy Box feature, which teaches different tricks and skills that will become useful in later play. Drifting, accelerating, stopping and jumping are some of the tools you really want to have available as you make your way through this imaginary city.
Players are offered the choice of playing by arcade rules, which starts out with three minutes of time and earns additional time once a fare is dropped off; or three, five or 10 minutes of straight gameplay. Driving and exploring is fun and can help you find destinations over time. Head down to the waterfront area, and take advantage of some opportunities to do a little underwater driving, just for kicks.
A Little Buzzy
One knock I have on this game is that when the game is on silent, the fare's chattering is translated into vibrations, so the device just constantly buzzes. You can turn the vibration off if it bugs you, however.
Finally, the iPad version. Menu Graphics don't look as sharp scaled up to the iPad size, but they're way better than trying to look at a non-iPad version of an app that's simply upscaled. However, I couldn't get past the "Game Loading" screen on my (admittedly ancient and not recently updated to the latest version of iOS) iPad 1, so I couldn't give an accurate assessment of game play without updating it.
Still, the great thing about Crazy Taxi is that it's a perfect way to kill a few minutes waiting to pick up dinner or at the DMV. Just don't let the examiner see you play.