Mokriya Turns Ugly Craigslist Into the Very Picture of Beauty
MacNewsWorld

Mokriya craigslist app for iPhone is a (mostly) free app available in the iTunes App Store.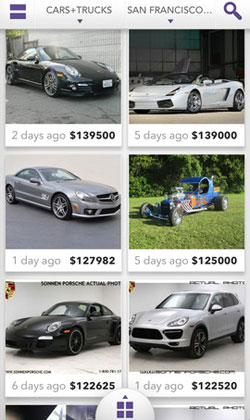 Mokriya has transformed the stale, flat, and sometimes sordid experience of browsing Craigslist's vast online classifieds site on a computer into a hand-held experience more like flipping through a dynamic, photo-rich catalog. It took me all of a minute to become a serious fan of the app.
To understand the app's value, you need to know the core problem with Craigslist. First-time users of Craigslist online are faced with dozens if not hundreds of densely packed links to navigate through -- you have to find and select your area or region of the world, then drill down into the section you want to explore. To filter, you can search through a small region or load up a hundred items to scroll through.
In a web browser, Craigslist is mostly functional and mostly ugly. As near as I can tell, Craigslist fans create all sorts of bookmarks and personal systems for browsing and searching their favorite categories and nearby regions. There have even been some online apps; data-scraping solutions that Craigslist has squashed, and even some apps that make the browsing experience better.
There is no official Craigslist app from the website, but Mokriya has licensed the right to use Craigslist data. Combined with smart and fluid design sensibilities, Mokriya has created a way to not only transform the old school browser-based method of using Craigslist, but has also amplified the best of Craigslist by getting out of the way and showcasing the content.
Two Taps Away
When you launch the app, you're prompted to let it use location services to find your place in the world. This is key to using Craiglist, because whether you like it or not, the service is location-based. While you can buy things in other states and in far away places, many buyers will ignore you because they don't want to ship items and they don't want to get scammed.
Most sales start anonymously on Craigslist but end with a face-to-face transaction, so I let the Mokriya app use my location. I'm not sure what happened, though, because it thinks I'm about 500 miles away on the wrong side of my state.
Fortunately you can tap your location region easily. Next, you pick a category to browse: Community, Personals, Housing, For Sale, Services, Jobs, Gigs, Resumes. The list is vertical and easy to scan; if you tap For Sale, the list shifts quickly with animation to show you the categories in a small left side column, with your section highlighted. That is followed by a scrollable vertical column of the drill-down categories like appliances, auto parts, boats, computer, furniture, jewelry, tools, video gaming, etc.
Tap a category, and boom: You get a scrollable list of photos showing items for sale, easily flickable and brightly lit. I flicked past all sorts of sporting goods, like helmets and binoculars, and then stopped in amazement at a juniper log pool table. I'm not a huge fan of the game, but this table was a custom work of art. I could appreciate it -- not enough to move couches out of my home, but this app let me explore the world around me just a bit better than before. Of course, when you're looking for something specific, all these flickable images let you scan through offerings quickly.
You can shift from single column view to a double column view that uses thumbnails of photos for each item. You get a timeline as to when the item was posted (i.e. 2 days ago) and the cost. Listings that don't have photos show up as well, but just like the online version of Craigslist, they get less attention.
Search, Sort, and Alerts
Tapping into a new city, region or state is relatively quick and easy. It would be nice to create favorite locations, because I happen to live near four states that I would be willing to travel to so I could buy large items in person. You could say this is a problem, but it's not like Craigslist makes this easy on the web either.
As for sorting, that can be done by date, low price or high price. Searching, depending on which section you're in, gives you some nifty features, like "has images" or minimum and maximum price range -- all the same stuff you'll find on the Craigslist site.
If you upgrade via the in-app purchase of US$0.99, you can create a favorites list as well as set up search alerts. All handy, and while I'm not a Craigslist junkie, I quickly upgraded, mostly to lend my support for this well-designed app.
So Much More to Craigslist
There's much more to Craigslist than buying and selling, of course, but that's the part I care about most -- not the personal shout-outs for booty calls, local news or housing, but the For Sale classified section. When I browsed over to the personals, fortunately I didn't see any photos. My point? Not all parts of the Mokriya Craigslist app turns the service into a photo-heavy catalog. For the jobs section, I only saw text, text and more text. Still works great, though; fluid and fast.
If you are going to upload your own posting, you can do it quickly and easily through the app. I didn't test this feature out myself because I don't have anything to sell at this time. When I do, I'll be taking the photos with my iPhone anyway, so I'll be ready.
One Minor Quibble
The Mokriya Craigslist app is fantastic, no doubt about it. The only part that really bugs me? Purple. The text and icons are purple. It's better than the default sea of blue links on the Craigslist site. But purple? I'm just not a purple guy.
If you can get past the purple, try the app out. If you like it, buy the in-app purchase to show the developers a little love, because they got everything else right.

---