Doo Doesn't Quite Do the Trick
MacNewsWorld

Doo is available for free in the Mac App Store.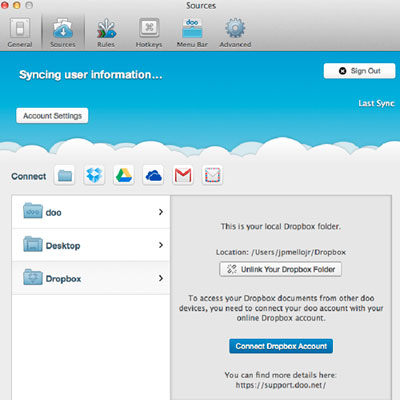 Doo Source Screen
We have entered the Golden Age of storage.
At no time in the past have we had more freedom over where we can stash our digital stuff. We've got internal hard drives with a terabyte or more of storage space. We've got solid state drives that give us quick access to our data.
We've got thumb drives with a gigabyte or more space, and we've got free cloud storage from multiple vendors.
The problem with so much freedom to store data in many places, however, is trying to remember where you squirreled something away.
A free program called Doo from the iTunes App Store is designed to help you solve that problem -- with some effort.
Choosing File Locations
Doo will keep tabs on your files wherever they may be -- local drive, external drive, cloud, phone and so on.
When setting up Doo, the first step is to set up a Doo folder. It's used to store the data that Doo creates to track your files.
Using your home folder is recommended by the program's author. The app won't do anything to upset your existing file setup, such as copying, moving or altering your files in any way.
After that you can choose folders that you'd like Doo to monitor. It'll keep track of what happens to a file -- if it's moved, copied or modified.
Choosing folders take some time. First, you need to access all your various storage sources.
After you open up a source, you have to muddle through which folders have files worth tracking. For example, you wouldn't want to track files in a system folder.
Too Cloudy
Following the choice of a folder or file location, it may take some time for Doo to populate its file window with files from the designated location. That can be disconcerting at first, because you can't be sure if the program is working or not.
If you have a number of cloud services, the last thing you probably want is another one. With Doo, though, you're going to have to add another one.
That's because connecting to a cloud service like Google Drive, SkyDrive or such requires setting up a cloud account with Doo.
Since one of your motivations for installing an app like Doo may have been to track multiple cloud accounts, creating yet another one in order to use it is irritating. It's another set of login credentials to remember, another online location to track.
After connecting to a cloud service like Google Drive, you can select folders that you'd like Doo to watch. That way, you can track any changes made to the folder from within Doo, and not have to surf over to the drive site to see what's happening there.
Ditching Folders
Although you may choose folders for Doo to follow, it doesn't use a folder structure when displaying files in its file window.
For example, if you choose your desk top as a location for Doo to monitor, you may have files on your desktop stored in several folders. In the Doo window, the files will appear segregated from their folders.
You can view files as a list, big icons and thumbnails.
You can group files in a number of ways, too. For example, you group them by name or file extension, as well as document date and flag. Of course, you can also sort the files by the dates they were created.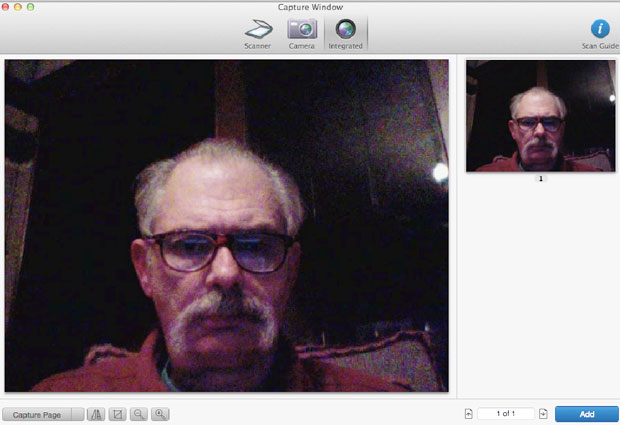 Doo Image Capture
In addition to content at your various storage locations, Doo lets you bring content directly into the app. It supports scanning images and documents, importing pictures from a digital camera or from a Mac's integrated snapper.
Doo's capture window includes some basic image editing tools. For example, there's a tool for "flopping" photos, so a right profile would become a left profile. There are also tools for cropping images and zooming in and out on them.
Reassert File Control
A wide range of TWAIN scanners are supported by Doo. Some scanner parameters can be controlled from within Doo, such as resolution, color mode, paper size and orientation. You can also toggle duplex mode, which allows you to scan double-sided documents.
What's nice about Doo is that it scans documents intelligently. It applies OCR so scanned documents can be turned into computer readable text. That also allows the documents to be smartly tagged and categorized.
As fast as Doo is at finding files,there are usually some files that you can't get your hands on fast enough. For those files, the app has a place on its sidebar called "workspaces."
You can create workspaces on the fly and populate them by dragging files from other locations tracked by Doo to the workspace.
Another quick access method offered by Doo is the ability to flag items.
Since duplicate files can be a common problem when storing files in multiple locations, Doo includes a nice feature for identifying dupes.
It takes more effort to set up Doo than it probably took you to scatter your files across your storage landscape. However, if you want to assert control over those files, Doo can be a good way to do it.

---