Cloud Drive May Stoke Amazon Fans - for Others It's 'Meh'
MacNewsWorld

Amazon Cloud Drive offers 5 GB of free storage. It is not available in the iTunes App Store.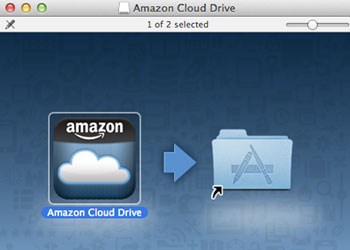 Amazon Cloud Drive is not available through the Mac App Store; hence the old-school installation.
When Amazon updated its Cloud Drive earlier this month with file syncing built in -- along with its desktop app for the Mac -- the file storage service suddenly got a lot more interesting.
Why? For long-term file storage, syncing isn't that big of a deal. However, if you want a place to dump files that you can access from another computer or via a Web browser -- so that changes you make on your primary computer are ready to rock everywhere -- the no-brainer need is for automatic syncing.
Dropbox, of course, is the big leader in this space, with Microsoft's SkyDrive and Google Drive offering similar services. It's not like these competitors have terrible reputations, so why mess around with Amazon, too?
Simplicity and 5 GB of free storage, that's why. You start out with just 2 GB free at Dropbox and 5 GB free with Google Drive, while Microsoft offers 7GB with SkyDrive. Apple's iCloud lets you have 5 GB, depending on how you want to add it all up, but iCloud is limited in the types of files that you can upload and effectively use unless you're a strict iWork fan.
Right now, though, it's fair to say that Amazon doesn't really have much of a competitive edge unless you're already an Amazon customer. If you are, using the mostly free Amazon Cloud Drive is painless and doesn't require you to get in bed with yet another company. That's definitely worth something in my book.
How It Works
Go to Amazon.com/clouddrive and download the app. You won't find the app in Apple's Mac App Store, so the installation process is old school.
The only pause here was the requirement to install a Java runtime environment because the app uses Java. Since I've been trying hard to avoid Java because of the browser-based vulnerabilities associated with it -- and my lack of faith in Apple and Oracle when it comes to maintaining Java on a Mac -- I almost walked away at this point. I did a bunch of web searches on the topic and found many other Mac fans who claimed to pass on Amazon Cloud Drive just because of Java. A few users, however, said the primary security problem with Java tended to be browser-based, not app-based.
I'm a generally happy Amazon customer, so I decided to pull the trigger and install it.
What you get is basically a Cloud Drive folder on your hard drive. It's added to your user account on your Mac right above all your other standard folders, like Desktop, Documents, Downloads, Movies, etc.
Inside the Cloud Drive folder are some default folders: Documents, Pictures, Videos.
If you drag a file to the folder, the file moves to the Cloud Drive folder. (That's right, this isn't just an upload portal to a virtual storage space in the Amazon cloud -- the file moves.) To get the automatic syncing, this tactic makes implicit sense, but it also means that you may need to change your work habits around how and where you store files.
The file remains local to your hard drive, which is the whole point of the syncing. You can access it locally and edit it while offline and then have it sync when you return online. In my tests with basic files, this worked very fast.
Access from Elsewhere
As near as I can tell, you could install Amazon Cloud Drive apps on any number of Macs or Windows-based PCs (no Linux) as long as the app is signed into your Amazon account. Each Cloud Drive would hold copies of all of your files. Nice.
What if you go visit your grandmother and need to use her PC? No worries -- you can also access your files with a web browser. You can open .rtf files and view them, but you can't edit them online. You would have to download them to your grandmother's PC and then open them with one of her applications in order to edit it.
How about movie files? I played a .mov file online from within a browser window. I also could have downloaded it.
Mobile Limitations
Unfortunately, Amazon Cloud Drive does not play well with Apple iOS devices. There's no native iOS app.
I was able to log into my Amazon Cloud Drive account via Safari on my iPad, and I could see my files and open up basic files in a browser window -- again, no editing. However, when I tried to download a file, nothing seemed to happen. Besides, where would the downloaded file actually go? It's not like my iPad has an open file system that can be comprehended by mere consumers.
In contrast, Dropbox has been around for years, and it boasts storage and syncing features built into many third party iOS apps. Amazon Cloud Drive has yet to break into this space on iOS. Even Google Drive and Microsoft SkyDrive have apps and more options for iOS mobility.
There are a few more potential gotchas. If you use Amazon to store and play music files, you should know that Cloud Player and Cloud Drive are becoming separate services. After July 1, you could use Cloud Drive to backup and store your music files. To play them, however, you'll need to import them to Cloud Player.
How Much Storage Is Enough?
Are you going to use the service with just 5 GB, or will you upgrade to get more?
You can get 20 GB for US$10 per year, 50 GB for $25, 100 for $50 and so on up to 1,000 GB for $500. For basic file backup and limited sharing (through an open url, should you choose to share a file) 5 GB is plenty. You could even back up a handful of important family photos and videos using Cloud Drive.
For a real backup system, though, the pricing in the cloud gets dicey -- at least when I think about it. Sure, you get offsite storage, but you trade that for a yearly price.
My iPhoto library is 75 GB. I copy that over to an inexpensive portable hard drive and then store it in a safe deposit box. (Just kidding. I actually bury it in an airtight box under a rock in the backyard, or leave it at Grandma's house in my special drawer.)
The point is that big GB cloud storage services for regular everyday consumers aren't always the safest, easiest, or most cost-effective of solutions, even when it's offered by cloud pioneer Amazon and its consumer-friendly division.
Should you consider Amazon Cloud Drive on the Mac? If you're already an Amazon customer or don't have a competing solution, the service is easy to understand, simple to install, and so far works flawlessly.
If you want access via your iPhone or iPad, you should ignore Amazon Cloud Drive for now. Compared to the competition, it's a 3-star product. Compared to itself -- because it does exactly what it claims to do -- it's a 5-star product, which is why I split the difference and give it 4 stars.

---