Reeder's a Comfy Refuge for Google's RSS Orphans
MacNewsWorld

Reeder is available for free for Mac, iPad and iPhone at the iTunes App Store. A Google Reader account is required through July 1.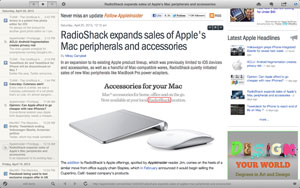 (click to enlarge)
When Google announced it was killing its Reader app July 1, it not only annoyed hordes of users, it pulled the rug out from under app developers who built their livelihoods on the web software.
One of those app makers is Silvio Rizzi, maker of Reeder. a free RSS program for iPhone, iPad and Mac. Like all the developers that plugged into Reader, Rizzi is facing extinction. However, he's not quite ready to go into that good night yet.
"One thing that's clear: Development of Reeder will continue after July 1st," Rizzi wrote on his blog.
While many details remain to be nailed down, Rizzi is preparing to plug Reeder into alternative RSS handlers when Reader goes dark. Those could include Feedbin and Fever.
Feedbin has an API that Reeder could tap into that would provide the services its readers received through Google -- subscriptions, articles, read/starred statuses and more.
Fever is a server app, not a service like Google Reader or desktop software like Outlook. It also has some interesting features that help reduce the "fire hose" aspects of RSS feeds by identifying items with common subject matter and flagging them for easier viewing.
Clean Interface
Rizzi's determination to keep Reeder running in the face of adversity makes the app a good place to go for soon-to-be Reader orphans.
Reeder has a nice, clean interface. Groups from Google Reader -- and in the future, hopefully, from Reader's replacement -- are listed in a column on the left side of the program's main window.
The number of unread items is displayed by each group along with an arrow button. Clicking the button will display the RSS feeds in the group.
At the bottom of the groups column is a semi-circular arrow and a settings icon. The arrow refreshes your feeds. Settings allow you to add or manage subscriptions.
When you select a group, a snippet of information for each item in the feeds will appear in a pane beside the group column.
You can sort the snippets in the item pane by date, unread items or starred. Typically, I star items that I want to read or bookmark later.
Readability Support
At the bottom of the item pane, there are tools for marking all snippets in the item column read, and for searching for keywords in your feeds.
When you select a snippet in the item column, a more lengthy summary of the item will appear in a large pane beside it.
There's a toolset at the top of the large pane. You can toggle an item as read or unread. You can star an item. You can also save the item to Evernote -- a free Web-based notebook program -- or to Readability.
Readability is a cross-platform app that makes Web pages more readable by clearing away clutter. It also allows you to save the pages for later reading later. Because there are versions of the app for browsers, iPhones, iPads and Android devices, you can read a saved item anywhere on any device.
Rich Sharing
The toolset also includes a button for sharing articles. Reeder has a very rich array of sharing options. There's the standard "mail a link " option for an article, or you can share it with a text message.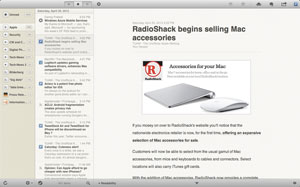 (click to enlarge)
You can also send it to Quote.fm, Instapaper and Pocket, as well as add it to the reading list in Safari. You can save it to Pinboard, Delicious and Zootool.
What's more, you can post a link to the article to App.net, Twitter, Facebook and MarsEdit. If you have Google Chrome running on your Mac, you can open the article in that browser from inside Reeder.
If you want to see an article in all its Web splendor, you can do so by double-clicking a snippet. That will hide the group column and display it as it appears online in the large display pane.
A Better Reader
Google Reader has attracted a loyal following because it creates a place to access RSS feeds from any device. It isn't the prettiest app in the world -- not surprising for a Google program -- but it gets the job done.
Reeder makes Reader more usable. The "river of news" -- if you subscribe to a lot of RSS feeds -- can still seem out of control. Beyond organizing feeds into groups, not much else is done to associate the content in the items. (That's why the possible partnership with Fever would be an intriguing one for Reeder users.)
Reeder makes the content from an RSS feed easier to read and less overwhelming to the eyes, especially with the incorporation of features like Readability.
Slick and smooth movement between article summaries and their Web counterparts is another attractive asset of the program.
Google's sacking of its online RSS reader is a disappointment to many. When the sun sets on Google Reader, though, programs like Reeder could rapidly dissipate that disappointment.

---