Radar Cast Pro Puts a Meteorologist in Your Pocket
MacNewsWorld

Radar Cast Pro by WeatherSphere is available in the iTunes App Store for US$1.99.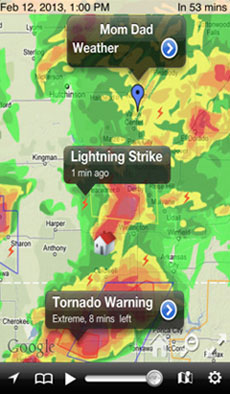 I'm not a weather junkie, but when it's time to get up and go -- a wintertime road trip or a fishing or hiking expedition -- I usually take a peek into the mountains with a weather app that I've now replaced with an even better version. The new app? Radar Cast Pro - NOAA Hi-Def FutureCast, Push Notifications, Lightning Strikes & Weather by WeatherSphere. The search engine friendly title is a mess for real life use, so I'm going to just call it "Radar Cast Pro."
Radar Cast Pro is basically the next-generation app from my previous go-to weather illuminator app, NOAA Hi-Def Radar, which I reviewed last year. Radar Cast Pro has all the same features as NOAA Hi-Def Radar but adds lightning strikes and FutureCast Radar, which predicts where and when rain will occur -- or more likely, how long it will keep raining.
Plus, there are additional layers, more configurable options, wildfire details, weather alerts, and the ability to send weather postcards to friends and family. I haven't used the weather postcards feature, but last summer I was watching from afar, via NOAA Hi-Def Radar, as my home county erupted with crazy weather -- flood reports, warnings, severe thunderstorms, etc. -- when I received a text message from a friend of a friend containing a photo of hail larger than golf balls.
So if Mother Nature decides to put a spanking on the land, who knows, maybe I would make a postcard.
See the Rain
The most important feature of Radar Cast Pro is the ability to see a radar image of rain. If you're heading out for a hiking trail that's 50 miles away, for example, and the weather is scattered clouds or thunderstorms, will you still go if it's been raining at your destination for the last hour? And it's still raining? Radar Cast Pro lets you look at a map and see an overlay of rain activity that shows up as a green blob.
To see the rain, you start with a radar image of the rain an hour ago then step through new pictures after certain intervals that you can set yourself. So, rain 60 minutes ago, 40 minutes ago, 20 minutes ago, 10 minutes ago, and 5 minutes ago -- imagine a green blob moving across a map as the clouds move, dumping rain. You get a visual representation of that with Radar Cast Pro.
Once you use it -- and it saves you a trip or makes you grab your rain jacket -- you'll forever appreciate the app.
It also shows snow, which is rendered as cool light blue blobs over your map. Red is a really nasty thunderstorm, and orange is heavy rain.
Weather Advisories, Lightning and Wildfires
I'm a visual guy, so I appreciate the use of a fast zoomable map as the foundation for this app. When there's a weather advisory in your area, you'll notice a colored polygon on the map. Tap on it and you'll see something like a flood warning with details from the National Weather Service. If the weather is all sunshine and blue sky in your area, you can always zoom out and look at all of North America. It's usually raining somewhere.
Same goes for lightning, it turns out. Radar Cast Pro lets you see the location of a lightning strike. Break out this app the next time you get a big storm and see how accurate it is -- I'm guessing it's more accurate than seeing lighting and counting before the thunder hits. I can't wait to try it out.
As for wildfires, the fire season hasn't hit hard yet, but last year I drove through a patch of Oregon where the high desert had burned for more than 24 miles along a highway. It was eerie. If I had been a day or two earlier, the app could have alerted me to its presence and I could have rerouted myself around it rather than risk getting stuck at a roadblock.
The point is, hometown weather is great, but as summer heats up and you hit the road for extended travel, Radar Cast Pro is a good app to have downloaded on your iPhone or iPad, ready to run.
So Much More
Again, depending on where you live in North America, certain features of Radar Cast Pro will be more or less useful to you. For instance, I have no need to see Hurricane Forecast Tracks on the map, nor do I really need the U.S. Drought Severity map -- but other people will. My recommendation? Shell out the two bucks it will take to buy Radar Cast Pro and play around with it.
One last point: In the official App Store, the app is listed as "Radar Cast Pro," but on the app icon itself and the WeatherSphere website, the app is named "RadarCast" -- no space. I have no idea why, but don't let the naming convention inconsistency turn you off. The app itself is quite good, and it's one of my go-to favorites.

---