Apple Serenades Musicians with New Logic Pro X
MacNewsWorld
Apple on Tuesday unveiled Logic Pro X, an update to its Logic Pro line of music-mixing software complete with a new interface along with creative tools for musicians and an expanded collection of instruments and effects.
Particularly notable about the new release is Logic Remote, a new feature that offers iPad integration, giving musicians the flexibility to create and mix their music from anywhere in the room.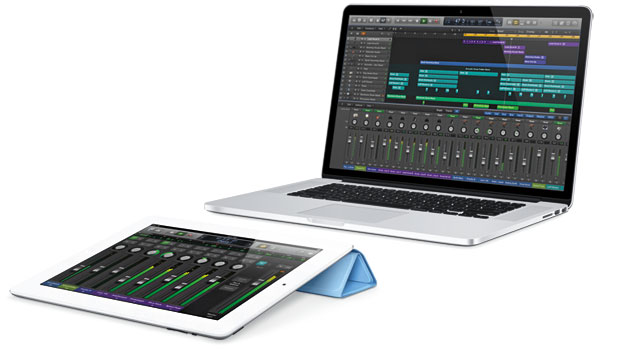 With advanced tools and a new interface, Logic Pro X is "designed to streamline the process of creating professional-quality music," said Philip Schiller, Apple's senior vice president of worldwide marketing.
Logic Pro X is now available for US$199.99; the Logic Remote is available as a free download from the App Store.
Apple declined to provide further details.
A Raft of New Tools
Among the new enhancements offered by Logic Pro X are a new look, which includes a redesigned interface, and an expanded sound library and new tools such as Drummer and Flex Pitch.
The interface now allows musicians of various levels to add effects while making it easier for desktop composers to move tracks around as they see fit. The software has been designed to provide easier navigation of sounds and loops so as to streamline the creative process.
New tools such as Flex Pitch, meanwhile, let users edit the pitch of any monophonic audio recording, which can fix out-of-tune vocals or even change the melodies of recorded audio by manipulating individual notes within an audio waveform.
The Track Stacks function allows for better organizing and even combining of multiple tracks, which can be used to create soundscapes of layered instruments.
Drum Kit Designer
Then there's Drummer, which has been designed to deliver professionally produced, realistic drum tracks that are far richer than what a drum machine might provide, Apple says. It also features sounds that are sourced from what Apple claims are the industry's top session players and recording engineers.
The Drum Kit Designer plug-in allows users to create a virtual drum kit by mixing and matching drums sampled from a variety of kits. The program also features nine new MIDI devices that include Arpeggiator, Retro Synth, Vintage Keyboards and Bass Amp Designer.
Last but not least, Logic Remote lets musicians play and control the various virtual instruments at their command via iPad.
The 'Home Office Composer'
"Software has enabled many more people to get a hold of pro-quality music mixing capability at a fraction of the cost," Roger Kay, principal analyst for Endpoint Technologies Associates, told MacNewsWorld. "So, the target market is way up into the pro ranks and all the way down to the serious hobbyist."
While amateur musicians are often relegated to the basement or -- more fittingly, the garage -- technology such as Logic Pro has in recent years created a transition from garage band to a type of "home office composer."
Indeed, "Apple has long appealed to serious musicians," Kay noted. "Berkeley School of Music in Boston required all students to buy a Mac and use GarageBand to mix music for classes and seminars."
GarageBand wasn't even a pro product, added Kay.
'Monkeys with Typewriters'
While Apple's Logic Pro X might provide the tools, it probably won't enable just anyone to become the next Mozart, however. Just as software can allow people to do many things, there still needs to be that inherent talent.
"It is almost two different things," said independent technology analyst Billy Pidgeon, who has also been a serious musician most of his life. "Mixing and creating something out of existing music is a talent of itself, but can this software make someone who is just trying to create original music an actual musician? I don't know.
"This type of software might make those who don't have it sound professional, but won't make them sound talented," Pidgeon told MacNewsWorld. "This is very much a case of the monkeys with typewriters -- they aren't going to produce Shakespeare."