Salesfusion has released a new version of its marketing automation platform enhanced with the lead-scoring capabilities it acquired earlier this year with the acquisition of LoopFuse.
The end result of this newly integrated product is a marketing automation application that has predictive lead scoring and is priced and configured to be used by mid-market companies, said Salesfusion CEO Christian Nahas.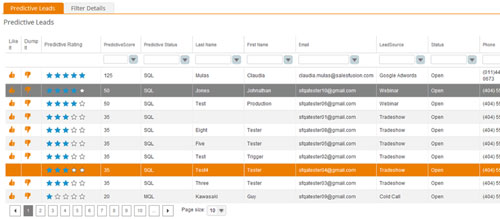 In addition to the data categories shown, Salesfusion lead-scoring tracks the date last updated, account owner, account number and task.
(click to enlarge)
"Similar tools in the market might run a company (US)$5,000 to be used on 250,000 contacts," he told CRM Buyer. "Ours is less than $1,000, and predictive-lead scoring is part of the platform — not an add-on as so many products are."
One problem for mid-market companies seeking this sort of functionality is that the marketing automation space has been undergoing an arms race, so to speak, for the last four or five years, Nahas noted.
"Products have been getting built out with very little regard for how easy they are to use — and more importantly, whether they will address what should be the initial purpose of marketing automation, which is to provide the right lead to the right person at the right time and in the right context," he said.
Mixing Algorithms, Self-Learning and the Human Touch
Salesfusion is able to do this courtesy of a mix of its own functionality and the feature set from Loopfuse — by combining algorithms and a self-learning application with input from the sales staff.
First, Salesfusion applied LoopFuse's predictive analytics engine to the lead-scoring process, reconfiguring its system to evaluate the leads in a CRM application and rate them "with greater accuracy and less emotion," said Nahas.
"It can then tell the user what will close and what will not. We can tell the marketer and the sales person that 'based on everything you have closed on [in the] past and this particular customer journey, we know which leads in your CRM system are most likely to close, which will need to be nurtured further before they will close, and which leads will not likely close at all,'" he explained.
That reasoning gets updated in real time with every closed win or lose, allowing the platform to rescore the assumptions it has made about other leads based on this new information. The system also provides ample space for the sales person to participate in this process, Nahas said.
"The sales person has the ability to weigh in. The system will show … what it has deemed the hottest leads, and the sales person can give each lead the thumbs up or down, further teaching the application," he pointed out. "The system therefore gets smarter each time it is used."
Next Phases
Salesfusion's new functionality is rolling out now and will be generally available to customers in April.
The company currently is working on updating other aspects of its platform as well, Nahas said. "What we are doing now is experimenting with how to best surface the leads, such as mining Twitter and other social media channels for prospects."
This is where LoopFuse originally was focused until Salesfusion redirected its energies to lead scoring, Nahas said, "but finding people who look like they might want your product, based on what they are saying on social media, clearly also has value."
Salesfusion plans to develop algorithms and features that predict not just the attributes of a company's best customers, but also the path they will take to get to that company.
"Then, we will help the sales person optimize that path dynamically," Nahas said.
"The system will have enough information to present a nurture campaign based on an efficient and optimized path from initial touch to sale," he said. Salesfusion doesn't have a release date for that functionality in part because it will be more complicated, given the context that will have to accompany it.