Samsung this week unveiled two new additions to its Galaxy Tab line of tablets, the S series.
The Galaxy Tab S devices are its thinnest and lightest tablets, with very high-resolution screens, tons of content from third parties, and a high degree of connectivity, all of which make them strong contenders as the fourth screen.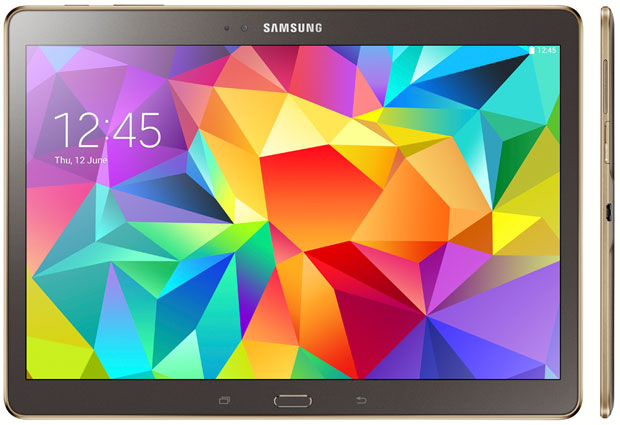 This line "is setting the industry bar higher for the entire mobile industry," said JK Shin, CEO and president of Samsung Electronics' IT & Mobile Division. "It will provide consumers with a visual and entertainment experience that brings colors to life, beautifully packaged in a sleek and ultra-portable mobile device."
The launch comes at a time when it's widely perceived that the demand for tablets is slowing; IDC, for instance, has lowered its forecast for 2014 tablet sales.
"We're not seeing tablet shipments or sales decline," said Jeff Orr, senior practice director for mobile devices at ABI Research.
However, the growth of the category is slowing because advanced mature markets — the U.S., Europe and Japan — are pretty much saturated and "are moving towards replacements rather than first-time purchase of devices," Orr told TechNewsWorld.
Tech Specs for the Tab S Line
The Galaxy Tab S devices use WQXGA Super AMOLED displays with a resolution of 2560 x 1600 pixels and a 16:10 ratio.
The screens deliver more than 90 percent of Adobe's RGB color coverage, according to Samsung. They have a 100,000:1 contrast ratio, which provides deeper and more realistic images.
Further, the screens' Adaptive Display feature intelligently adjusts gamma correction, saturation and sharpness based on the application viewed, the viewing environment's color temperature, and the ambient lighting.
The Galaxy Tab S devices also use advanced outdoor visibility technology that makes it easy to view content outdoors in bright sunlight, Samsung said.
Both the 8.4- and 10.5-inch tablets are slim — measuring 6.6 mm deep — and have extended battery life because Super AMOLED technology does not require a backlight.
Users can make and receive calls directly from their phones to their Galaxy Tab S devices with call forwarding. They also can surf the Web, watch videos, share content and make calls simultaneously.
The tablets, which will be available in WiFi-only, LTE-only, and both WiFi and LTE versions, have a Quick Connect feature that finds and connects to nearby devices for easy content sharing.
They will be available in July. The tablets can be preordered from a number of outlets, including Sears, Best Buy and Amazon, at a price of US$399 for the 8.4-inch and $499 for the 10.5-inch WiFi models.
Breaking Down Screen Issues
Samsung's claim that the Galaxy Tab S line has the most advanced display technology is true, but the Kindle Fire HDX gives them a run for their money, Sweta Dash, director of display research and strategy at IHS iSuppli, told TechNewsWorld.
"Their 8.4-inch tablet offers 359 ppi, which is higher than what we have up to now, and the 10.5-inch 288 ppi, but the Kindle Fire HDX offers 339 ppi," Dash pointed out. The iPad Air offers just 264 ppi.
Samsung "spent a good amount of time during its launch event talking about tablet usage and how long-form video is increasingly used, leading to the desire for the highest-quality displays available," ABI's Orr said.
OLED technology enables thinner devices than LCD screens because it doesn't require backlights. It also offers a better contrast ratio, especially when viewing videos, Dash said.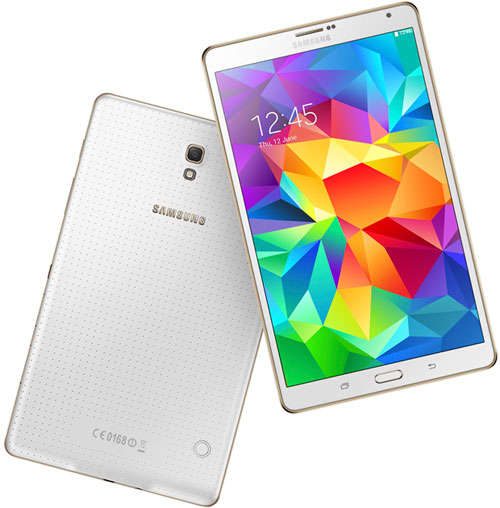 However, OLED screens cost about 10 percent to 30 percent more to produce than LCD screens, Dash said.
Possible Demand for Galaxy Tab S Devices
The Tab S line constitutes Samsung's higher-end models, and will target a different audience than the Galaxy Note and Galaxy Tab lines, Orr remarked. Prices of the Tab S line "are in line with this expectation."
However, the demand for high-end products with QXGA then comes into question, iSuppli's Dash suggested.
"Wide QXGA is nothing new in LCD, but only a small part of the market buys these high-end products," she said. "Most of the market buys low-end or mid-range devices."