The buzz about Samsung's plans for a smartwatch has intensified with the discovery of trademark and patent filings in the United States and Korea.
The U.S. Patent and Trade Office filing lists the name of the patented device as "Samsung Galaxy Gear" and essentially describes a smartwatch.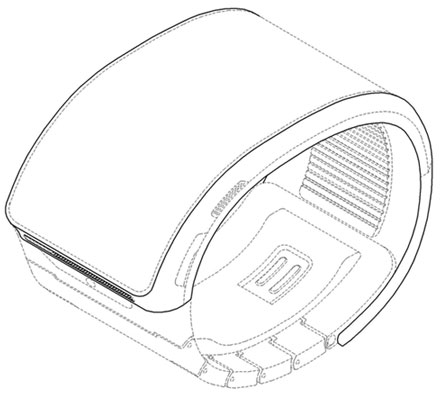 A document filed with the Korea Intellectual Property Rights Information Service, KIPRIS, includes line drawings of what appears to be a wristwatch with a circular bracelet or wristband.
The Galaxy Gear joins a long list of smartwatches on sale or rumored to be in the works.
"Every week there's news out there," sighed Jeff Orr, a senior practice director at ABI Research.
"Everyone's jumping into the pool to see what happens because they don't want to miss out," Orr told TechNewsWorld. "It's anticipated that Samsung would definitely look to play in the wearable space."
What Samsung's Filings Discuss
The USPTO filing refers to wearable digital electronic devices in the form of a wristwatch, wrist band or bangle that can provide access to the Internet; send and receive phone calls, emails and messages wirelessly; and track or manage personal information.
It also lists tablets and portable computers, possibly as a catchall to ensure the device is covered by the patent regardless of its classification.
"I speculate that Samsung will try to build functions into its watch that work in partnership with its Galaxy smartphones and Notes (phablets)," Carl Howe, a research director at the Yankee Group, told TechNewsWorld.
The user experience for the device will be key to its success, Howe said. "It can't evoke memories of the geeky button-pushing Casio calculator watch of yore, or it will fail."
Welcome to the Jungle
If Samsung unveils a smartwatch, it will leap into a highly competitive, though nascent, market.
Apple, Google and Microsoft are all reported to be working on their own smartwatches. Google obtained a patent for its smartwatch in 2012.
Motorola also could be a contender, suggested ABI's Orr. It makes the MotoActv, a device for elite athletes with functions that include a heart rate monitor and a GPS tracker.
Now that Motorola is under Google's purview, noted Orr, the MotoActv "is one software move away from being a smartwatch."
Then there is the Pebble watch, which has been purchased by more than 80,000 people so far. It leads a list of top five smartwatches of 2013 compiled by Smartwatchnews.
Meanwhile, Kreyos claims to be working on a smartwatch with voice and gesture controls that will be compatible with the iPhone, Android devices, and Microsoft Windows. It will monitor users' hearts and golf swings, and connect to social networks — and it is waterproof. Kreyos has raised about $1.3 million on crowdfunding site Indiegogo, despite not having a finished product or website.
On the other hand, Sony, which recently launched the second generation of its smartwatch, does not appear to have enjoyed much success with that device.
"Samsung will have to sell a clear vision of what value a smartwatch will add to consumers' daily lives, and it won't have an Apple design to guide it," the Yankee Group's Howe remarked.
Money – It's a Hit
Interest in the smartwatch market is understandable. More than 1 million smartwatches will be shipped this year, ABI predicted.
Sales of mobile wearable units and smart glasses will total 15 million units this year and climb to about 70 million by 2017, according to Juniper Research.
"Initially, we don't expect to see smartwatches that are replacements for the smartphone," ABI's Orr said. "We're talking about devices that let you bypass having to pull out your smartphone and see your notifications."