Samsung has unveiled its much-discussed Galaxy Tab Android-powered tablet at the IFA consumer electronics show in Berlin, Germany.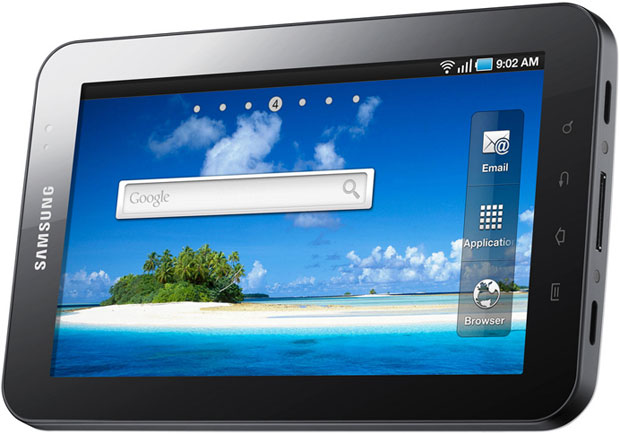 The Samsung Galaxy Tab
The device runs Android 2.2, has a seven-inch display, and focuses on connectivity and entertainment.
It also enables video conferencing and can be used as a mobile phone.
"This is a true alternative to the iPad and is vastly more capable," Rob Enderle, principal analyst at the Enderle Group, told TechNewsWorld. "It showcases what Android devices can do and is a strong counterpoint to the built-in limitations of the iPad."
Tech Specs of the Galaxy Tab
Also known as "Model GT-P1000," the Samsung Galaxy Tab runs on Android 2.2, also known as "Froyo." It measures about 7.5 by 4.7 by 0.5 inches, and weighs just over 13 ounces.
The Galaxy Tab has a 7-inch WSVGA TFT screen with 1,024 by 600 pixel resolution and can download apps from the Samsung Apps Market or the Android Market. It integrates SMS, email, IM and calendar accounts and has an integrated calendar that's compatible with Google Calendar, Microsoft Outlook and Facebook.
The device has multiple home screens and hybrid widgets. It runs on an ARM Cortex A8 1.0 GHz processor, and its battery offers seven hours of movie playing time. It comes in 16 GB and 32 GB versions, both of which support up to 32 GB MicroSD cards.
The Galaxy tab has a 3MP (megapixel) autofocus rear-facing still and video camera with LED flash and a 1.3 MP front-facing camera for video telephony. It has a multitouch zoom screen, GPS and other location-based services, including Google Maps and Google Maps Navigation.
The device supports e-reading through Samsung's "Readers Hub" e-reading app, which provides access to a digital library. It also has access to Samsung's "Media Hub," which connects to a film and video library; and "Music Hub," an app connecting to a music library. These are similar to what's available from iTunes.
For entertainment, the Galaxy Tab supports Flash Player 10.1. It has a full 1080p HD video player and a 720 x 480p video recorder rated at 30 frames per second. It supports DivX, XviD, MPEG4, H.263, H.264 and other multimedia formats.
Communications capabilities include 3G HSPA connectivity, 802.11n WiFi and Bluetooth 3.0. The Galaxy Tab also offers push email. It can also be used as a mobile phone together with a Bluetooth headset or as a speakerphone on users' desks.
The Galaxy Tab supports Swype as well as ThinkFree document viewing and editing.
Elbow-Smashing the iPad
The Galaxy Tab weighs much less than the iPad, which is almost twice as heavy at about 24 ounces. However, that's not its only advantage over Apple's product.
"The Galaxy Tablet could approach the market much like the Verizon Droid did, as an offering that does what the iPad does not," Enderle said.
"It will download videos, it will do Flash, it will videoconference with other platforms, it is a showpiece for the full power of the Web, and it's more portable than the iPad, falling into the size category of the small Kindle, which has been vastly more popular than the large one," he added.
Samsung's support for various video formats is a big plus in its bid to challenge the iPad.
"Tablets are consumption devices; the more access they give consumers to multimedia content, the more successful they'll become," remarked Dmitriy Molchanov, an analyst at the Yankee Group. "But the larger advantage Samsung has is support for Flash 10.1."
That support for Adobe Flash 10.1 "allows users nearly unlimited access to Web-based games and movies," Molchanov told TechNewsWorld. And while it opens the door to security risks — Adobe Flash is one of the attack vectors hackers really like because it's so widely used — "at this point, Samsung and Android do have to catch up to the iPad's growing collection of games, and Flash certainly helps," Molchanov said.
The Apps Have It
Most of the utility of mobile devices comes from access to apps. There are more than 250,000 apps in Apple's iTunes App Store, 25,000 of which are for the iPad, Apple CEO Steve Jobs said Wednesday when launching new products, including a refreshed iPod line. More than 6.5 billion apps have been downloaded from the App Store — that works out to about 200 a second, Jobs told his audience.
This is where Samsung may run into problems.
"There's bad blood between Samsung and developers because Samsung didn't compensate developers in previous attempts to draw them to its earlier platforms," Enderle pointed out.
This may force Samsung to rely on the Android app market rather than its own apps.
That may prove to be a blessing in disguise.
"One of the reasons Samsung chose Android over a proprietary Linux-based platform is to leverage the developers that already have experience writing Android apps for smartphones," the Yankee Group's Molchanov pointed out.
Further, Samsung is in a good position because it's the first major company to launch an Android tablet. HTC has announced it will offer an Android tablet, but that's some months away, at the very least.
"There's definitely a first-mover advantage for Samsung because the Galaxy Tablet is the first major Android tablet, so developers will create apps specifically for its screen size and resolution," Chris Hazelton, a research director at the 451 Group, told TechNewsWorld. "This device will get the lion's share of Android app developer attention."
Getting Down to Business
Samsung will begin shipping the Galaxy Tab to Europe in mid-September. It will ship the device to the United States and Asia later.
Is that a good marketing move, or is Samsung using Europe as a test bed before hitting the huge Asian and U.S. markets? Recall that an increasing amount of Apple's revenue is coming from overseas markets, and that demand for the iPhone and iPad is extremely strong in Asia.
"Samsung is using a similar strategy to Apple, which typically launches where it's strongest first," Enderle said.
"Europe is vastly friendlier to carrier-independent products like this one, while U.S. carriers have a nasty habit of crippling products like this," he added.