Electronics manufacturer Sharp said Monday that it will offer a Japan-only media service with an apparent focus on periodicals as well as e-books. In addition, Sharp will make two Android-based tablet devices that link to the service.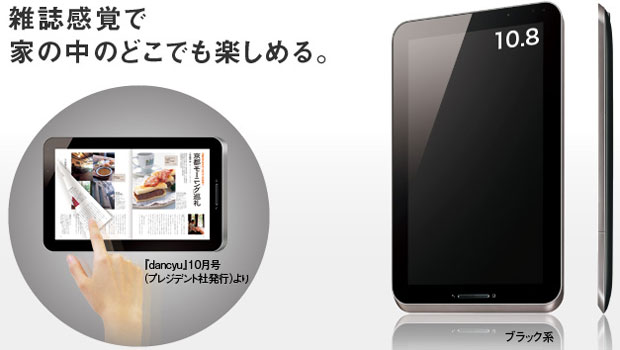 The Sharp Galapagos tablet
"Galapagos," as the service and tablets will be called, will launch in December with about 30,000 titles, including newspapers, magazines and books, the company said. Pricing and additional details are being withheld until the launch, Sharp added.
The two new devices, a 5.5-inch tablet about the size of a paperback book and a 10.8-inch high-resolution device that will display full magazine spreads, will hook into the service.
It's unclear whether the devices will be able to access other e-book stores or Internet sites, although Sharp's release seems to indicate they will be able to do so, in addition to being able to run Android apps the user installs on the device.
Efforts to reach a Sharp spokesperson to clarify were unsuccessful.
Designed for Japan's 'Book Culture'
The devices are less e-reader and more tablet, In-Stat analyst Stephanie Ethier told TechNewsworld, adding that she defines tablets as readers without E-Ink displays better suited for light reading than the intensive heavy book consumption most e-book reader customers are after.
However, Sharp says the device's graphics capabilities are designed to appeal to the "book culture of Japan." The devices will allow for vertical writing and special characters called "ruby," used as pronunciation guides, according to Sharp.
The emphasis on periodicals makes sense for the type of device Sharp appears to be building, Ethier said. Newspapers and magazines call for less intensive reading than do books, making tablet devices a good fit for such activities.
Limited Details
Sharp did not release detailed information about the devices, saying that information would come later.
The company described the 5.5-inch device as having an LCD display with a 1,024×600 resolution that comes in red or silver. It's described as a portable device.
The 10.8-inch device, available only in black, is described as intended for use at home. It sports resolution at 1,366 x 800, but Sharp gave no details about what kind of display technology it will use.
Both devices include WiFi — in "B" and "G" flavors only.
In concert with the Galapagos service, the devices are designed to provide for automatic scheduled delivery of periodicals, which will be stored locally to be read offline.