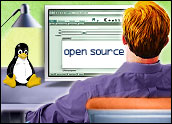 It's not often that we here at LinuxInsider get to write exposes, shocking or otherwise. This, however, is one of those rare occasions.
Back around Valentine's Day, faithful readers may remember, we celebrated the boundless love Linux geeks feel for their favorite operating system, including all the many aspects about it that they love.
Apparently the Linux crowd are a more sentimental bunch than we realized, because here we are — just a month or so later — and the emotions are gushing forth once again.
This time, however, there's a shocking twist: Turns out some of us weren't telling the complete truth the first time around!
Don't believe us? Read on.
'They Wouldn't Understand'
"We tell people we use Linux because it's secure," wrote Vlad Dolezal in a recent post on An Amazing Mind. "Or because it's free, because it's customizable, because it's free (the other meaning), because it has excellent community support.
"But all of that is just marketing bullsh*t. We tell that to non-Linuxers because they wouldn't understand the real reason," Dolezal continued. "Deep underneath, the real reason remains. We use Linux because it's fun!"
So many blatant lies revealed in one blow!
We could scarcely believe it ourselves, needless to say; but our reaction was nothing compared to the frenzy of nearly 700 responses that followed when Slashdot founder Rob Malda posted Dolezal's admission on his site.
'A Special Clique'
Dolezal went on to elaborate a bit on his incendiary revelation, noting that using Linux is "fun" primarily for three reasons: 1) it gives you complete control, 2) it isn't widely used, and 3) the source code is free.
Now, we can't help but point out that only last week we wrote an entire column about why it's important that Linux reach wider acceptance. So how can it be part of "fun" that it hasn't?
"This is a paradox," Dolezal admits. "We often complain Linux isn't more widely used. But that's one of the reasons we use it. It gives us a feeling of being a special clique. Like we're better than 'those ignorant masses.'"
Can this really be true? Can Linux — that most open, free and egalitarian of operating systems — really be the basis of an elitist clique?
Time to Switch?
"True, true!" wrote Anonymous on An Amazing Mind. "And now, after I turned all my friends and relatives into using Linux (because it's free and secure, hehehe), I myself will change to FreeBSD, just because it's even more nerdy. See you there…"
And what say the other bloggers out there? LinuxInsider couldn't resist asking around.
"I really use Linux because it lets me!" Slashdot blogger yagu told LinuxInsider. "Linux lets me use it!"
Specifically, compared with the likes of Windows XP, Linux offers superior configuration, tuning of the user interface and expandability; common-sense implementation; and decent command line transparency and shell implementation, yagu explained.
"Using well-built scripts, and pipes, and background processing, there is little one can't do more efficiently from the Linux command line than from any bolted-on GUI front end," he asserted.
'Crazy Fun'
It appears there may indeed be more to the power of the command line than many Linux aficionados are willing to admit.
"Command lines *are* fun," Slashdot's Malda agreed.
"Most things can be done easier without a mouse, too. For me, the best part of Linux was just that I could change ANYTHING — it was just a matter of how deep into the system I wanted to go," Malda told LinuxInsider. "That is crazy fun to me."
There you have it, readers. The truth revealed: Linux geeks just want to have fun.
Land of Workaholics?
Speaking of fun, and work, and wherever the twain shall meet, we'd like to end by calling your attention to a recent post by Red Hat's Mauricio Teixeira on the topic of Linux and workaholics.
Using the self-diagnostic quiz he links to in his post, Teixeira concludes he's 73 percent workaholic — and we suspect he's not alone.
"I don't know if Linux users are workaholics," Malda said. "I think they are just the sort who like to be able to fix their own tools.
"Sometimes that might just be the opposite of workaholic," Malda pointed out. "I mean, if I fix my own tools, I can make them better and maybe work LESS."