Skyfire stirred up the smartphone world further on Wednesday with the release of a full 1.0 version of its mobile Web browser.
More than 1 million mobile phone users have installed and used the beta version of the browser over the past five months, according to companyofficials.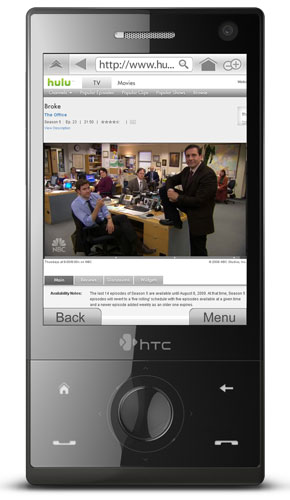 The new browser supports Windows Mobile(versions 5 and 6), as well as Symbian phones withNokia's S60 platform. A new version that also supports Research In Motion's BlackBerry platform may be released in beta form soon.
"We just launched a private closed alpha version of the browser forBlackBerry devices. We are working towards a public beta this summer,"Tracy DeMiroz, vice president of marketing for Skyfire, toldTechNewsWorld.
Feature Rich
Skyfire's full-function Web browser for mobile phonessupports popular Web standards and plug-ins such as Flash 10,Silverlight 2, Ajax and JavaScript, DeMiroz said.
Its ability to provide userswith a means to view the rich media on Web sites from their smartphones may give Skyfire an edge. The browser lets users watch any Web video and live eventon a small-screen mobile phone.
Skyfire users can customize their start pages with RSSfeeds from their favorite Web sites. They can also integrate their Facebook and Twitter accounts to importstatus updates and tweets and easily publish their status to thesenetworks with a single click.
What's New
Thearchitecture stayed the same from the beta to the full first release version, according to DeMiroz. As they built version 1.0, however, developers focused on two things: user experience and speed.
Power optimization andsearch functions were also improved from the beta release.
"What is unique is that the complexity of processing the Web pagetakes place on our servers. That's how we get the faster performanceand quicker page loads. That's how we can render the full Web page onthe mobile phone," said DeMiroz.
Job One: Speed
Having previously delivered rich media and text readability on a smallscreen, the focus of the latest release was to help users get to content they want more quickly, added DeMiroz.
For example, users can enter a search term or Web site location whileSkyfire is connecting to the network, she noted. After a Web page loads, the usercan scroll and zoom; the experience is much like using an iPhone. Also,users can click on links on the first page load without having to zoomfirst.
"People say that we give an iPhone-like browser experience on otherplatforms," said DeMiroz. "We actually take that a step further by supporting Flash10. Many Web sites are built with Flash and Ajax, and the complexity ofthe Web continues to grow."
Big Deal?
Though Skyfire joins the likes of Opera Software, which has offered a mobile browser for years, and Mozilla, whose Fennec mobile browser is just beginning to get off the ground, it remains to be seen whether an impending mobile browser battle will be anywhere near as fiery as the fight for desktop supremacy.
"My first response is, better than what browser? Especially withhandsets, you have multiple browser functionality already," JimMcGregor, chief technology strategist for In-Stat, told TechNewsWorld.
Many applications running on smartphones can access theInternet. While these apps are usually not general browsers that people will use tosurf the Web and look at various sites, most people do not use their mobile phones for the same kind of surfing they'd do on a desktop. Instead, they use very specific application functionalities that are tied to the Internet in some way, he explained.
"So it begs the question: OK, is it really that important? I haveseveral browsers on my various mobile phones, including Opera. Surfingon most cellphones still is not a very pleasant experience," he argued.
Users can download Skyfire for free here.