Attaining the optimal mix of product selection, pricing and content in catalogs and collateral; and the tailoring of guided selling and navigation within multichannel management strategies is too important to leave to just trial and error. Lacking frameworks to define optimal mix of resources, anecdotal data instead of actual results often define the mix of resources across channels. Tapping into the immediate feedback social networking can provide eliminates the need to just rely on anecdotal data. You can find out what's working and why, quickly.
Cross-channel shoppers spend more, tend to be more loyal, and purchase more from companies that get cross-channel selling as close to optimal as possible.
Cross-Channel Shoppers Are King
With so much at stake from being able to attract and retain cross-channel shoppers, the need for optimizing content, applications, pricing and product selection is crucial. Several studies have highlighted how much more profitable it is to attract cross-channel shoppers than focusing only on a single channel for a given type of customer:
Getting the optimal mix of guided selling, content and catalogs is critical. Customers who rely on multiple channels are 70 percent more likely to purchase from dealers, or in the case of retailers, their stores and 110 percent more likely to purchase from a retailers' catalog. The IBM study "Integrated Multi-Channel Retailing (IMCR): A Roadmap to the Future" quantifies how cross-channel shoppers are catalysts of increased sales growth over time.
Cross-channel shoppers are the heavy spenders online, catalogs and in stores. Studies by AMR Research, DoubleClick and many others all support the fact that cross-channel shoppers consistently spend 50 percent or more than a single channel shopper. Another study showed that cross-channel shoppers spend 70 percent more than those that rely on just a single channel.
The long-term effects of being more optimally aligned with cross-channel shoppers' needs are most evident in the area of loyalty. Studies from McKinsey & Company state that only 15 percent of loyalty is gained from perceived product quality and promotional strategies, leaving 85 percent to the actual purchasing and post-sales purchasing experiences of customers.
Cross-shopping consumables lead to selling workgroup printers for one printer manufacturer. Based on positive experiences with cross-channel shopping in consumables, one printer manufacturer is finding repeat printer customers now routinely purchase replacement printers online, and only visit channel partners to see the larger, more expensive workgroup models.
With so much at stake in selling to cross-shoppers, companies need to get beyond trial and error and define a framework that will make optimizing them possible.
Optimizing Channels Using Value Curves and Social Networking Feedback
W. Chan Kim and Renee Mauborgne in Creating New Market Space, an article published in the Harvard Business Review in January 1999, define the concept of value curve where the key elements of product, service and delivery were compared. The following graphic created by Kim and Mauborgne of Bloomberg's value curve is shown below. The seven categories below the value curve include those attributes most critical to customers who rely on multiple channels for information. The financial information services value curve Kim and Mauborgne published is shown below.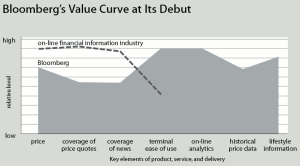 (click on image to enlarge)
Retailers and other companies who are heavily dependent on multi-channel strategies are using the framework to measure how each of their channels measures up to key elements of product, service and delivery. Accessibility, added-value services during the shopping process, browsing, convenience, pricing and convenience are listed along the bottom of the graphic. Next, each channel is graphed according to its relative strengths and weaknesses on each factor. The value curve is a scorecard of how existing multichannel strategies are performing.
Social Networking: The New Catalyst for More Profitable Cross-Channel Selling
There's just not enough time anymore to wait and see if your mix of applications, content, catalogs, pricing and service is optimal every 90 days. It needs to be a daily take on performance, and with social networking, that's possible without being obnoxious or intruding to your customers.
Consider the following approaches companies are using social networking to gain insights into how they can achieve higher levels of cross-channel optimization:
Starbucks is a leader in this area with two popular social networking initiatives including My Starbucks Idea and the company's very active participation on Twitter with @starbucks. Based on the data it has, it can easily define its value curve and take steps to create more of an optimal mix for enabling cross-channel shopping.
Dell has embraced Twitter and has the potential to understand how it could chart the feedback it is getting to define the value curve for their multi-channel efforts. You can find the Social Brand Index compiled by Jonathan Kash on his blog Fluent Simplicity and a listing of Dell employees and departments on Twitter there as well.
A pet food manufacturer is using blogs to post Web-based surveys that continually ask customers their expectations versus experiences online, in-store and with printed and online catalogs and changing product mix by segment accordingly. A student of mine is the operations director for this company and she has successfully built a value curve for each income segment of her customer base, leading to a major shift in online pricing and product strategies.
Striving to get real-time feedback on how cross-channel shoppers' expectations versus experiences measure up is one of the most valuable insights any company can get. Optimizing cross-channel experiences can now be done with real-time data based on listening to customers using social networking.
---
Louis Columbus
is senior manager, enterprise systems at
Cincom Systems
and a former senior analyst with
AMR Research
. He has worked with enterprise clients on defining solutions to their channel management, order management and service lifecycle management strategies. He also teaches graduate-level international business and marketing courses at Webster-Loyola Marymount University and University of California, Irvine. He is the author of 15 books on technology and two books on analyst relations. His book,
Getting Results from your Analyst Relations Strategies
, can be
downloaded for free
. You can contact Louis on Twitter at @LouisColumbus.
---