Sony is giving bird-watchers — or anyone else who wants a closer look at something — a way to truly zoom in on the action with its new DEV-50 binoculars, set to ship in June.
While many nature lovers and sports fans can't put a price on what they might see through the binoculars, Sony has put a price on the actual device. It will cost US$2,000.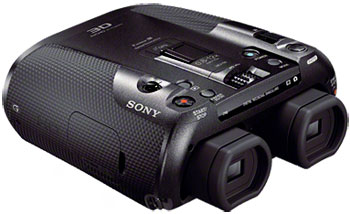 Sony's DEV-50 Digital Recording Binoculars
"The continual miniaturization of IT made this sort of thing inevitable," said Charles King, principal analyst at Pund-IT, but "it's cost will put it out of the reach of all but the most dedicated hobbyists."
Image Capturing
What makes the Sony DEV-50V stand out is that is it isn't just a set of digitally powered binoculars — it is a camera as well. Users can take advantage of the stereoscopic nature of the binoculars to shoot 3D video or still photos.
With optic-based binoculars larger power requires a larger size. However, the DEV-50V's digital powering functionality allows for a smaller form factor — 30 percent smaller than last year's DEV-5.
Zoom lens performance has been expanded from a range of 0.9x-10x to 0.8x-12x. Moreover, the digital magnification now reaches 25x, which allows the user to really feel up close to the subject.
Images that are captured as a photo or video can be viewed on an OLED display that offers 1024×768 resolution.
"Clearly these would be ideal for sports — from car racing to field sports, and particularly the America's Cup," said Rob Enderle, principal analyst at the Enderle Group.
They would also be useful for "bird-watching, and for checking whether that thing flying over your head is a UFO," he quipped.
Distance viewing is practiced by individuals who want to observe "private moments" as well, Enderle pointed out, and these binoculars would let them quickly capture an HD image.
Seizing the Moment
The Sony DEV-50V binoculars feature twin Exmor R image sensors, which offer 5.4 megapixel resolution. This is a far cry from what many point-and-shoot digital cameras offer and about a third of the resolution of a Digital-SLR.
The binoculars also offer built-in GPS for geotagging of photos and video, which could certainly appeal to users who are intent on seeing wildlife and nature up close. The device is water resistant in that it can be used in the rain.
What uses beyond watching sports action and viewing wildlife might a high-powered pair of binoculars with camera functionality have? It could be useful to law enforcement and the military, perhaps.
"Beyond recreational use, legitimate applications include situations where distance recordability is required," King told TechNewsWorld. "Along with security, surveillance and law enforcement applications, these could be valuable in areas like construction — for site monitoring and inspections — and search-and-rescue operations."
Privacy Concerns
Of course, these binoculars could be put to nefarious as well as legitimate uses.
"If Eric Schmidt didn't like drones — and he doesn't — he should hate these binoculars," Enderle told TechNewsWorld.
"These things could be used to violate privacy pretty readily as well," he said. "They would certainly be easier to use than cameras with telephoto lenses, and their only advantage is they would typically be far more comfortable to use for long periods of time while waiting for that perfect legitimate or illegitimate moment."
Security concerns certainly aren't limited to this one new device.
"HD video cameras with high power telephoto and zoom lenses have been around for a long time, and are available much more cheaply than Sony's new binocs," said King.
"As last week's events in Boston demonstrated, virtually anyone with a smartphone can act in the same way with similar effect. That doesn't mean that privacy concerns shouldn't be addressed, but it does need to be recognized as an essentially rearguard action."