Sony announced Tuesday that it is developing its first entries into the tablet market. The tablets are going by the code names "S1" and "S2," and they will be available in the global market in fall 2011. S1 will be optimized for rich media entertainment, and S2 will be optimized for mobile communication and entertainment.
The Sony tablets utilize the latest Android OS — version 3.0, aka "Honeycomb" — which is designed for use on large screens. Both devices are compatible with WiFi and WAN (3G/4G) and run on Nvidia's Tegra CPU.
S1 is wedge-shaped for more comfortable use and features a 9.4 inch screen. The S2 has dual 5.5-inch screens, and the unit can be folded for portability. The S2's dual screens can also be used as one large screen.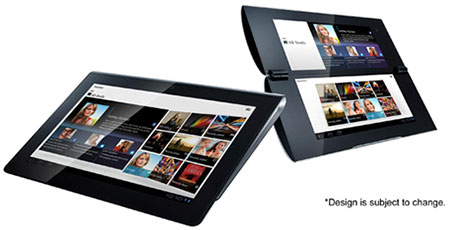 Sony Tablet S1 (left), S2 (right)
The S1 uses infrared technology and works as a universal remote for various A/V devices. Through DLNA technology, users can utilize tablet content on TV screens and speakers.
Sony is making sure to deliver content with its hardware. A good all-around ecosystem is a huge factor in a tablet's success. Users will be able to download media from the Qriosity store and e-books from the Reader store. Gamers will be able to play high quality first-generation PlayStation titles through PlayStation Suite.
Sony did not respond to the E-Commerce Times' request for comments by press time.
New Ideas for the Tablet World
Sony is getting innovative with its tablet hardware — both the S1 and S2 take experimental turns. Their success will ride on whether customers embrace the unprecedented designs.
"There are several pluses in Sony's new tablets," Azita Arvani, principal of the Arvani Group, told TechNewsWorld. "Instead of offering another iPad look-alike tablet, Sony has thoughtfully designed the form factors of its S1 and S2 tablets. The S1's wedge shape is different, and it may prove to be easier to hold. The S2's dual screens [provide] a flexible way to consume content. Of course, the ultimate test of the form factors comes when the users get a hold of these and try them out."
Many details remain undisclosed, but things move fast in technology, especially in the hot world of tablets, so further details will likely be forthcoming before their expected launch this fall.
"Sony has tried to integrate a lot of content along with these tablets, but the bigger questions are around the software, cellular network support and pricing," said Arvani. "The Sony tablets will run Android 3.0. By the launch time, that software should be upgraded. The new user interface software is another unknown. The tablets are said to support 3G and 4G cellular technologies in addition to WiFi, but we don't know the details yet. Pricing, unannounced, will also play a big role in how consumers will react to these tablets."
The tablet market is unpredictable. It's difficult to imagine the next hot item.
"Overall, Sony has done a good job with the S1 and S2 tablets," said Arvani. "We hope they are mindful of the rapidly changing landscape of the tablet world. What looks good in the tablet world today can easily get obsoleted in a few months, so they will need to adjust quickly."
Not Like an iPad? Who Cares?
Sony's innovations and well-known brand name could help the company to differentiate its tablets from the rest of the pack. The S1 addresses issues of comfort in extended use. The S2 presents a new type of tablet.
"Sony's approach both follows and contradicts the conventional wisdom about tablets … that any and every product has to compete head-to-head against Apple's iPad," Charles King, principal analyst at Pund-IT, told TechNewsWorld. "The S1's off-center design appears to address one of the biggest problems with many tablets, including the first-gen iPad — that they are difficult to hold for long periods of time. The S2's split design is, so far as I know, unique among tablets and provides a means for users and developers to split or isolate processes and tasks."
The S1 is a more traditional media-based entry, and the S2 has the potential for some unique apps that take advantage of the dual screens.
"The S1 seems aimed at the conventional media-consumption market where the iPad shines," said King. "The S2 could do well in business, say, by using one screen for visualizing and the other for input devices — keypad, stylus pad, etc. — thus making it a better tool for data and document creation."
Success in the tablet world is aided by good hardware and content. Sony has experience with both.
"Though many are pitching tablets as post-PC devices suitable for any process currently supported on a conventional desktop or laptop, the fact remains that tablets are really better for content consumption than content creation," said King.
Sony's leadership across a variety of media markets — including music and films — makes it a natural player in the tablet and content consumption space, noted King.
"Plus, the company's well-established and regarded Vaio solutions offer Sony a platform for pitching the S1 & S2 as companion devices, much as other PC vendors, including Dell and HP, are positioning their own tablets," he said. "Overall, Sony's S1 and S2 seem to be worthy entrants in a tablet market which is still emerging and evolving."