Amid questions about consumer enthusiasm for Blu-ray technology, Sony on Monday announced a new notebook computer positioned by the electronics giant as an entry-level Blu-ray player for mobile viewing.
The VAIO NW notebook series carries an US$880 starting price tag for a Blu-ray equipped model, and comes with a 15.5-inch widescreen display, as well as an HDMI output connector for use with a larger screen.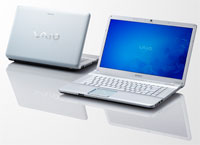 [Click Image to Enlarge]
It includes the ability to turn the screen display off while allowing the laptop to continue running, saving battery life while allowing a quick return to movie-watching or other computing tasks, and also allows users to launch directly to the Internet without waiting for the PC's operating system to load, according to Sony.
The PC comes equipped with three USB ports and ExpressCard, SD card and Memory Stick Pro slots. It comes in three colors — brown, white and silver — and includes software designed to help users make easy home movies and music mixes.
Will Blu-ray Move Laptops?
Sony clearly has a stake in highlighting Blu-ray. It's the company's technology, after all, and it emerged as the victor of the much-touted format wars to succeed traditional DVDs, particularly in the home market.
However, using such technology to move the needle on notebook sales is another question entirely, said Stephen Baker, vice president of industry analysis for the NPD Group.
"I don't think there's any peripheral technology that's going to sell notebooks," he told TechNewsWorld.
It's possible that some consumers who are looking to buy notebooks as desktop replacements may be swayed by Blu-ray technology, he said.
Blu-ray technology is gaining traction in U.S. households, NPD's research indicates, and it will likely to continue to grow in popularity, said Baker — even if it is a transitional technology destined for eventual obsolescence as faster download speeds and beefier computers make digital streaming of high-definition video increasingly attractive.
Survey Data
Sales of standalone Blu-ray players increased by 72 percent in the first quarter of 2008, according to data NPD released in May. That showing was likely due to the perceived end of the format wars and the increasing adoption of high-definition televisions in U.S. households.
"It has legs across all platforms," said Baker.
Six percent of the 6,994 consumers who participated in an NPD survey in March said they planned to buy a Blu-ray player in the next six months, up slightly from August 2008. The poll carries a margin of error of plus or minus 5 percent.
Those numbers are fairly similar to data released in a June 18 poll from Harris Interactive, which found that 7 percent of U.S. households without Blu-ray have plans to purchase such a player in the next year. Unlike NPD's report, however, Harris' research found interest in purchasing a Blu-ray player declining somewhat from 2008, with 7 percent of respondents saying they were likely to purchase a Blu-ray player in the next year. That's down from 9 percent in 2008.
Harris does not disclose specific margin of error information for its interactive polls.
The survey found 7 percent of Americans have Blu-ray players, up from 4 percent in 2008. Nine percent of respondents reported owning a PlayStation 3 gaming console, which includes a Blu-ray player.
The survey did not specifically ask about purchasing laptops with the technology integrated, Joan Barten Kline, vice president of research for Harris Interactive, told TechNewsWorld. The question is an interesting one, she said, and it will likely be included in upcoming editions of the survey.
Competing Technologies
Blu-ray is under pressure from competing technologies and sources of high-definition video, which could make the need for a dedicated disc player a temporary one, noted Harris vice president Milton Ellis at the time of the survey's release.
Sony spokesperson Judy Hillerman did not return a telephone call seeking comment on Blu-ray adoption
Although it is likely that digital streaming will eventually replace physical media, NPD's Baker agreed, he doesn't expect Blu-ray to go away any time soon.
"That kind of transition takes longer than you or I have patience for," he said. "There's plenty of momentum there to keep Blu-ray relevant, interesting and important for the next few years."