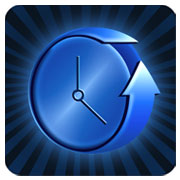 Startup Manager (Full Version) is an Android app available for US$2.99 in the Google Play store.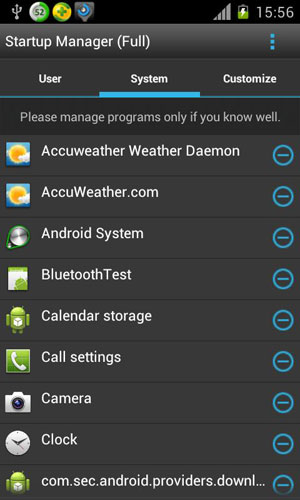 For some inexplicable reason, probably related to egocentric human nature, software developers can't seem to resist designing their programs as if they were default services: always on and ready.
If you're familiar with maintaining a PC and like tinkering with programs, you'll know that you need to periodically disable or get rid of accumulating, seemed-like-a-good-idea-at-the-time programs that automatically run processes. These automatically loading tools hog resources, clog up RAM and CPU and slow overall operating system startup.
Android is a little bit more forgiving of developer ego than Windows because the nature of the Android beast is that memory is freed much more easily by the OS as needed. Windows RAM, by contrast, needs purging — sometimes even a machine shutdown.
Android will often launch un-needed apps on startup, however — depending on how the app is written or configured — and at a very minimum, that slows down the phone's system boot. The more apps collected over the years, the slower an older phone will kick in.
I can attest to this, and if you know the feeling too, an app I came across recently may be for both of us.
Free or Paid
Imoblife's Startup Manager (Full Version) promises to help disable startup items from the system boot. Items aren't permanently removed from the startup routine, so you can experiment and restore if necessary.
The idea is that you scroll through the list of apps that your phone will be launching on startup and remove the ones you believe are unnecessary. Or, you can block all apps from launching on startup. Secondary benefits associated with not launching so many apps on startup, by the way, is that overall battery life is improved because fewer apps are running.
There's also a free version of this app. I bought the paid app, but couldn't see any discernible difference between the paid and free apps.
Testing It Out
I tested the app on a newish Samsung Galaxy Young and a two-and-a-half-year-old Motorola Photon 4G. By disabling all startup user apps — apps installed by me — I was able to obtain a system boot time of 1 minute, 11 seconds on the Y, which was a 6-second speedup over boot without Startup Manager. Good result.
I obtained similarly powerful testing results on the aging Photon 4G, which — although it has had a recent clean and uncorrupted Gingerbread OS install — still takes forever to boot: a culpably slow 2 minutes, 10 seconds, in fact. I say "culpably" because Motorola has locked the bootloader on that device, so you can't upgrade the OS to experiment with other, possibly faster, ROMs. Boo to Motorola.
Anyway, on disabling all startup user apps, boot came in at 2 minutes, 2 seconds — a noticeable 8-second gain.
The Conclusion
In the real world, you're likely not to want to disable all startup apps — you need some, such as an automatically downloading podcast client, for example.
In a further test I disabled just an Internet radio client and a music streaming app — things I certainly don't need on boot — and tried again. I obtained only a 2-second gain.
Unfortunately, the nature of later versions of Android is that processes will re-start anyway, and Google services like Gmail and Google Play services sure did bounce right back. However, the gains were indisputable.
It's worth noting that you can also further disable a bunch of system apps, so there's plenty of opportunity for boot-speed improvements. System apps are those apps that Google, your phone manufacturer and wireless carrier have seen fit to include in the ROM — and that tend to be bulky and quite useless, like social network aggregating apps and the like. Playing around with those system app loads will likely improve results further.